With face-snarling bass drops, heart-racing beats, and a massive list of chart-topping hits, Riot Ten can rile up any crowd, anytime, anywhere.
Riot Ten aka Christopher Wilson became a staple name in the dubstep world after his hit single "Rail Breaker" blew the charts in 2017, and his energy-packed shows like the Hype or Die Tour keep crowds rushing to the rails.
Wilson's mark on the industry is as big and bold as his home state of Texas, but he also keeps an open-hearted attitude as he cherishes the things that matter most to him.
Wilson talks with EDM Maniac about the personal rewards and challenges of wielding a robust music career while being a father, what it's like to be on stage, and what surprises are in store for the new year.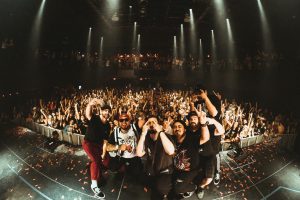 EDM Maniac: Thanks for joining us! How's your year been? Any highs or lows from 2022 that you'd like to share? 
Wilson: That's a good question! I played EDC Vegas again so that was good, and this tour has been really fun. My youngest son started school this year so that was another high for me.
My other son started high school, and I don't know if that's really an up or a down thing because you know, high school is crazy, and he's starting to do his own thing, so maybe that's a little bit in the middle *laughs. But I feel like It's a pretty positive year overall so I can't really say anything negative really! 
EDM Maniac: That's good to hear! You're often outspoken about your role as a dad from a personal angle from your life, so tell us,  what does being a good dad mean to you? 
Wilson: Um, I think obviously first and foremost, being able to provide for your kids is important, but it goes beyond providing. It's also about just being there for your kids emotionally.
Being physically around all the time is obviously harder for me because I am on the road a lot, but as a parent, you do your best to be present and make the most of it when you are there. 
My youngest son has a busy schedule, but always I try to spend at least a little bit of time with him. That requires me to wake up at like, six in the morning just to take him to school.
If I want to see him, I have to wake up, so I'm gonna do that even though I'm tired from touring. Those are the sacrifices you have to make to be there for your kids.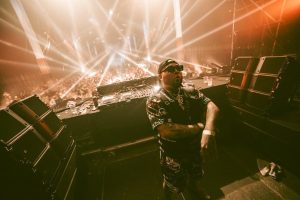 EDM Maniac: On another personal angle, what kind of challenges would you say artists grapple with the most when it comes to mental health,  and what can the community at large do to support artists?
Wilson: Yeah… I think the biggest one is probably self-doubt. I mean, as artists, I think we're very hard on ourselves to begin with. We're also all so accessible now with social media and I think as EDM artists, we're very personal with our fans.
When people say something negative about us that doesn't obviously help a lot with mental health.  You can get a thousand good comments, but just one negative comment can get you second-guessing yourself, and then you start comparing yourself to other artists, and then you're rethinking your whole life basically. 
Getting off social media and taking breaks from it plus talking to friends and other artists who are supportive can definitely help.
EDM Maniac: From your angle as a producer, when you're on stage, what are the moments that take your breath away? 
Wilson: I love seeing everybody in sync, like when the crowd is headbanging together, or when there's a house drop and everyone jumps together. It's always nice when people start doing those little house chants too.
EDM Maniac: You mean like the "whoop-whoops"?
Wilson: Yeah! I like those. Those are fun. But just not like every fucking drop, you know? But yeah, that and fireworks.  I love having those types of special effects.
EDM Maniac: Speaking of genres, you're best known for producing bass-heavy bangers, and bass music is one of the top-growing genres of the last decade. What do you think draws people to the scene? 
Wilson: Probably just the energy, because a lot of the time bass music is just super energetic and intense. I feel like people who are into metal or something like that are drawn to it because it's almost like an easy transition for them. I see a lot of metal heads in the dubstep scene. It's also great for the gym!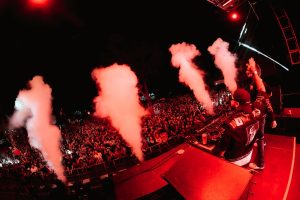 EDM Maniac: What's next for you as far as production in the upcoming year? Is there anything you're especially excited about in 2023?
Wilson: So I've been playing around with other genres, and there's some songs that I made like four years ago that I never really put out because they just didn't fit the brand, so I'm releasing like five or six EPs under a different name as a side project. That's going to come out probably within the next month.
Then I have another EP coming out, and I'm also probably going to work on a house EP this coming year too. Me and Crankdat also talked about signing a duo together, and I have a song with two really big rappers coming out next year as well too.  
EDM Maniac: Thanks for sharing! 
Wilson: Of course, thank you!