Do you ever feel like time is running out? Deep, existential questions such as that are not super common in the dance music scene, where short vocal samples are often just the means to bass drops' ends. 
But that is not the case with Ehren River Wright, a.k.a. SoDown, a fast up-and-coming bass artist who's not afraid to weave big concepts into his music, which runs the gamut from chill, heavy, funky, and everything in between. 
His debut album, Worlds Beyond, was released this past November and followed his Alive EP, released in 2021. Together, they explore different aspects of Wright's personal philosophies around life and death, while at the same time being hard-hitting and super danceable.
While the albums can be broadly categorized as "bass music," variety is the name of the game that will be further emphasized by the remixes of Worlds Beyond that will trickle out over the coming months.
In the meantime, SoDown is on tour with Boogie T, where he'll be playing support in Texas and the Pacific Northwest. He'll also be hosting an end-of-the-season Get Down in his home of Frisco, Colorado alongside Jaenga, Maddy O'Neal, and others. On the festival side, he's set to play at Sol Fest in May, and Shambhala in July. 
SoDown sat down with EDM Maniac to discuss his new album, his life philosophies, and his plans for the future.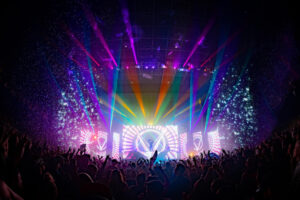 EDM Maniac: You've characterized your music as falling into three categories: So Chill, So Heavy, and So Funky. How do you combine these three into one cohesive whole? 
SoDown: I've used the "three categories" in the past to kind of label myself, but I think I'm starting to move away from the three buckets into just one big "SoDown music."
It's just me, it's just my music. That gives me more freedom to work on the craft and the message and just put out what I want to. The music is an extension of me and my message and more than just party music.
EDM Maniac: It seems like the bass music scene is starting to move past the more basic sounds of brostep and riddim towards a more varied sound. What are your thoughts on this and the state of the scene in general? 
SoDown: I don't really know what's happening on the scene that much. Creatively, I focus more on my own life and my own personal philosophy. 
EDM Maniac: You've professed that you are a follower of the stoic philosophy. How did you get into this, and how does it serve you as an artist? Is there any stoic wisdom that you can share with our readers? 
SoDown: My parents were both into spirituality. I took a philosophy of religion class in college and that was so insane to me. I wouldn't say I follow any one religion, but stoicism has helped me in that it reminds me of my own mortality. The skull character [on the album covers] is a representation of me and it reminds me of my own life and death. 
One quote from stoicism that I think about a lot—I actually recently got it tattooed on my chest is "Memento mori, memento vivere," and it means "Remember you must die, so remember to live." It gives me a broader perspective by reflecting on my own mortality.
EDM Maniac: Your album, Worlds Beyond, has been out for almost four months now. What has it been like for you to see this body of work out in the world? 
SoDown: It's been really super cool to have out and it's been really exciting to show people. The fan response has been great. It's part of this progression that I'm doing, with the Alive EP, and then Worlds Beyond, and then a third thing to go with it that I can't really talk about yet but I'm excited to be working on.
EDM Maniac: We can't mention SoDown without talking about the saxophone and the live instrumentals you do during your sets. How do you go about integrating the instrumental parts with the electronic parts? 
SoDown: I think it's a lot about making the electronic portions sound as organic as possible. The songs overall I try to make more melodic so the saxophone portion can fit in there.
I also like to try out new music during shows, and… my sets aren't recorded, but if you recorded all of them, and listened to them over time you'd hear how I had this version in this set, then listened, heard what I liked and what I didn't like and then go back and work on it and then try it out in the next set. 
EDM Maniac: Are there any future plans coming for SoDown? Any new music? 
SoDown: I've been working on lots of new music and have been working on new visuals that can work with it and tell a story. Besides that, there's also a Worlds Beyond remix album in the works, which will waterfall out over the next few months.
EDM Maniac: Finally, in your last song on the album, "Running Out," Bailey Flores in her vocals asks, "Do you fear time is running out? It's creeping in the dark, ticking in your heart." How did these lyrics come about? Did you write them? Did she? Did you work on them together? 
SoDown: Yeah. We wanted to write something pondering, like, what happens when we die. What happens beyond, what happens in the "afterlife?" And "Running Out" was the result of that. There's also—going back to the topic of memento mori, that's also the outro, where we need to, kind of, embrace the possibility of death in order to live. 
All images from Facebook