South Florida bass producer and DJ Angelica Bafitis – better known as Steller – has taken the scene by storm as someone who appreciates every musical moment. 
Steller's wonderful world of music shines with the best of experimental bass, featuring everything from heavy, trap beats to fun-loving, wonky basslines.
In a whirlwind start to her career, she has killer releases with fellow bass queens Jessica Audiffred and Zingara, in addition to her newest EP, Open Your Eyes, which came out earlier this year.
Steller has taken an already impressive formal education in music to new heights, soaking up new industry experience every day while playing festivals like Forbidden Kingdom, EDC Orlando and Home Bass, as well as shows in support of major bass artists like PEEKABOO, Buku and Mersiv.
EDM Maniac had the pleasure of catching up with Steller after her debut set at Okeechobee Music & Arts Festival for a quick chat about her place in the scene as both an artist and a listener.
Despite untimely weather conditions and technical difficulties that cut her Okee set short, Steller carries an attitude of gratitude that shines on stage and off.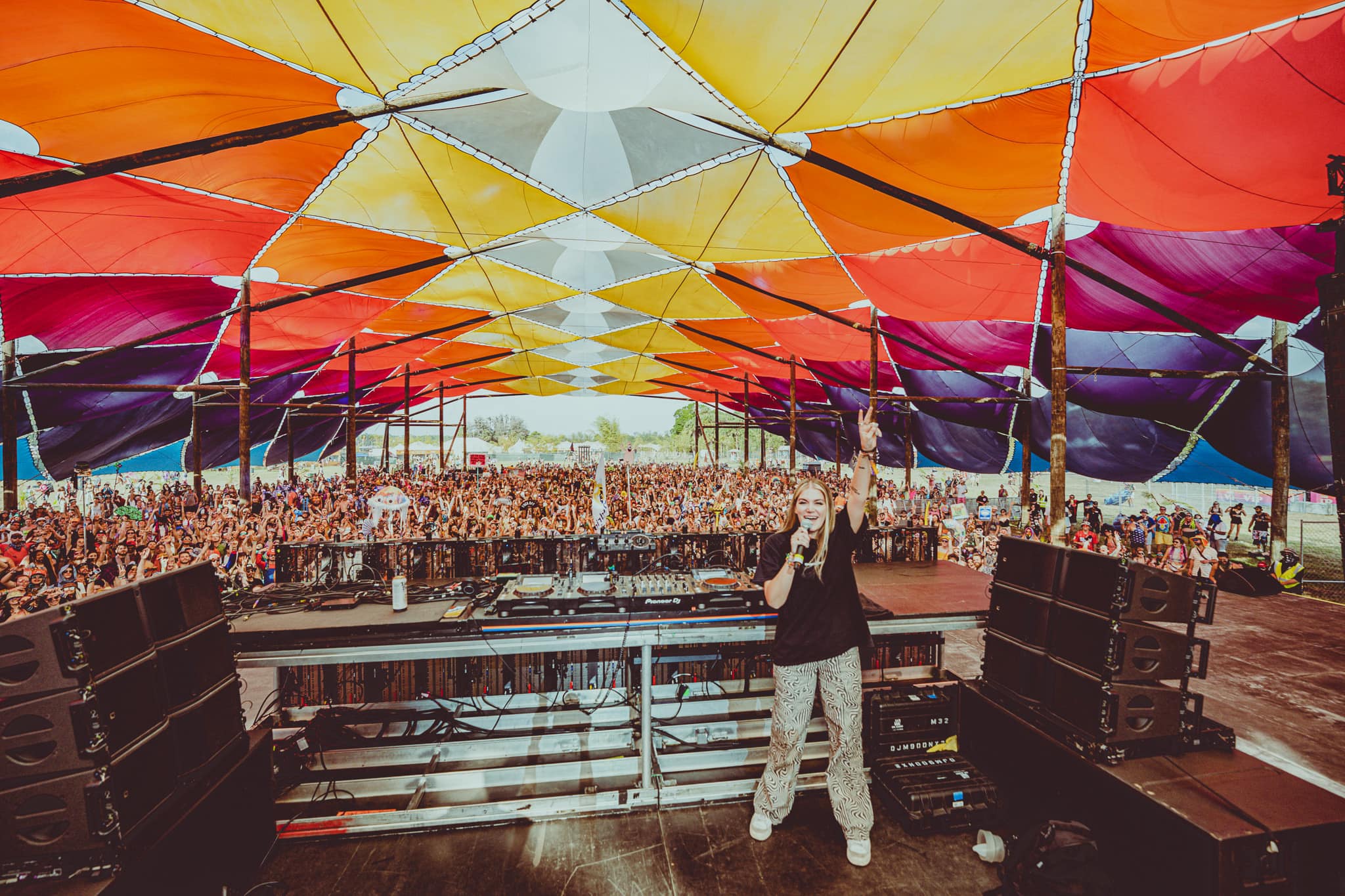 EDM Maniac: Congratulations on a killer set! We wish that we could've heard more, but we had an absolute blast with the Steller sound that we did get! What is your preparation process for a set like this?
Steller: Thank you! It was so fun! I always try to prepare my sets as much as possible. I just want to put a lot of thought and intention into them, but for this show in specific, nothing went to plan today, so I kind of had to roll with the punches, which was totally fine. I feel like that's a part of the whole experience. 
Leading up to this I took the whole month to dig for new music and make edits. I made an intro for the show and everything. Then, today they were having problems with the wind so my set got pushed back.
I started playing, then the generator cut out and so I had to wait another 15 minutes. So I ended up only playing like an eighth of my actual set. It was still so amazing and the turnout was awesome! I'm pretty happy with that. 
EDM Maniac: We're glad that the experience was still meaningful and positive! As someone who calls Florida home, what does it mean to play Okeechobee?
Steller: This is such a full-circle moment because I've been coming every single year just as an attendee because I love this festival so much. If you had asked me four years ago if I'd be playing it, I would've said, "No, I'm just like a little wook wandering around enjoying the festival!" This is just crazy. So much gratitude.
EDM Maniac: Given your own experience, what does Okeechobee mean to the Florida music scene?
Steller: I love Okeechobee because I feel like they put on so many Florida locals that deserve it. It's such a diverse lineup which makes it one of my favorite festivals.
You can see dubstep, and then you can go see an indie band, you can see R&B. It really embodies the Florida scene as a state, as a whole, not just one area. It's just such a great festival; one of my favorites.
EDM Maniac: Any favorite or cherished festival memories?
Steller: Honestly, just getting lost in the forest! Wandering around; I ended up sleeping in Jungle 51; just waking up and there's still music playing. The whole thing is a crazy experience, there's so much around every corner.
EDM Maniac: In the past year you've been making some impressive rounds on the festival circuit, including Forbidden Kingdom, EDC Orlando, Home Bass and even Lollapalooza. What has this adventure been like? What have been some of your highlights from touring?
Steller: My mind can't even comprehend it. I just feel so lucky to be doing this and living my dream; meeting people that I look up to, touring with Peekaboo and Buku – guys that I've been listening to forever – and then getting to just hang out with them and play their shows. It's incredible.
I just got booked for Red Rocks in May which has me like, "I'm so shook!" That is going to be incredible.
EDM Maniac: Festivals like Okee are often great places for fans to discover new music and artists. For those who may be just getting to know you, what is one thing you want fans to know about you and your sound?
Steller: Now that I'm getting these opportunities to play bigger shows, I really want my sets to embody what my sound is going to be. Because from time to time, I've played heavier sets, or more groovy sets, and I think I want people to know that when they come to a show, they're going to go on a journey.
It's not going to be all heavy or all groovy. It's going to be a ride. There are going to be heavy headbanging moments, there are going to be dancey weird moments.
EDM Maniac: We certainly look forward to journeying more with you in the future! What else is next for Steller in 2023?
Steller: Beyond Wonderland and then Red Rocks! I'm playing some other festivals this summer that haven't been announced yet. I'm playing Sonic Bloom. That'll be really cool. It looks like a really intimate festival. Yeah, just keep releasing more music and playing shows!
All images courtesy of Steller's Facebook page.