For the first time since COVID eradicated music festivals around the world, David Guetta took the main stage at Ultra Miami 2022.
The DJ/Producer is known for his iconic dance music hits from his past 30 years in the industry. Voted DJ Mag's #1 DJ for the past 2 years and with over 50 million monthly listeners on Spotify, David Guetta is a legend in both pop and electronic music. We hear his songs on the radio and in our favorite nightclub. We've seen him work with artists such as Sia, Nicki Minaj, Akon, Justin Bieber, Avicii, and so many more. Guetta is the ultimate crossover between the energetic sounds of EDM and pop songs that have us screaming the lyrics.
Right before Guetta took the main stage we were lucky enough to speak with him about what he's been up to and what's to come. While he will always embody the legendary sounds of dance music, Guetta made it clear that he will push the envelope and continue to evolve his sound. 
EDM Maniac: What's up everyone! I'm here at Ultra Miami with David Guetta! How are you?!
David Guetta: My pleasure! Obviously, I'm very excited and a little bit nervous because I haven't done this in a while!
EDM Maniac: No way! Nervous?!!
David Guetta: I promise I promise! Ya know I've been waiting for this for three years!
EDM Maniac: Agreed we all have.
David Guetta: A lot of things have been happening since COVID. My sound is completely different, we got future rave. I'm gonna play a lot of that, I brought MORTEN with me. I have a new record with Joel Corry that is really special so he is here with me too. I also got a big surprise no one knows yet- I'm starting this new sound called "street house" and I'm bringing out Kodak Black!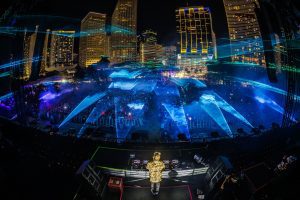 EDM Maniac: Haha no way! The crowd is gonna go crazy for that.
David Guetta: Yeah he's coming right now. Street house is gonna be a combination of rap and let's say bass house.
EDM Maniac: That sounds super cool- I know as a fan of music you can always appreciate when artists mix up their sound.
David Guetta: Ya exactly, I love doing new things and trying to push the envelope. We can't always stay in the same style forever- I think a big part of dance music is to be creative and move things forward so I keep trying to do that.
EDM Maniac: For sure and that's with anything in life, you have to keep pushing forward or how are you ever gonna evolve! So you said you're a little bit nervous, do you do anything before a set to decompress?
David Guetta: Ya I always take like 10 minutes alone, closing my eyes.
EDM Maniac: Like self mediation?
David Guetta: Ya and just trying to relax and find balance!
EDM Maniac: Well it's no question you've released a ton of incredible hits- Titanium, Without You, Heartbreak Anthem… What're your top three favorite tracks you've worked on?
David Guetta: In my entire career?
EDM Maniac: Yes
David Guetta: Oooh- Titanium, I Gotta Feeling, Memories, Sexy Bitch… When Love Takes Over, Without You…
EDM Maniac: Haha there are so many! That's more than three…!
David Guetta: Ya haha I have quite a few but honestly it's different because future rave is not meant to be commercially big. But I am so so passionate about it!
EDM Maniac: That's awesome- I actually got the chance to speak with MORTEN at EDCO and he told me all about future rave, for those that don't know can you explain what it means and what you hope for future rave down the line?
David Guetta: Well you know we started this looking for a new sound to play. We were both feeling frustrated. We didn't want to play those old EDM sounds anymore and at the same time the underground was so huge but to me, it felt like it was lacking a little bit of energy for the main stage. So I was like, okay well how do we do it? We took foundation in the underground, mixed it with let's say some of the 90's rave music ya know, very influenced by sounds from The Chemical Brothers, The Prodigy, that type of music- and added a little bit of trance but with the energy, power, and production you can find from EDM. So it's like underground music on steroids!
EDM Maniac: Ya for sure, I didn't know much about it until I talked to MORTEN and saw his EDC set and it's extremely high energy which is what the people need as you said. Props to you guys for creating this new sound that people can get into and I'm sure the crowd today will love it!
David Guetta: Ya ya absolutely!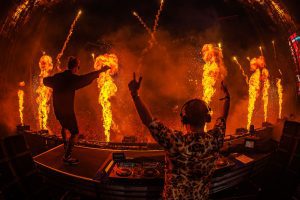 EDM Maniac: So it's no question you've had a crazy successful career so far, what is your biggest accomplishment yet?
David Guetta: I think to me it was that moment where I made DJ culture really cross over to radio in America. That felt impossible at the time!
EDM Maniac: Really? 
David Guetta: Absolutely!
EDM Maniac: How long ago was this? When do you think that cross-over happened?
David Guetta: Like 2009 was when it really started to happen, ya know starting to feature artists which was completely unusual. People would bash me so much for doing this because I was coming from house music and starting to work with hip-hop artists or pop artists. I got murdered! Then it became the standard! Ya know I'm proud of it because I feel like I've helped the community and some other people have helped me! It's amazing how some people made me want to do that and very often I speak to big DJs who say "you made me want to do that, be a producer, be a DJ" and it's amazing. This is actually the biggest compliment- when there's an artist that I love that is telling me "oh I wanted to become a producer because of you" I'm like WOW this is the biggest compliment!
EDM Maniac: That's amazing- I think you inspire a lot of people! You're such a legend to so many people and hearing you be so thankful and humble about it is awesome.
David Guetta: Oh thank you!
EDM Maniac: How do you find balance in your career and personal life?
David Guetta: Ya.. I'm still working on that.
EDM Maniac: Haha really after all these years?
David Guetta: Ya because my life is so about music. It's hard for me to separate- my girlfriend is always like "oh you need more balance in your life" but it is hard for me.
EDM Maniac: Ya I can imagine it's difficult especially being on the road and working.
David Guetta: Well no because I don't always feel like it's work.
EDM Maniac: That's even better, it's your life and you love it! My mom always says if you love what you do you'll never have to work a day in your life.
David Guetta: Exactly, I love to hear that!
EDM Maniac: What are some of your future goals as an artist?
David Guetta: I would love to find a new singer/songwriter- when I started working with Sia in the beginning we kind of developed a sound together that was so exciting. Of course, you don't find Sia's everywhere ya know but that would be my biggest dream right now.
EDM Maniac: Ya for sure that's awesome, you have the power to help some of the newcomers in the industry.
David Guetta: Ya ya but also I love songwriting, this is probably one of the reasons for my success because I spend a lot of time with songwriters in the studio. It's funny cause when you speak to young producers they only speak about the newest plugin but at the end of the day, that's not what makes a hit. It's writing a song, a melody, that can touch your heart and this is why Avicii was so huge, why Calvin Harris is so huge, Swedish House Mafia, The Chainsmokers, or DJ Snake. We all spend so much time in the studio with artists writing songs.
EDM Maniac: Ya there's a lot of effort that goes into it and that's why it always works so well.
David Guetta: Ya always trying to focus on spending time composing and writing songs and then later produce it in a way that's cool.
EDM Maniac: Ya then later down the line remixing it like you've done with Titanium and Future Rave.
David Guetta: Ya absolutely!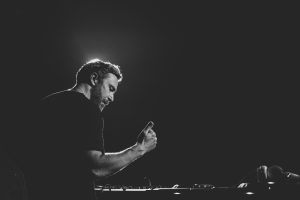 EDM Maniac: So what is next for you for the rest of 2022?
David Guetta: Well it's crazy because this week is the beginning of my new life! Because I've been away from touring for some time and after this week I'm not stopping until October. I've worked extremely hard to finish all the records so I can focus on touring now!
EDM Maniac: Well that's amazing- congratulations on everything and good luck on the road. Thanks for chatting with me!
David Guetta: Thank you!
Stream David Guetta on Spotify
Follow David Guetta on socials: