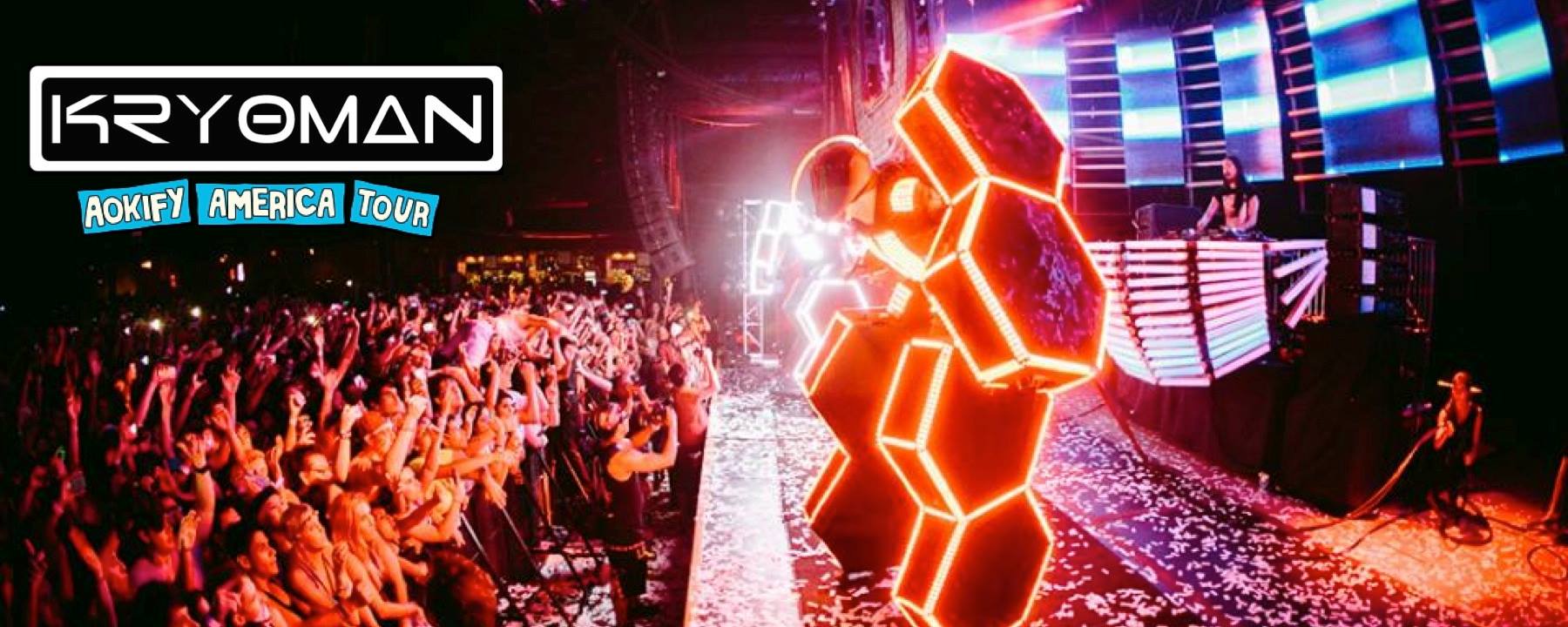 Next Friday night, The Shrine Auditorium in Los Angeles is going to erupt with the sounds of Steve Aoki with special guests Waka Flocka and Linkin Park! But nothing will complete this party without the one and the only, Kryoman.
Shrouded in myth since the early days of rave, the half man, half machine known as Kryoman has been blowing minds inside the electronic music underground since nearly its inception. As 'rave' began to rise like a phoenix from the underground, so too did Kryoman. Year after year, the man and the machine continued to evolve in a nearly streamlined path with dance music. After all, this was what spawned him in the first place. Dark nights in warehouses with a then 'secret society', whose only purpose was to hear pumping rhythms that were unknown and unheard outside the walls of this temporary musical sanctuary. A rave was a magical place and Kryoman became synonymous with the experience. At the core if his being, Kryoman is the very essence of electronic. A total and complete cerebral and emotional takeover, culminating in a synergistic explosion of aural and visual madness. The robot, as he has come to be known, takes revelers to a whole new realm of reality. He is the energy and the link that ties the artist with the audience, because, when the robot engages, he is channeling both.
Win tickets to Kryoman/Steve Aoki/ Waka Flocka/ Linkin Park in Los Angeles here.
Kryoman dominates all factions of the dance music landscape performing nightly at festivals, clubs, and one offs across the globe.  Spewing fireworks and dazzling us with his out-of-this-world LED suit, Kryoman is nothing short but an immersive, interactive experience. Kryoman has even added some cool new add-ons just for the AOKIFY America tour featuring his own #neonfuture technology, and even made Steve Aoki is own jacket! Here's more of what he worked on just for the tour:
THE LED HEADDRESS- was designed choosing a signature prop that Steve use's sometimes. a tribal Indian headdress that is decked with high powered multicolored LED.
THE ARC – an archers bow wrapped with high powered multicolored LED that shoots 10,000 psi of Co2 out of 6 jects lined across the bow.
THE CLAWS – Two cybernetic hands that are loaded with high powered multicolored LED that shoots 10,000 psi of CO2 out of jets on each of the hands. They shoot over 40 ft!
HEX 3D ROBOT-Two 10 ft tall Kryoman style robots that are concealed as pieces of the staging compiled with a look of 4 stacked hexagon outlined in high powered multicolored. They come alive like transformers and walk around the stage shooting 40ft clouds of freezing gas.
STEVE'S Show jacket – A high collared leather vest covered with high powered multicolored LED and his tour logo on the back.
We absolutely can not wait for Kryoman's appearance next Friday night! Stay tuned with our interview with the man/machine himself when he touches down in LA.
Can make the LA show? Here's a list of Kryoman's WORLD TOUR dates:
http://www.kryoman.com/worldtour/