Techno in Los Angeles has come so far.
Just a few years ago, mentioning LA alongside Detroit, Berlin, New York, Amsterdam, and other legacy techno hotspots around the world would be cause for laughter. Some may have even sneered at the idea. Sure, LA has always maintained a certain authority in the world of music as a whole, but techno was never one its historical contributions.
Fast forward to 2021 following a world-shifting pandemic and LA is an avid contender for a desired techno destination. Top level talent is flocking to the City of Angels, and the ever expanding taste of the LA dance community is welcoming them with open arms.
Most recently, LA welcomed Nicole Moudaber, Victor Calderone, Will Clarke, Layton Giordani, and Avision for a splendid yet dastardly affair at 1756 Naud St., LA's grungy outdoor space for all things four on the floor.
Without Naud street, LA still may very well be an unseemly footnote in the world of house and techno. Thankfully, Insomniac found the space back in 2016 and made it the flagship of their freshly announced underground wing: Factory 93.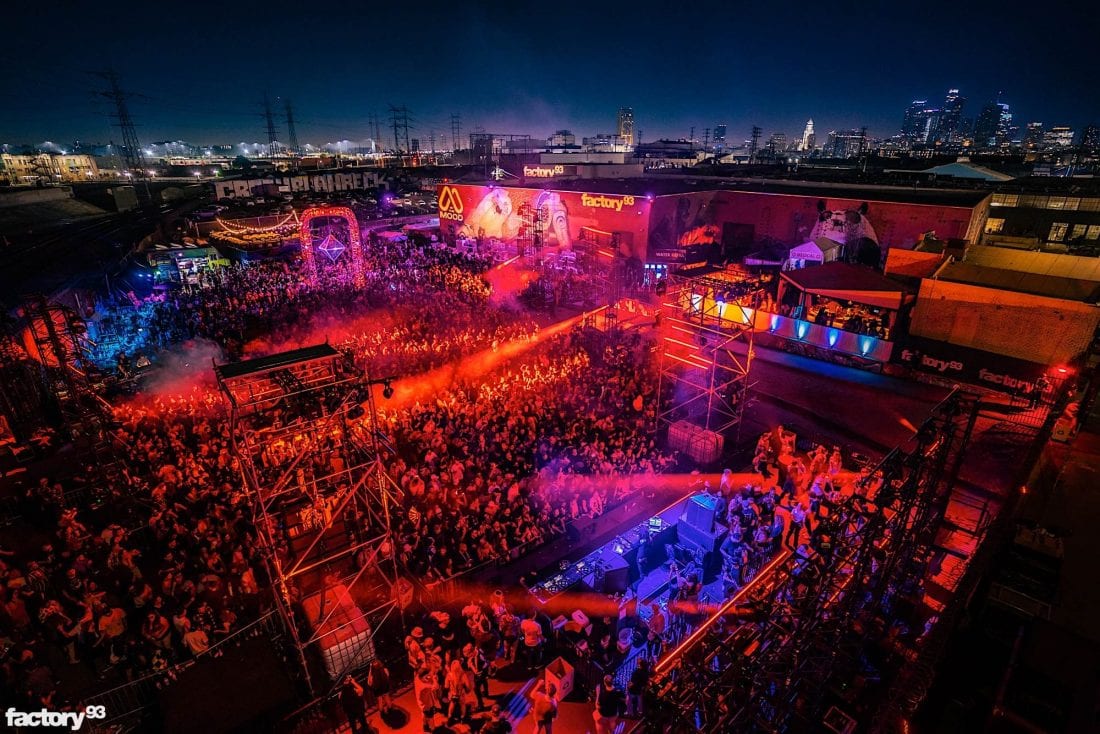 Whether outdoor events were initially planned to be on the Factory 93 menu is unclear because a centerpiece of the Naud St. property is a huge multipurpose warehouse. With an untouched industrial feel, it's clear why a veteran raver like Insomniac Founder Pasquale Rotella chose it for techno parties.
Nicole Moudaber was one of the few stalwart acts to play legitimate underground functions in this warehouse. Eric Prydz, Adam Beyer, Solomun, and Get Real were some of the other headliners who manned the decks until 5AM or later, bringing a new kind of rumble to LA. One that the city had been trying to ban for years.
Following the tragedy of EDC Los Angeles 2010 (the final EDC to be help in Los Angeles) the city government was fighting raves with unhindered vigor. Techno driven warehouse parties were under siege, and massive raves couldn't be traditionally held at easy to regulate venues like the Staples Center. The closest thing were open floor venues like the Hollywood Palladium and the Shrine Expo Hall, but those maxed out at one stage with 5,000 people, and every raver knows dance music culture is bigger than that.
Time and time again promoters would try to legitimize house and techno within city limits. Time and time again city officials shut them down. Factory 93's warehouse was the last major stand against the long-held stigma, and after only a handful of shows the city closed it permanently.
This was certainly a bummer for house and techno lovers in LA. The warehouse shut down right when the community was really starting to develop an identity of its own. However, every cloud has a silver lining, and Insomniac found that silver lining in the backyard.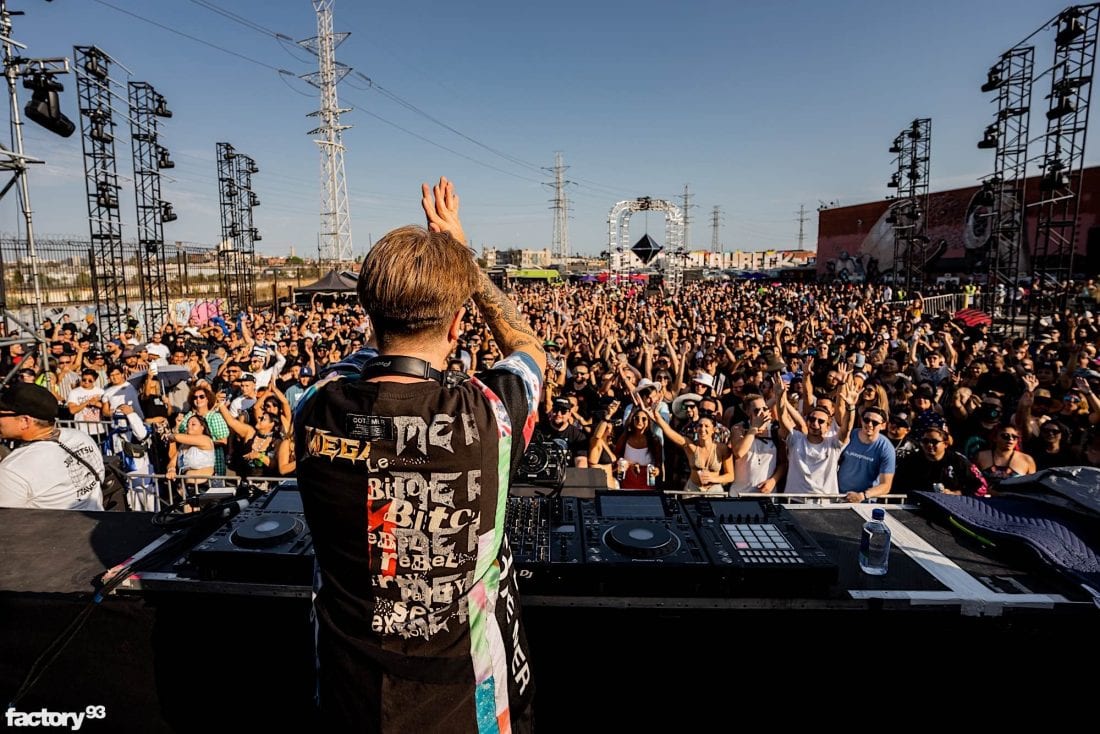 Behind the warehouse was a wide-open raw space. A space that—with a creative mind and unwavering dedication—could be anything. The people at Insomniac retain both of those qualities and so that space (which is still only known as Naud Street) became a haven for house and techno.
The outdoor, daytime logistics appeased the city. The wide open layout appeased Insomniac's production crews. The underground aesthetic appeased the fans (Amtrak trains run right alongside the venue for an added bonus). It was a win-win-win, and suddenly there was a guaranteed place for artists like Carl Cox, Green Velvet, and Maceo Plex to play extended sets to a massive crowd.
There was also a room at Naud for a two-stage festival called Secret Project, which was such a massive success in both 2018 and 2019 that now the brand is making its debut at ADE this year.
LA's house and techno community had been craving a place to gather like this before Naud opened. After opening, the existing community rejoiced in gratitude. No longer was there an air of secrecy and elitism surrounding underground music. In years past those attitudes existed so as to draw the minimum amount of attention to illegal events happening under the cover of darkness.
Those events still exist and they still provide a necessary expression of dance music culture. But with Naud, the house techno community can experience their favorite music without the ball and chain of forced gatekeeping.
Everyone began bringing their friends to Naud; welcoming in new eager fans who were excited to expand their taste. In just a couple years, the niche underground crew who attended every single warehouse grew into a thriving community of mature, respectful individuals.
Those were the people who attended the first event back at Naud Street with Nicole Moudaber, and they couldn't have been more thrilled to be there. This was an event for dancers who were ready to expel their pent up quarantine energy in the most considerate way possible. When people weren't dancing they were starting new conversations. Making new friends. Expanding the community.
Best of all, the DJs were clearly absorbing this energy as well, pushing the limits of what was expected of them. Will Clarke played a set so outside his time as a Dirtybird rising star; swapping minimal tech house for swinging techno. Nicole Moudaber, who was already ecstatic to be hosting her own event (so much so she played two sets) and was already the queen of darkness, played a set so hard and so grueling it's surprising the speakers were able to even handle it.
What could handle all this coinciding frivolity is Naud Street. Literally and figuratively. Literally in the sense that there were practically zero logistical issues. Figuratively in that it felt like the space was waiting for the community to fill it once again. It's like the house and techno community has a home the way Dodger fans have Dodger Stadium.
Except when this community gathers, there is no competition. It's all about reveling in the experience of the moment, and with this stomping grounds established there will be moments for years to come.
All Photos Provided By Factory 93