Excision's Lost Lands has commented on the environmental disaster in Ohio, stating they are monitoring the water and air quality in the area and making a donation to those affected.
Earlier this month, a freight train carrying a chemical called vinyl chloride derailed in Ohio. It spilled from the train, causing a fire and hydrogen chloride and phosgene to enter the atmosphere. Furthermore, the Ohio River may have also been contaminated by the dangerous chemicals, tainting the water supply for those who derive water from the river.
And while the EPA has claimed the area is safe, Lost Lands, which takes place in Legend Valley Ohio, is taking extra precautions to make sure ravers remain safe.
The festival made a statement on social media claiming they are donating to assist those who have had to evacuate and to raise awareness about the situation. They will additionally continue to test the air and water quality of Legend Valley, despite the festival not taking place for another seven months.
The statement eased concerns but confirmed safety measures saying, "In our region, the winds predominately blow toward the northeast, so Licking County and Legend Valley have avoided fumes from the incident. Additionally, Legend Valley's water is not sourced from the Ohio River, or where the incident occurred. We will continue to monitor Legend Valley's environmental safety year-round."
Lost Lands was not the only music event worried about the impacts of the chemical disaster. Subtronics was supposed to play in Cleveland on February 15 but canceled the show as a safety precaution for him and his team.
Check out the official statement from Lost Lands on the train derailment and chemical spill in East Palestine Ohio below: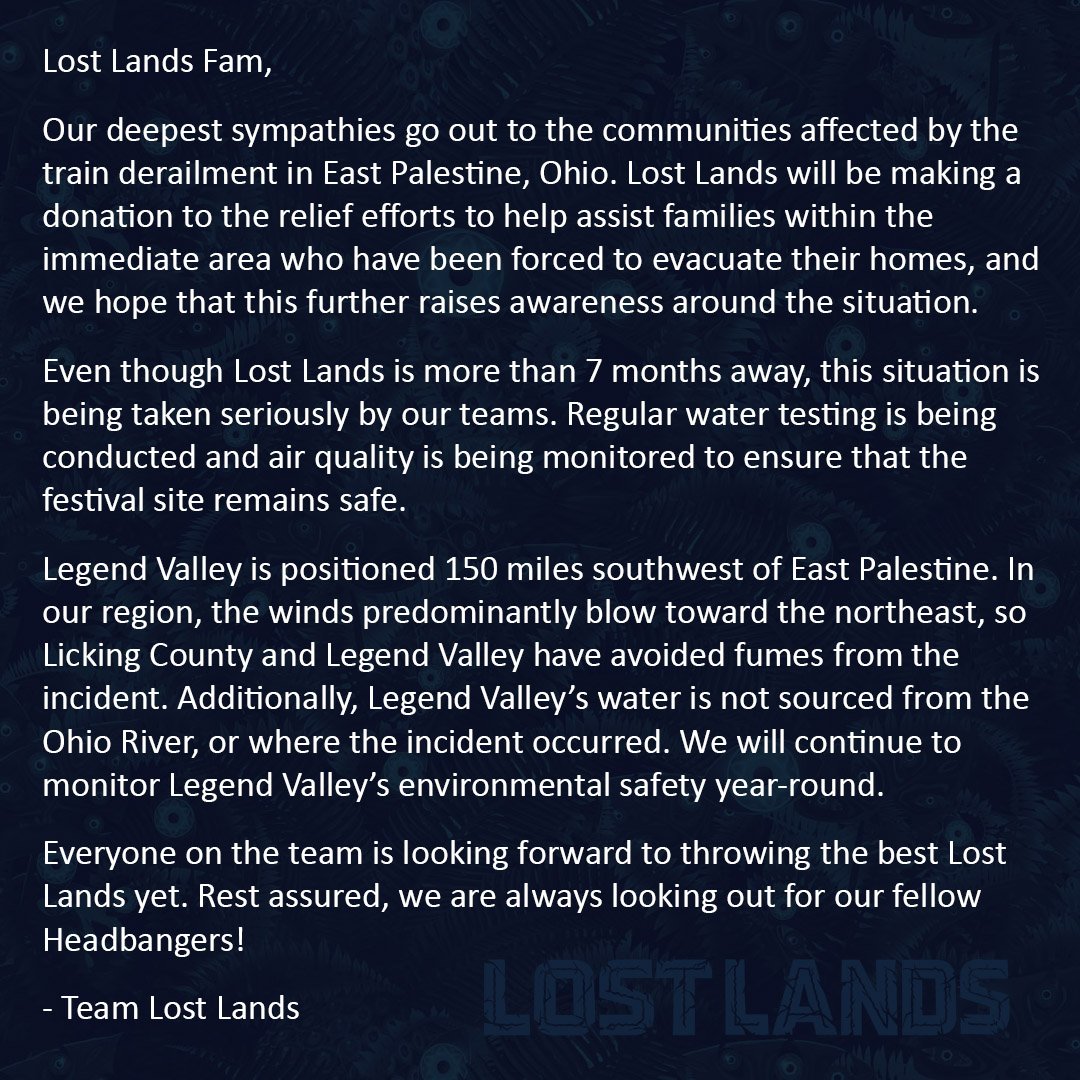 Featured image from Lost Lands