Long Beach has hosted Love Long Beach since 2013 and has had great success as people are always looking for an immaculate escape from the hustle & bustle of Los Angeles. Once more, the magic will return to its picturesque home of ShoreLine Aquatic Park on July 27 & 28 with it's sixth and most powerful lineup yet.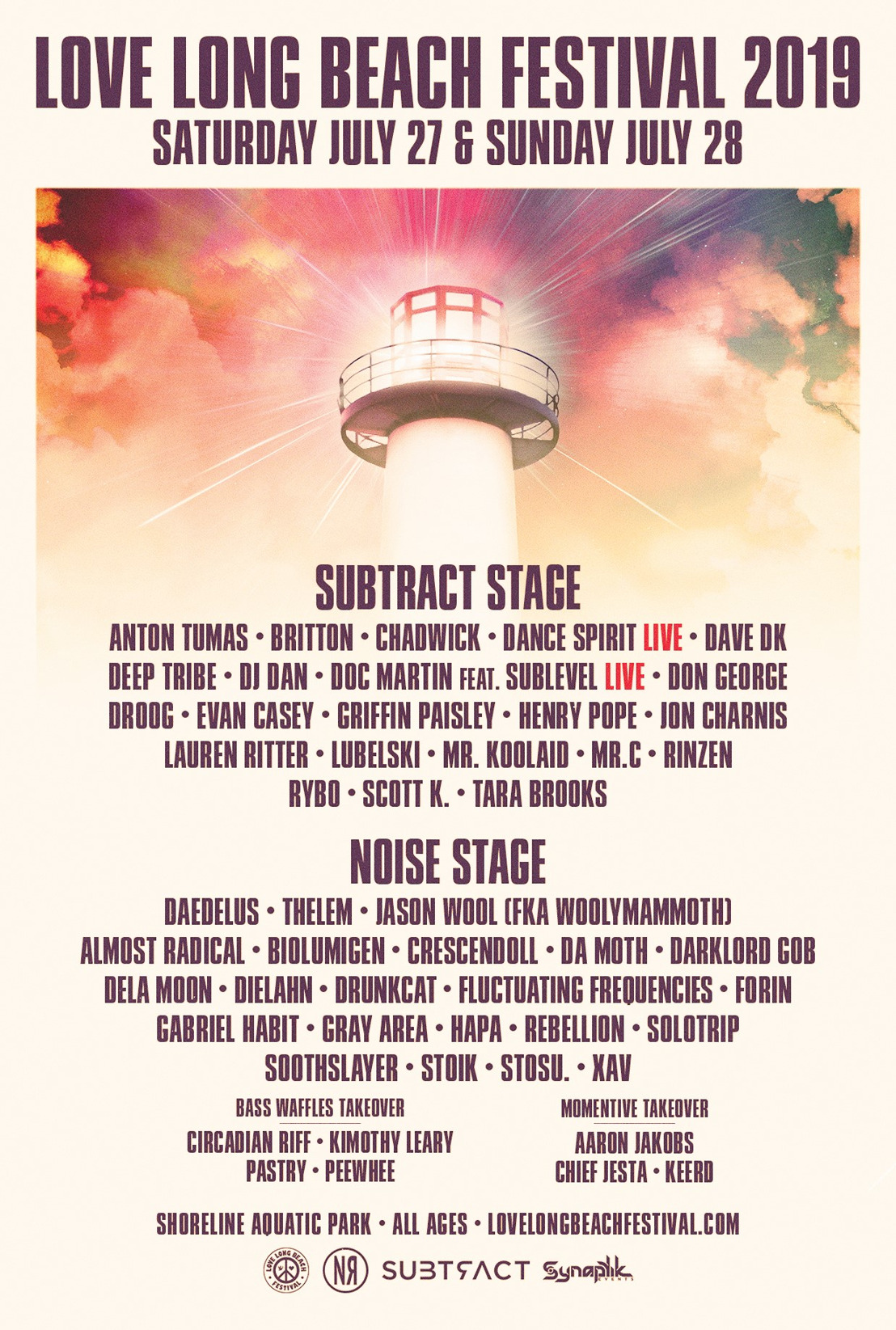 The locally legendary brand Subtract will takeover the festival's main stage as it brings in a stacked lineup of headliners throughout the two-day affair. Doc Martin, Mr. C, Tara Brooks, and innovators Dance Spirit are just a few of the headliners you'll see dominate the stage.
Love Long Beach's Noise Stage will bring artists like Daedelus, dubstep king Thelem, and a brand new type of set from Jason Wool ( formerly WoolyMammoth).
Although the music is the main event, attendees will be well rounded in visual art, wellness, cuisine, yoga, and meditation. Concert-goers will have twenty different food trucks who plan on supplying everything from the healthiest of vegan food to hearty meat platters.
Get your tickets here! 
Full Lineup (ABC):
Aaron Jakobs
Almost Radical
Anton Tumas
Biolumigen
Britton
Chadwick
Chief Jesta
Circadian Riff
Crescendoll
Da Moth
Daedelus
Dance Spirit (LIVE)
Darklord Gob
Dave DK
Deep Tribe
Dela Moon
Dielahn
DJ Dan
Doc Martin feat. Sublevel (LIVE)
Don George
Droog
Drunkcat
Evan Casey
Fluctuating Frequencies
Forin
Gabriel Habit
Gray Area
Griffin Paisley
Hapa
Henry Pope
Jason Wool (FKA Woolymammoth)
Jon Charnis
Keerd
Kimothy Leary
Lauren Ritter
Lubelski
Mr. C
Mr. Koolaid
Pastry
Peewhee
Rebellion
Rinzen
Rybo
Scott K.
Solotrip
Soothslayer
Stoik
Stosu.
Tara Brooks
Thelem
Xav