Leah Chisholm, better known as LP Giobbi, is absolutely thriving in the world of dance music. While she is an incredible DJ and producer who puts on the most vibrant sets, she is also the founder of the Femme House Project. Femme House Project supports equitable opportunities for women and gender-expansive individuals in the dance music scene. Just wrapping up her most recent Femme House Tour, LP brings a sweet mix of house music, live piano, and the most unforgettable energy. During Miami Music Week, we got the chance to catch up with LP, we chat all things Femme House, her recent travels, and what other exciting things she has in store for us!
EDM Maniac: Hey LP! So excited to chat with you today. Thanks so much for meeting me!
LP Giobbi: Hii! Thank you!
EDM Maniac: How have you been?! How's Miami Music Week so far?
LP Giobbi: Hii! Well, it's day one, and it is already very intense haha. It's great, I'm grateful to be here, lots of fun events ahead of us.
EDM Maniac: Awesome, LP just played at the Masquerade curated by Claptone and it was amazing, her set was incredible, the crowd was loving you. Do you find the crowd energizes you more or less?
LP Giobbi: Haha 1000% more. The crowd is everything. It's endless feedback between the crowd and the DJ, and DJ and dancer. There would be no DJ without the dancer!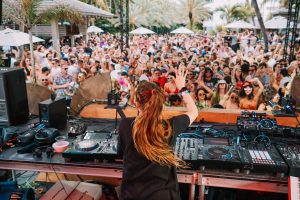 EDM Maniac: Haha definitely! So first off, you've been on your Femme House tour for the past month! How is that? What's it like being on the road?
LP Giobbi: Oh it's wonderful, I mean it's all the things it's extreme highs extreme lows. The hard thing about this tour is that ill play until like 4 am then have to get the 6 am flight out in order to make it to the Femme House workshop the next day. But the beauty of that is that I feel exhausted like I can't do it. Then I show up to the workshop and it's a room full of women and gender-expanding folks who are excited to learn about Ableton and I'm like "this is so cool!" then I get energized again!
EDM Maniac: Haha it's just a repeated cycle! How do you find balance in your personal life and work while touring? What do you do to decompress after a long weekend of shows? 
LP Giobbi: Haha OMG if my partner was here, he would laugh! I have ZERO balance which is a problem. Like I flew home for one day in Austin to play a private gig and my partner picked me up from the airport and I was like "you need to drop me off at the studio," and he's like "LP you're only home for a day.." and I'm like "I know but I have to go finish some stuff!" Haha, I need to figure that balance out or I'm pretty sure he's gonna leave me! Haha
EDM Maniac: What haha no!
LP Giobbi: Haha no he's the best person ever, that's not true. But I think also what I do to decompress is that I call Sofi from Sofi Tucker. Honestly, I played my first headline LA show and it was really overwhelming for me. Just a lot of people, industry dinners, and hanging backstage. It was just really scary for me, I got back to the hotel and was just staring at the ceiling and I called her and she gave me some tips to help bring myself back down, like meditations, mantras, yoga positions. I'm not great at it yet, I'm actually really bad at it so I'm hoping I get better.
EDM Maniac: Ya I agree, I try to do yoga as often as I can and you think it's easy but it's not. You really have to get yourself to relax haha.
LP Giobbi: Haha yes totally!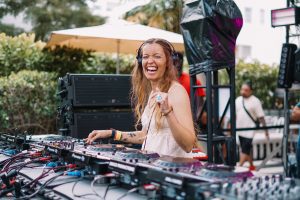 EDM Maniac: In addition to the tour, you've also been hosting production workshops in each city! That is such an amazing opportunity for aspiring DJs- what was your inspiration for this?
LP Giobbi: Well I always knew I wanted to create the Femme House community before it was physically created. I had the privilege of being raised by parents who were like "you can do anything, you can be anything." It still never occurred to me because I wasn't visually represented in that role but then I read an article that Grimes produced her own records and I was like "wait what" and I became obsessed with wanting to be that for someone else. The first Ableton course I took was me and 250 dudes, which motivated me! I wanted to create essentially "the golf course " for women. My partner does a lot of deals on the golf course and I wanted to create that for us!
EDM Maniac: Wow that's a great way to look at it!
Lp Giobbi: Ya! This is a great example- at the Brooklyn workshop afterward, this girl was like "I just started djing, I really want to get my first gig," and another girl was like, "I have my own night I can book you!" Ya know it's a place where people are trading tracks. Just like the girls club, a community, a place to support and uplift each other, share notes, and get to know each other. And that's how Femme House was born!
EDM Maniac: I love that, a perfect place to support each other, learn, and network! What's one piece of advice you would give someone starting in the music industry?
LP Giobbi: I love this question! I would say throw everything at the wall and see what sticks. How everything changed for me, I played a gig where not a single person was there besides my mother, it was an after-party for some festival and I remember thinking "what am I doing with my life!" But because I accepted that gig and played my heart out no matter what. Sofi Tucker was backstage listening and asked me to go on tour. That's how everything changed! Say yes to everything you can- within self-care boundaries. But throw it all out there and something will hopefully stick. The biggest currency isn't skill, it's believing in yourself and perseverance!
EDM Maniac: That's amazing advice, thank you I'm gonna take that for myself haha.
LP Giobbi: Haha yes take it and run with it!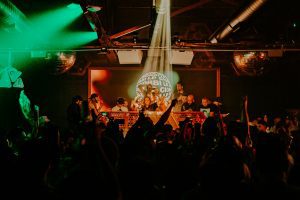 EDM Maniac: Have you faced any challenges as a woman breaking into the music industry? 
LP Giobbi: I think the hardest challenge is… well going back to what I said is belief. I think especially within the electronic space there are not very many of us. I played this gig in DC recently and afterward, I played a show with Diplo, this woman came up to me after and said "I've been coming to this venue for 10 years and I've never seen a female performer here" then she said, "I don't want to be a DJ, but now I feel like I can go and do anything". I think it's really internalizing belief and overcoming that.
EDM Maniac: Definitely, I've noticed your parents present at so many of your shows, have they always supported your career in music?
LP Giobbi: Literally the luckiest thing to ever happen to me, besides playing the show where I met Sofi Tucker, was being born to my parents. I truly won the lottery, they are my best friends, they are remarkable people, they are front row at everything, they call me after every show to see how it was, they have been my cheerleaders since birth. They make me believe I can do anything, I really believed in myself internally.
EDM Maniac: That's amazing and it's because of them!
LP Giobbi: It's 100% because of them! They were the ones who taught me the importance of live music, being a part of something greater than yourself, and in a community, and standing on a dance floor. How important that is for our spiritual well-being, happiness, health, and mental health. I went to school and studied music and women's studies and when I graduated I felt like it wasn't enough to pursue music. I felt like I should do something more, my mom was the one who was like, "when we followed the Dead around, getting to go to their shows and spend 3 hours there was a gift to me- it was what made me feel okay as a person it's what brought me my spirituality, playing music is enough." I was like wow what a different perspective! Creating happiness for people is enough!
EDM Maniac: Wow that's a great way to look at it and it's so true! My favorite part about your sets is seeing you slay the piano! How long have you been playing and do you play any other instruments?
LP Giobbi: Great question, I've been playing the piano since second grade. I also won the lottery with my piano teacher. Her name is Carolyn Horn. I studied with her all the way through graduating high school then I went to college and studied jazz piano. I also played the clarinet and was in the marching band at UC Berkeley. I'm actually releasing an album next year (oooo sneak peek) and you'll actually hear a lot of clarinet on there!
EDM Maniac: That's so cool!
LP Giobbi: Ya I perfected it but it is clarinet! And synthesizers, I play a lot of those, I consider that a full sound design so that it is an instrument.
EDM Maniac: Are there any new projects you're working on for 2022? You mentioned an album?
LP Giobbi: Well, I'm signing a record deal with my dream label!
EDM Maniac: Congratulations!
LP Giobbi: And I'm releasing an album, it will be a lot of live instruments- live drums/electronic drums, live piano, I'm working with DJ Tennis on it he's helping with the mixing. Then I'll eventually develop a live show to tour it!
EDM Maniac: That is so exciting! And lastly, how can readers support the Femme House Project?
LP Giobbi: Great! You can follow us on Instagram @thisisfemmehouse, you can donate which is all on our website! You can take a workshop or you can take an online course. You can attend a backstage pass, you can come to one of our in-person workshops on tour, you can go and support as many female and gender-expansive DJs as possible, stream their music, buy their records, buy tickets to their shows!
EDM Maniac: Awesome, I'll be sure to link all of that! You also drop playlists every so often right?
LP Giobbi: Yes so we have Femme House Radio on Sirus XM on Diplo's Revolution. That's every Friday I interview a female producer and it's been so fun! They make a mix for the show and that is our playlist.
EDM Maniac: Awesome, well thank you so much for chatting with me it's been great!
LP Giobbi: Thank you!
Stream LP Giobbi on Spotify
Connect with LP Giobbi on socials:
Connect with Femme House on socials: