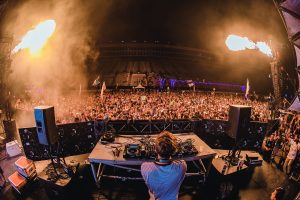 After four long years Christian Bauhofer, better known as Minnesota, is finally gifting us with a big new release. Curio EP is an expertly crafted five track masterpiece that drops today on WAKAAN. I had high expectations for this EP after hearing the two earth-shaking singles he's dropped, HiLow and Dark Crystal, in the previous months. He definitely did NOT disappoint. The EP is weird, experimental, heavy and everything I envisioned it to be.
Minnesota is said to be one of the most innovative and proficient electronic producers to come out of the West Coast bass music movement. Over the years, he has really stayed true to his style and his goals throughout his career.
"My goal is to make bass heavy dubstep/glitch-hop music that'll get you dancing, but it is not the same old three note transformer step," Minnesota stated during the beginning of his career. "I try to focus more on the melodic side of dubstep, and hopefully, make quality songwriting a more relevant factor in the genre."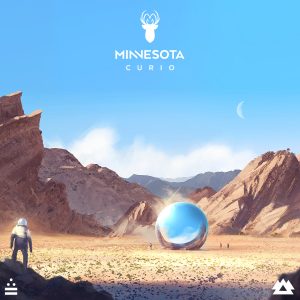 Curio EP further epitomizes that goal proving that Minnesota has followed through on his word and designed each track on this EP to be smooth, melodic, yet bass heavy. A recent press release said, "He has brilliantly blurred the lines between electronic genres. With the combination of arpeggiated synths, raw dubstep basses and fat, pounding drums, each track fulfills your every electronic craving."
I couldn't agree more with that description. Here's my breakdown of the new EP:
Edge
This track begins with a whimsical intro characterized by twinkling star noises until about 1:30 when my scenic tour of the universe picks up and I'm transcended into a deep bass drop. The breakdown after the drop is one of my favorite parts of the track. Right when you think things are going to end, they build right back up again. If I had to put a soundtrack to flying through the universe, it would be this track.
HiLow (DnB VIP)
HiLow was the first new tracks I heard released on WAKAAN a couple months ago and it reminded me why I love Minnesota. Redoing such a dope track with a Drum and Bass twists really showcases his depth as an artist. The track is overall more chill than the original single; featuring piano elements towards the end of the track as it slowly fizzles out and concludes.
Technique
The track's buildup hypes me up every time I listen to it. The drop is totally not what I expected which I think makes it even better. The buildup begins and is expanded upon until the drop. That trend continues all the way into the second drop as well which is also deeper than the first.
Dark Crystal
Oh hello old friend. I've been bumping this song in my car and on my WAKAAN playlist since it dropped a three months ago. It's intriguing intro features tribal sounding vocals which remain consistent until the first drop which is this heavy, up and down beat. It goes right back into that initial beat before it picks up and throws listeners for a loop with the second drop.
Desert Diamond
Favorite track on the EP right here. It starts off so gentle, with mystical flute sounding noises. But don't be fooled, things get nasty real quick. Minn drops that pretty noise into extremely heavy drumming bass lines soon after. It calms down a bit after that first drop and breakdown before letting you know "you're at the end of your trip." The song quiets back down as it seems to sink and shrink away back into the universe where the EP began.
I saw Minnesota last year at Electric Forest while on top of the Ferris wheel and it was this incredibly stimulating experience. I can't wait to see him again soon, hopefully, this festival season. His music is a force to be reckoned with and I don't think this will be the last time we hear from him this year in terms of new music this year. A press release said it best:
"After seven years of touring and five innovative EP's under his belt, Minnesota continues to build momentum with this Curio EP, and there's no sign of this success slowing down anytime soon."