This upcoming Thursday, February 18, Tomorrowland's One World Radio is turning 2 years old. To help celebrate the two-year anniversary, Tomorrowland's digital radio and content destination is throwing a 5-day on-air birthday party takeover which features 50 different artists and friends of Tomorrowland from around the world. The artists include Armin van Buuren, Dillon Francis, Steve Aoki, Nora En Pure, Tiësto, and many others. From Monday, February 15 to Friday, February 19, 10 artists will appear on the radio station every day to play a special 30-minute set that will feature tons of unreleased music.
During this time in 2019, Tomorrowland celebrated its 15th anniversary and launched One World Radio as a result. Now, One World Radio is one of the most iconic and appreciated radio stations around the world and has amassed a large following from more than 130 countries around the world. Ever since the launch of One World Radio, the radio station has broadcasted live from Tomorrowland, Tomorrowland Winter, and Tomorrowland Around the World. The radio station has also uploaded 54 weekly Tomorrowland Friendship Mixes and 20 weekly Sunday Morning Playlists. One World Radio has also thrown 8 unique live shows of 'United Through Music' and hosts a monthly label showcase.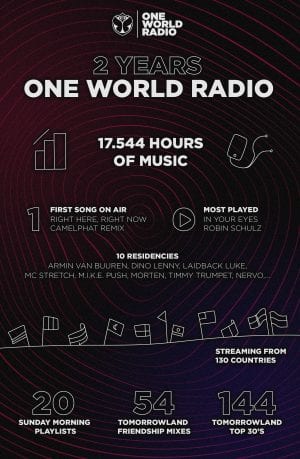 Listeners can tune into One World Radio online on either the Tomorrowland app or on YouTube starting Monday, February 15 until Friday, February 19. The radio station will be broadcasted between 10:00 and 19:00 CET.
Feature Image – Tomorrowland