Water is probably the most important factor in human life, in every regard. Not only does it keep us alive, but it's presence on the planet defined the advance of civilization. Irrigation, the ability to transfer water from one place to another, is what allowed cities to develop, and in them, everything we cherish as living beings on planet Earth.
This, of course, includes music festivals and if you've ever enjoyed fresh, free, clean water right when you needed it most at an Insomniac event or one of hundreds of other large-scale gatherings around the world, then you have Paul Baker to thank. Paul is the President of Event Water Solutions, and he is responsible for not only bringing the equipment and infrastructure to support the free water stations, he literally invented them himself.
We recently spoke to Paul for an exclusive interview wherein we discussed his mission with Event Water Solutions, his lifetime love of festival culture, and how he feels knowing that he is saving lives at these events.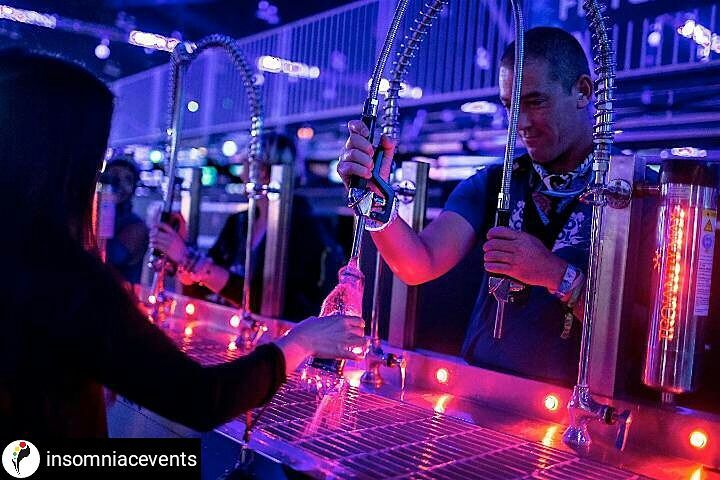 HL: What was your mission when starting Event Water Solutions, and how has that mission grown or expanded as time has passed?
PB: The company started as more of a company trying to promote the green aspect of saving water bottles at music festivals. There was a local music festival in my home town that approached me because I owned a water treatment store. I built filters and water softeners and that kind of thing, and they wanted to go bottled-water free and asked me to come up with an idea. So I built one of the water stations that we've seen at festivals around the country in my shop. Just built it myself and took it to this local folk festival called Mariposa Folk Festival in Orillia, Ontario, Canada which is where I'm from, and it went really well. The first festival we saved something like 14,000 bottles over the weekend (it was a 3-day festival) and it was really loved by the crowd, so that's what sparked the idea to begin with. Over the years, as I've grown and expanded, the bulk of our business is now in the U.S. and we do the bulk of the major EDM shows in the U.S.. It's really morphed into more of a health and safety services company rather than the green message that it started with. Although the green message is certainly still there at all these festivals, but in the EDM world specifically, we're very much about being part of the health and safety aspect of the festival.
HL: So these water stations are your invention that are patented under your name?
PB: Correct.
HL: I found an article from back in 2011 which described the beginning of your partnership with Insomniac. Throughout that time what has been your favorite event that you've worked?
PB: I'd say likely EDC Las Vegas. That is our largest event that we do every year by far. It's just the largest event out there, and it has been the one that has challenged the company to grow in order to service that event. So our first gig in Vegas, which I think was 2011? That was our first year with EDC. We had done some Insomniac work before that. We did a Nocturnal in Texas, and we did one in Southern California somewhere. So when we first went there I think we went with a total of 20 water stations which were in two locations. We had two banks of ten water stations. This year we're taking 65. That event grows every year and we grow along with it, but it's a delicate balance where we have to grow to meet their needs but we also need to keep all this equipment working all year if we're going to build it. Now as luck would have it, EDC has been growing at about the same rate as the entire company. So we are still able to service EDC and we do a few other events that weekend too, and still have enough equipment to service that event and keep that equipment working throughout the rest of the season as well. And my first EDC, just from a personal point of view; it really altered my perception of what an event can be. It is so much more than most festivals that are out there. To have 7 stages; 7 big stages, plus all the little stages, plus the art cars, and to have that many people, and to put on that kind of experience. That is the biggest party you're ever going to go I'll tell you that.
HL: Speaking as a consumer it's definitely interesting to hear that from someone on the production side because a lot of people have a stereotypical image in their mind of what kind of person would enjoy something like EDC even though many of them haven't been to EDC and experienced the scope of what it is.
PB : And I'm a 50-year-old guy. I'm not your average EDM target market, but yeah it's a crazy cool event.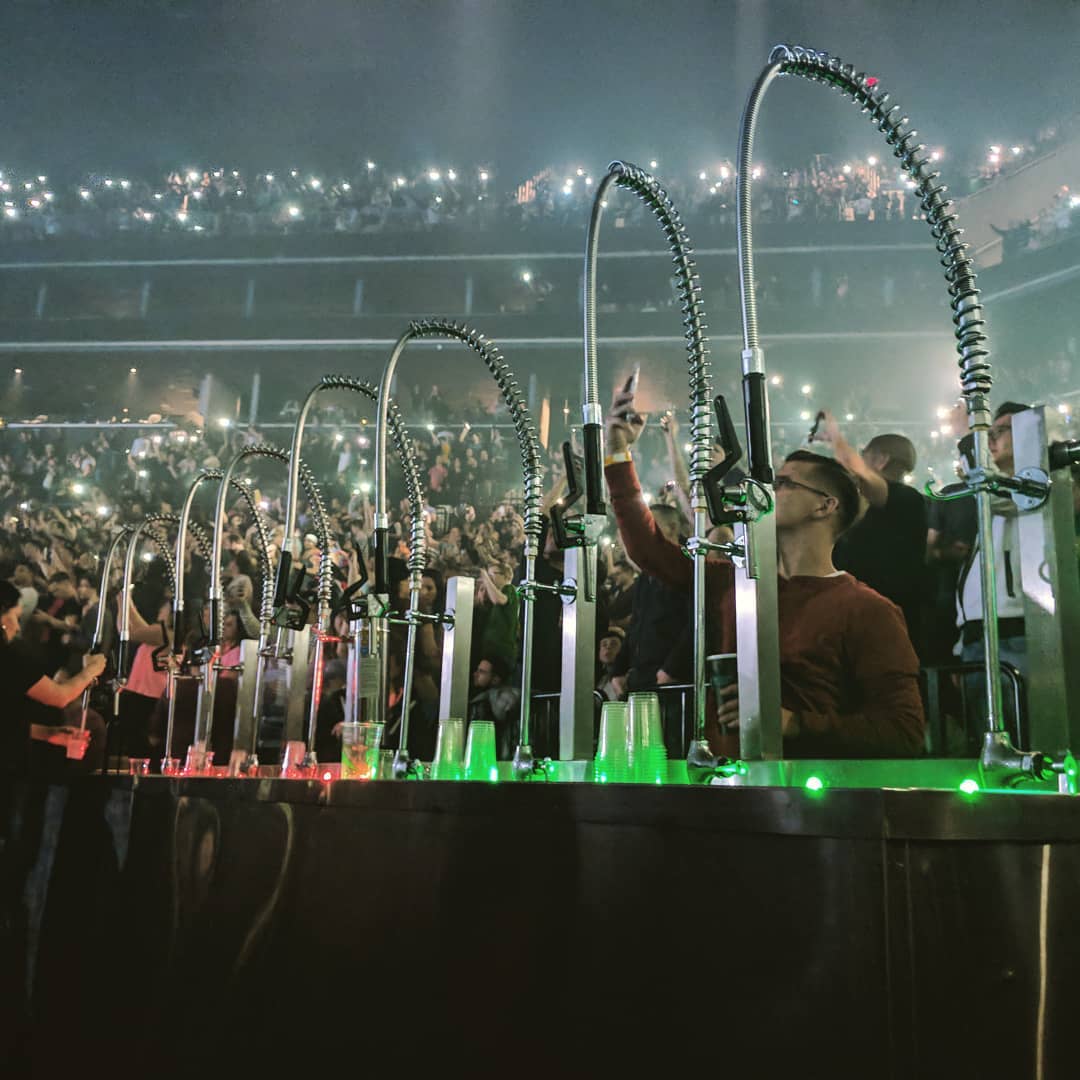 HL: There's a case study on the Event Water Solutions website regarding the Pan Am games which stated this event used 29 different venues, and yet there were almost no issues across the entire production. How do you maintain such a high standard of performance across huge events such as these?
PB: I think we're just willing to do whatever it takes. It's a real corporate attitude. The show must go on. As a services company that is supplying the production; any company whether it's us with water or the bathroom guys or the stage guys or the lighting guys or the pyrotechnic guys, the show has to go on and you have to find a way to make it happen. If you don't have that attitude from the get-go, you're just not going to succeed. Both your company and the show itself, your customer. So it's all about having that show-must-go-on attitude and making sure that all the staff that you're taking there share that attitude.
HL: A few years ago I volunteered at Nocutrnal Wonderland, and one of my jobs was manning the water station. Considering that these volunteers are always changing at every event, Insomniac or not, do you ever run into trouble with having to constantly use different staffs?
PB: Occasionally. Luckily the staff that we're using to pour the water, I mean pouring water is a pretty easy job to do. Just squeeze the thing and the water comes out. Don't touch the nozzle to the bottle. That's basically all you have to remember. Those are the rules. So that's a pretty easy training session. It takes about two minutes to train someone to do. So from that perspective it's quite easy. The challenging part with staffing is getting our skilled staff there. The ones who are setting up the equipment, the ones who are sanitizing the equipment. The ones who are diagnosing any problems or solving problems prior to doors. We can take 3 days to set up a bunch of equipment and an hour and a half to tear it down. The problem solving process, and the skilled staff that it requires, takes a long time to get done. Loading the stuff out there are no problems. It's all done already. It's not that big of an issue. The pouring staff; it's a very fun job as far as a volunteer job at a festival. People are always happy at the water station. We get nothing but love at the water station. The number of comments we get like "you guys are saving lives", we're giving away free water to people who really want it so it's a pretty friendly atmosphere at the water station and volunteers tend to like it and come back over and over again because they like it.
HL: What's been your been your general experience working with large-scale music festivals?
PB: That's the bulk of the work we do; with major promoters. I like it. Major productions tend to have major money behind them and therefore the production has everything that we need to support us when we get to the festival. Forklifts are readily available. Site crew and staff who know what they're talking about, and can help us navigate around the site where our water sources are and that kind of thing. When we get to smaller one-offs they're just generally less experienced and we end up helping them out with a lot of issues that have nothing to do with us, but that's also part of that show-must-go-on attitude. You've got to make it happen so that it'll happen again next year and we get hired again the following year. Almost all of our business is repeat business. If we do a festival once then we tend to do it again, but the festival market is very fluid in the US. A lot of festivals drop off. Some get cancelled. We had a couple cancel last year week of, and that can be challenging, but when you're working for a big promoter like that, the best part about is that the check usually arrives on time. We need to get paid just like everybody else.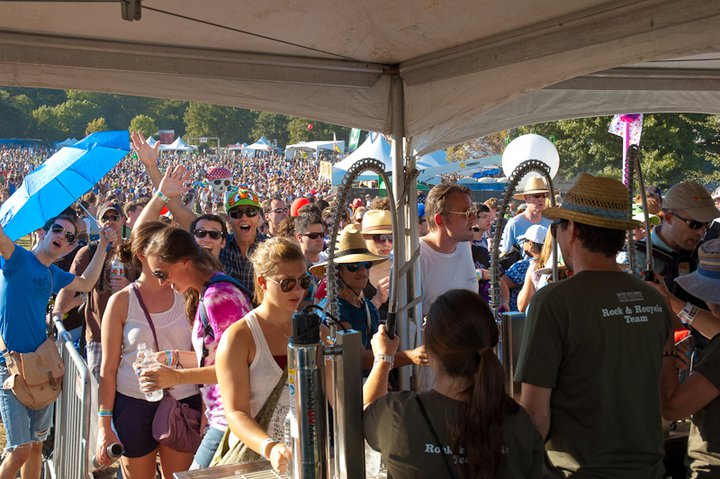 HL: Music festivals are clearly an important part of your business, and you said earlier that you appreciate events like EDC as a consumer, not just an employee. What would you say is your overall opinion on festival culture? The people. The music. How it all comes together?
PB: I have this standing little joke that I share with people that I started this company to feed my love for travel and music festivals because I would be doing this even if I didn't own this company. I'd be attending anyway. I've been a live music fan my whole life and I really can't imagine my life without it. So yeah I'm a fan of the culture, and I'm a fan of being a part of it. I'd be doing it anyway so I may as well get paid to it.
HL: Absolutely.  That's everyone's goal at the end of the day; to get paid to do what you love.
PB: Yeah! Now, EDM might not be my genre that I would gravitate to, but I do really like it. I like the atmosphere at a rave. You see very little negativity in the crowd ever. It's a very happy environment to be in for a couple days.
HL: What is it like for you knowing that your contribution to a festival is literally helping people stay alive?
PB: Anytime you can work in any job in your life that has nothing but a positive atmosphere around it, you're going to like it. I worked for many years in the casino industry when I was younger, and it sounds cool, but it's a pretty negative environment. Most people who are there aren't so happy. And now I work in this extraordinarily positive environment where I do nothing but help people. It's quite rewarding, and I like it a lot.
HL: That's certainly refreshing to hear, and you should know that there are millions of other people who like it quite a bit, too.
PB: It's true in anytime you can surround yourself in a positive environment . I think that should be everybody's goal as far as their workplace.
HL: What's one goal you're really striving for in the future of Event Water Solutions? You're already working some of the biggest festivals in the world, so where does EWS go from here?
PB: Expand to worldwide. We've broken into Europe in the past two years. We've had a presence in Australia for six or seven. We used to do the Stereosonic tour as far as EDM goes in Australia before it folded. But we do a few events every year still in Australia, and we'll continue to do so. It's more difficult to manage being so far away, but we expanded into Australia originally because they're on during our off season. It's Summer down there when it's winter here so that's when events are happening. We don't have much going on here in the winter so it gives us the time to do events down there, but the European market is super strong. There's a ton of festivals going on there, and we're just slowly breaking in. We're letting it grow rather organically. We do have equipment on the ground in Europe now so that's the immediate direction that we're heading, and it's not like there isn't still a ton of stuff to do here in North America, too. We want to get into more sporting events and other large mass gatherings. There's a need for water at any mass gathering of people and we just want to be the ones to provide it and continue with the strong reputations we've built doing so. 
Thank you so much to Paul Baker and Event Water Solutions for everything you do for this community!