And down the rabbit hole we went…
This years of Beyond Wonderland has come to a close and we can truly say it was bigger and better than ever before. This 9th edition took over NOS Events Center in San Bernardino as it took in more than 110,000 dance fans and transported to them to a psychedelic world like no other. With over 90 artists performing, you could never escape the Beyond Wonderland vibes and tunes. 
This psychedelic world was filled with secret stages, a Looking Glass lounge, and much more. While Beyond Wonderland brings back memories of Alice and Wonderland, theres no room for disappointment.
As you stroll in, you're greeted by the infamous NOS Events Center lake that intermittently breathes fire when you spot it by chance. After thoroughly inspecting what seemed like a 100 acre land, I can safely report that this was larger and more intricate than any other Beyond you've ever been to. For the Passport members, theres a perfectly curated private lounge for attendees who have this incredible deal. Walking around the premises, this truly felt more like an EDC vibe because it was so much bigger than Insomniac or the Headliners ourselves had anticipated. 
Although there was nothing bad to say about GA, VIP really took the cake. The private viewing sections were the perfect way to get up close and personal with your favorite artists and if you took a walk to the Mad Hatter's Castle stage, you could battle your friend ( or enemy) in a game of giant Chess or Jenga. Not to brag, but Queens Domain VIP was really the place to me. Not only are there less crowds and your own private bathrooms, but they also provided a kandi making station, a giant dollhouse to take photos in and a beauty/glitter bar.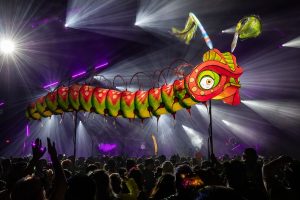 Now to the music. The lineup was a pleasant surprise to everyone as it seemed like it included anyone you would ever want. Headliners were even more overjoyed when they noticed that there weren't too many artists that overlapped one another. The fact that Dreamstate and Mau5trap brands were there was a huge hit, for good reason. The artists that really graced all the stages were Deadmau5, Rezz, Armin Van Buuren, and Yehme2. We were also lucky to get a taste of Deadmau5's alter ego Testpilot, as this was his first Beyond Wonderand experience. These stellar artists emulated Beyond Wonderland and everything that it stands for. Also, EDM legends like Rusko and Feed Me took the stage as everyone couldn't believe they were finally back in concert. A major surprise hit the stage as well this past weekend. Kaskade delivered a secret Drum n Bass set at the mysterious 'Rabbit Hole' stage. You can check out a few clips from that set by clicking here!
Although it's not main stage, Caterpillars Garden was something to be reckoned with. Friday night, it transported everyone to a state of Trance with Dreamstate as the host. Artists like Aly & Fila, Liquid Soul, and Andrew Rayel dominated that stage and gave us the best of the best. On Saturday, it completely transformed into the Basscon host where things instantly became more rowdy. The night ended there with a Lil Texas set which definitely brought in all the bass-heads. 
Aside from the huge names that we all know and love, Adam Auburn and Nick Ledesma also made an appearance as they are residents at the notorious Exchange in Los Angeles. They definitely showed Beyond what LA is all about. 
Although Beyond Wonderland is known for being one of the more intimate Insomniac festivals, they really outdid themselves and I think Escape and Countdown definitely has some friendly competition now. I'm already planning my next trip to Beyond and I can't wait to see what more they offer.