The biggest summer hip-hop festival is right around the corner. Real Street Festival is bringing you the biggest names in Hip-Hop and they are all gathering together this August 10th & 11th at the Honda Center in Anaheim to give you everything you've always been looking for.
Artists include A$AP Rocky, Cardi B, Future, Migos, Big Sean, 2 Chainz, Rae Sremmurd, and many many more. This festival will be featured on the grounds of Honda Center and will have 3 immaculate stages, art installations, murals, an artist alley, a vendor village, the California Love Thunderdome, and even a car show inside of the fully-cooled Honda Center.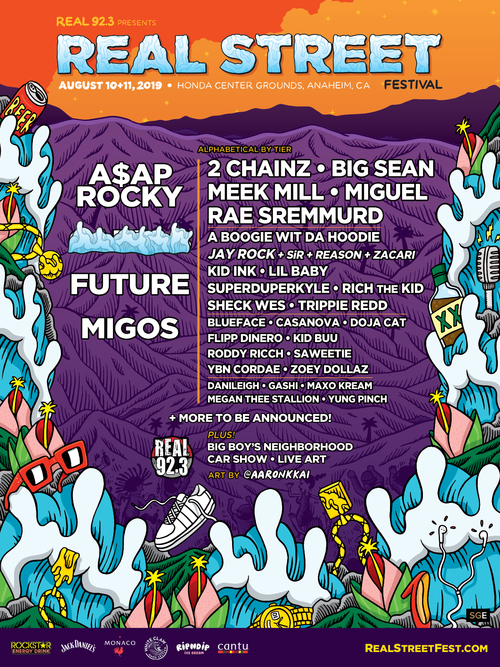 John Reese, producer of Real Street says, 
Hip hop is a GLOBAL SOCIAL PHENOMENA and the ability to produce a music festival of this magnitude in the heart of Southern California is a dream for SGE. Working with the Honda Center and its grounds has brought so much to the event. The building will be open so people can actually use a real bathroom at a music festival! Plus Big Boy's Neighborhood and other attractions will be on the Honda Center floor center court. Real 92.3 is an awesome partner, and with so many interactive experiences, three stages of amazing artists, special food and drinks, and so much more, Real Street will be the place to be this summer in SoCal."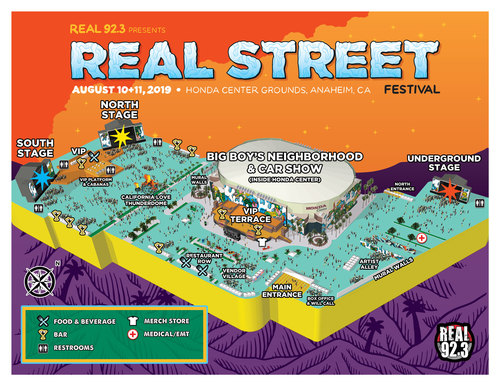 Below is a list of all the wonderfully immersive experiences you can participate in at Real Street:
Big Boy's Neighborhood: Big Boy's Neighborhood comes to life on center court inside the Honda Center. Visit Big Boy's own barbershop, nail salon, graffiti wall, and more, and even watch live artist interviews. You never know who will stop by the Neighborhood.
Car Show: West Coast Customs is bringing this car show to the next level with their custom automotive works of art, inspired by hip hop and curated with the help of some amazing street artists.
It's Your Own Thing: Create your own one-of-a-kind piece of customized, wearable art.
Art Walls & Murals: Acclaimed street and graphic artists will be painting live all weekend long, on massive billboards, canvas and graffiti walls throughout the festival. Watch the art come to life as the venue is transformed into an art show with one-of-a-kind custom pieces for Real Street.
Artist Alley & Vendor Village: Get lost in the Artist Alley and Vendor Village. Check out the artists selling and exhibiting their art and goods, and brands that resonate in the street culture scene.
California Love Thunderdome: California Love is inspired by one of the most iconic hip hop songs. This Thunderdome bar will serve as the perfect backdrop to your Instagrammable photo shoot, with pyro shooting in the sky and Mad Max-esque performers serving you cool cocktails on a sunny California day.
General admission weekend passes are at $169 + fees right now and single day passes are at $100 + fees. If you'd like to purchase VIP, the weekend passes are at $539 + fees.
Tickets for Real Street are available by clicking here. 
Can't wait to see you there!