One of the best things about music is that it can be pursued in endless forms. When a person decides that music is their true passion, there is no right or wrong way to chase that passion.
The music is made up of so many people besides the artists. Behind every superstar musician are hundreds of hard working people with the same dedication to music. Engineers. Agents. Tour Managers.
On some level those people could be considered more passionate about music. It's incredibly difficult to make it in the music business regardless of your field. If you're not in the spotlight you don't just have to worker harder, you have to work smarter.
Such is the story of Earthquake Weather; the story of a few friends working hard and working smart to express their passion for music
Earthquake Weather is the bass branch of Red House Presents, a production company which caters to all genres of music. Red House has been active for a couple years, but Earthquake Weather came about just a few months ago when Jordan Hartman met Diego Pineda at an underground dubstep show.
Hartman is the founder of Red House Presents and Pineda is the talent buyer for Earthquake Weather. The two of them come from very different musical backgrounds, but their passion for music is the same. Within a few days of meeting Pineda was working with Hartman's team at Red House, and the first Earthquake Weather back in February was a huge success.
Now they are throwing the second edition on April 7 with an equally impressive all dubstep lineup. We were able to sit down with Pineda and Hartman to discuss their musical journey, EQW, the future of Red House, and more.
HL: What do you love about music and why are you pursuing it today?
JH: Music was my first passion before I got into the technology stuff that Red House does. I was in bands. I started playing guitar when I was 13. Piano before that. The only reason I started doing the technology stuff was to keep my band together back in the day. I found a school that did some cool stuff called SciArc (Southern California Institute of Architecture). It had a lot of new technologies like 3D printers and immersive technology classes. So I went there and thought it was kind of cool. It eventually broke up my band, but I started to realize that I want to pursue music regardless of everything. That's what I'm all about. I realized I can put the two together, and kind of mesh music with these new technologies. I think it's a really cool place where events are going in the future. People are more interested in the visual aspect of events today than they ever have been in the past. So combining those two forces is really powerful.
DP: Music's been a part of my life forever. The first music that really got my attention was pop punk like Blink 182 and stuff like that. I knew I liked it. I knew I liked the sound of guitars and instruments. There was just something about music that was catching my attention at a really early age. I just had no idea how to really form it into an idea at that age. So time went on. I bought a guitar. Never learned how to play it, but I would pretend to play it and look at myself in the mirror and pretend to be playing these songs. I just knew that music and performing was gonna be a part of my life. All of this was happening in the bay area when I was in like sixth to seventh grade. I moved over here back to SoCal and I moved in with one of my cousins who actually passed away recently RIP and he was going to the musician's institute at the time which is still a really good school. He introduced me to music production. Reason. Pro Tools, and that was a long time ago and since that day I haven't stopped doing music. It went from me wanting to be a producer, to throwing shows and learning about the business, but at the end of the day it all starts with the music.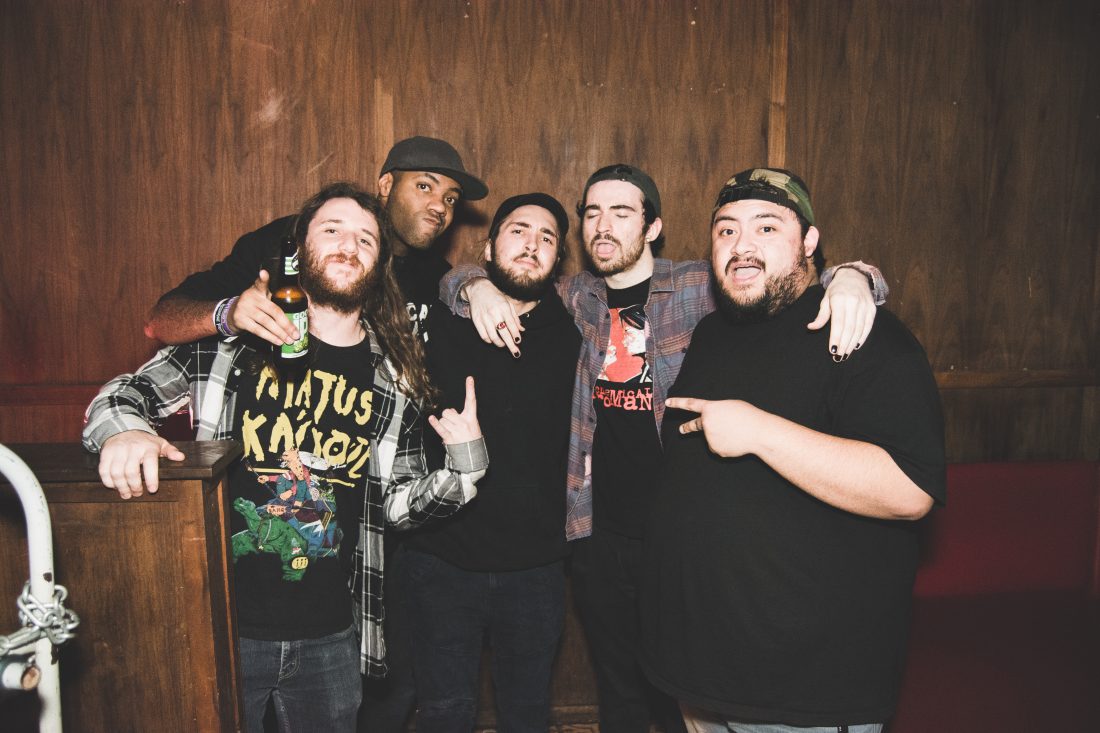 HL: How did you guys meet and what made you want to start working together?
JH: That's an interesting one. We actually met because of one of our other partners Aaron [Schulman]. He introduced us at a show that we were throwing where we booked Half Empty. These guys showed up; saw what we were doing and [Diego] brought another skill set that we didn't have and we were like "let's do this together."
HL: How long ago was that?
DP: That was September I think. Not that long ago. Joey [Levy], our good friend Half Empty, he hit us up. He said "hey I'm playing a show downtown. It's a warehouse party. come down!" He sent me the information and I had never heard of the company. Never heard of the place we were going to. Never heard of anyone on the lineup except for Joey so I was very intrigued just by that alone. We showed up, and the way my mind works is anywhere I go I see the potential, and in this instance I saw the environment. It was a warehouse type environment. Really simple. which I love. Really underground which I love, and my friend was playing which I love even more.
So yeah, these guys were there. They were running the show. I met Aaron first and just seeing what they were doing a conversation came up. Like "hey maybe we should try to do something." Just like at every show after a few drinks you start to talk and you're like "hit me up" but it's like a 60/40 chance you're never going to talk to that person again. That's honestly what I assumed not gonna lie. I was interested, but this wasn't the first time that Ive offered to help out a company cause I'm very interested in that side of the industry. They ended up hitting me up within the next couple days. I was at their place within like a week, and we were planning a show within another week. It happened really fast, but it happened really organically. Really natural. Nothing was forced. There were a lot of things we learned, but at the end of the day we did our first successful show, and now we're here talking to you getting ready for our second one. It's looking good. The future is looking well.
HL: What are you guys doing to stand out from the dozens if not hundreds of other promoters trying to build a brand in LA?
DP: One of the things that I would say makes us different is everything we're doing, we're doing it ourselves. We're literally the ones making the flyers. We're the ones passing out flyers. We don't have a street team. We don't really have much of a social media team. We have our friend Daisy, shoutout her, who we barely got. But the first time I was the one on the twitter and the Instagram. But we just did it old school. We passed out flyers. Our instagram has like 140 followers. We just did it with music. We let the lineup speak for itself.
JH: But also what makes us different the actual show experience. So like at the shows instead of your typical visuals behind the DJ we are actually trying to create more of an immersive environment. A new type of event space. So we have everything from projection mapping to interactive visuals where the audience is controlling what's going on in the visuals or the DJ's controlling what's going on in the visuals. We plan to have virtual reality and augmented reality installations in the future. We're really trying to create this once in a lifetime experience; this environment that can never be recreated. That's really what makes Red House different from all these other companies.
HL: I was definitely into the visuals at the last one. I'm super into instagram, but I was boomeranging those visuals for sure
DP: That's all Jordan man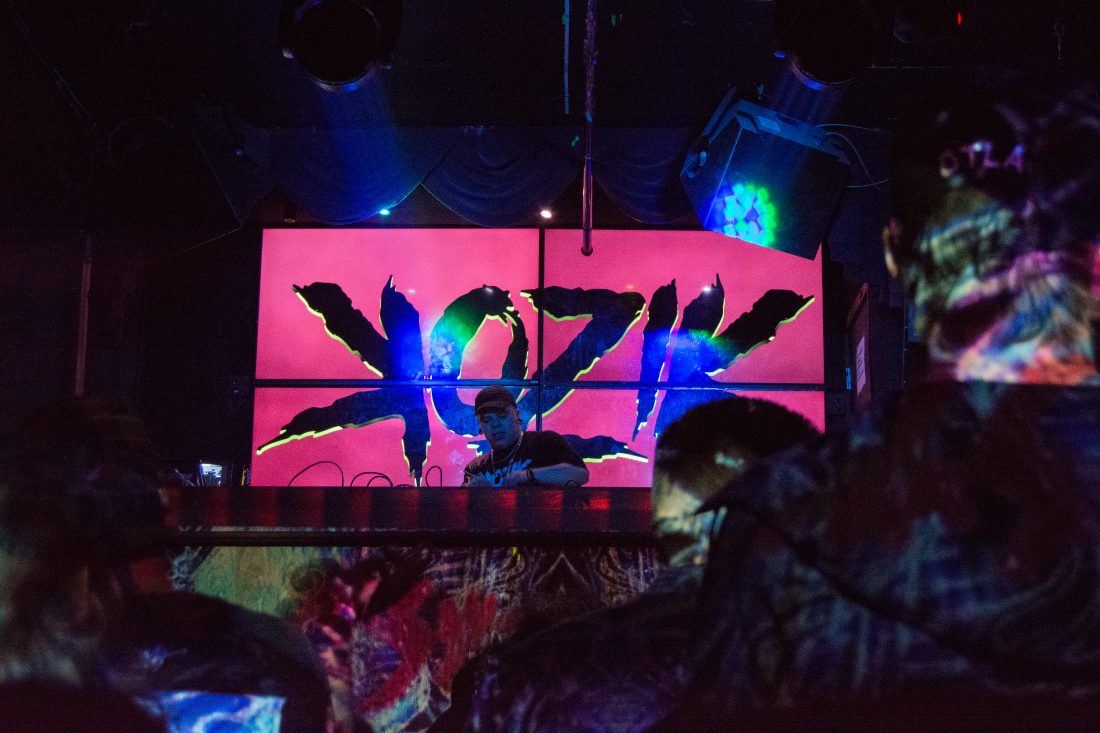 HL: Both of you clearly have diverse musical tastes, why did you choose to base your event around dubstep?
DP: For me, I came from dubstep. That was the first form of EDM that really made me feel something different. I love dance music. I still listen to like early 90's rave music. Actually today I was listening to ATB. "Ecstasy." Like if you don't know about that track look it up. That's an old school rave track and that's where I come from, but I'll never forget the day I went to a rave. It was Lovegroove San Bernardino 2009 and Excision was playing in a room the size of this [very small] studio. And Excision is just coming off of a countrywide tour and just that; I got the dubstep fever man. After that day I followed it everywhere for the next couple years of my life. Some people might say that like I wasted my life on something, but to me it was the passion. My passion. It still is. I went to every dubstep show in LA. I watched all these artists grow from playing little rooms to playing festivals. I became friends with some of these artists. I've got to work with some of these artists. I did take a bit of a break. I was listening to a lot of house music. I went back to my original rave roots. Got into techno as well, and I still love that stuff, but the energy that dubstep is coming out with right now…I mean it's never been like this. Im sure it was like this in the beginning for a lot of people, and I'm sure the older heads will say that about their generation. But now from where I'm standing it's just crazy man. It's amazing. That's why I want to work with it and if I can, help the scene grow.
JH: For me I'm a recent Dubstep fan and it's kind of an interesting story for me. I started in metal back in the day, and I guess a lot of people say dubstep is the metal of electronic music. It's deep. it's intense. You get head banging and moshing. I was always like standoffish against it when I was younger, but like [Diego was] saying earlier, it's been about the music from the beginning, and recently I've been giving music a chance. So after hanging with Aaron, hanging with Diego, going to these dubstep shows, being in the culture, seeing the scene, it's really grown on me, and its really exciting to work with this scene, and Im actually really enjoying it which is unexpected to say the least.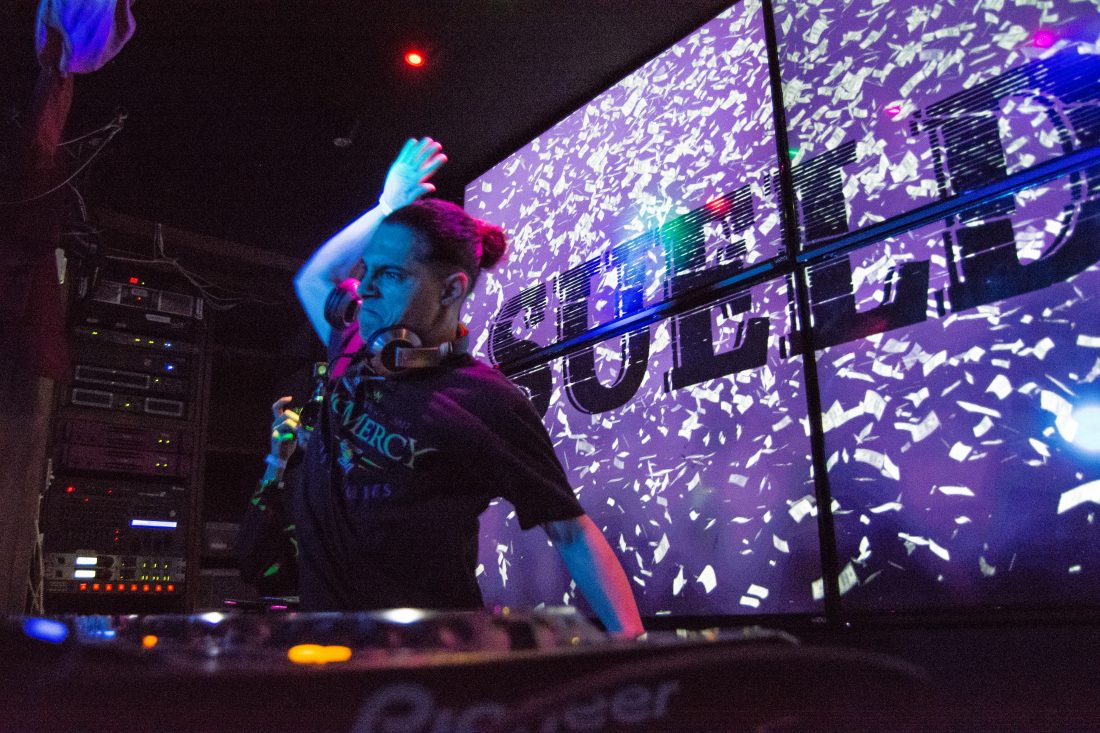 HL: What should we expect from the next Earthquake weather to follow the success of the first?
DP: For this line up we stepped it up a little bit as far as the booking. I couldn't just keep booking my friends over and over and much as I would like too. So we went ahead and booked our guy Panda. He's from Florida, but he's out here living in Cali. He just played Okeechobee. We also got this kid Benda. I actually met him through Joey [Levy]. Joey's affiliated with Buygore and brought Benda over to the loft. [Benda] was going to be releasing this song with Borgore soon, which came out recently, and we ended up being able to book him so we're really excited to have him play out here and see what he can do. We also booked Algo, who is the headliner. [Algo and Benda] are from the same booking agent Arcane. We also got Kozik going back to back with Sueldo. They played the last EQW with individual sets. Those guys are our guys. They put down for the brand really heavy. Kozik is killing the game right now. He just played Beyond Wonderland, and he's on fire. Everyone wants a piece of Kozik. He's got some tracks coming out that are going to blow everyone's freaking mind. He's an amazing producer, an amazing person, and he just really wants to help us out too.
JH: It's funny that you say that cause our special guest, which is Rampage, was the most stoked on Kozik playing the show.
DP: We also got our special guest, Rampage. He's part of the Alpha Squandron. A couple of DJs who work together. They're a management team killing it right now. He's actually a really unique cat. He's known for his DJing and his edits which is really cool. I really dig that. His mixes really got me. I've been bumping his mixes on Soundcloud and I was just like "shout out Sueldo who showed me him" and I was like "this guy's gotta come out here," and it ended up working out.
HL: Jordan the technology seems like you're area of expertise. What are you doing to up the technology at the next Earthquake Weather?
JH: This one will actually have interactive visuals. So we'll have an [Xbox] Kinect that people can use to interact with the visuals or I'm going to put it on the DJ I haven't decided yet, but there will be interactive visuals at this next one. We'll have midi controllers actually set up at this one so people can actually mess with the midi controllers live and mess with the visuals. There's a possibility there will be a virtual reality set up, but that's yet to be seen.
HL: That's definitely something I've never seen anywhere else.
DP: It's gonna be cool man. There are some little things that we're gonna be doing different. That are really going to make the show that much better. From the lighting to the visuals, we're gonna make them even doper. The projectors were good. We're gonna get better ones. Little things. If you were at the first one you'll definitely be able to notice a difference, and if this is your first one you'll definitely want to come back. EQW is definitely just starting and it's going to be a journey. I definitely see a bright future.
HL: And how bout some long term goals not just for EQW buy for RHP. Both of you have a very broad taste in music are other genres a possibility? Are you thinking about something bigger already?
JH: There are definitely some cool things on the horizon that we've been thinking about. We definitely want to grow EQW which is the bass branch, but it's just one of the many branches of Red House. Our first event was called Cyber funk. We had jam bands and house DJs at the same show. That one we actually did have virtual reality set up. So that was kind of cool. And that one incorporates a lot more art. Like actually curated fine art. We really want to be growing all of our different branches and eventually have a red house festival.
The next Earthquake Weather is on April 7, at Los Globos. Tickets are available now.