Many of us have created our own personal rave bucket list, filled with dreams and aspirations of traveling around the world to highly sought after festivals and venues. On the top of your list is might be the legendary Tomorrowland, a visit to the island of Ibiza, or a cruise on the Holy Ship, but we're going to (HIGHLY) recommend adding one more onto it. Once listed among the 7 wonders of the world and possibly nature's most uniquely beautiful venues of all, Red Rocks Park and Amphitheater near Morrison, Colorado is a must-see location for any and all lovers of music.
Nestled where the Great Plains meet the Rocky Mountains lies this geological miracle, the only naturally-occurring, acoustically perfect amphitheater in the world. Red Rocks Ampitheatre sits 6450 feet above sea level and is surrounded by 868 acres of forest filled with stunning vistas, diverse wildlife, and ancient fossils guaranteed to take visitors on a journey back through time. Two giant red monoliths filled with fossils of pre-historic plant and animal life (named Ship Rock and Creation Rock) tower 300' above attendees which together help to create acoustic perfection found in the most unlikely of places.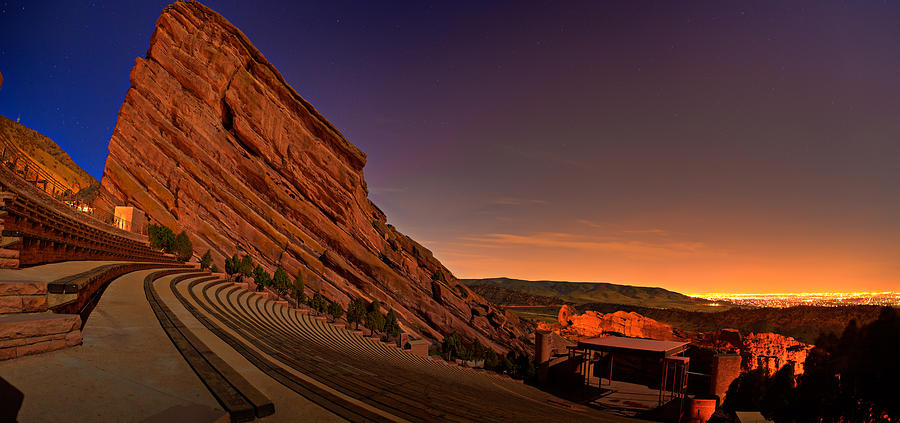 Since the early 1900's musicians have been traveling far and wide to perform their craft in this ancient, spiritual venue which was originally known as the Garden of Angels. In 1927 the city of Denver purchased Red Rocks for a mere $54,133 and dedicated the following 12 years to create what is today one of the world's greatest musical performance venues, all while focusing closely on preserving the natural beauty it holds. 1947 marked the first annual Red Rocks Easter Sunrise Service, which continues to this day and marks the opening week of Red Rock's Summer Concert Series.
Countless magical performances have been delivered by musical legends among these rocks from The Beatles, Jimi Hendrix, U2, The Grateful Dead, Dave Matthews Band, and ColdPlay to Opera as well as many of EDM's greatest. The Red Rock's Hall of Fame is filled with memories of these magical shows among the rocks, an experience that can't be found anywhere else in the world. Performers and attendee's share a one-of-a-kind spiritual experience as the music bounces in perfection off nature's ancient beauty, all while dancing under the stars together.
Notable performers including Bassnectar, Lana del Ray, Skrillex, The Fray, Goo Goo Dolls, Slightly Stoopid and more have already made the annual pilgrimage to the rocks delivering highly emotional performances. Red Rocks Parks and Amphitheater has something from everyone. While the venue won't be going anywhere, there's a good chance after visiting, you'll want to go back again very, very soon.