Red Rocks is one of the country's best venues due to it being an open-air amphitheater surrounded by two Red Rocks that are angled outwards from the stage. Located just west of Denver, Colorado, this venue has been popular for many years and can fit a cozy 9,525 people giving it an intimate and unique feel. From your spot, you have a view of the Denver metropolitan area and the rising of the moon on the eastern plain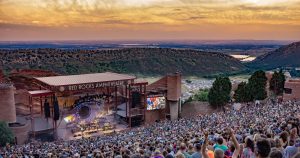 s.
As of mid January, the venue has released dates of annual artists that return every year as well as new additions to their summer long party. It seems as though every weekend has a spectacular experience happening and even a few gems during the week.
Currently announced as of January 15, 2018, you can expect to see in the 2018 season:
311, Method Man, & Red Man on Thursday April 19th
Opiuo & Sunsquabi on Saturday April 21st
Global Dub Festival 2018: Ganja White Night & Zomboy on Saturday May 12th
Above & Beyond: Common Ground Tour on Saturday May 19th
Tycho & Phantogram on Monday May 21st
The Disco Biscuits on Sunday May 27th Chromeo & Glitch Mob on Thursday June 28th
Zeds Dead (Two Night run) on Monday July 2nd & Tuesday July 3rd
The String Cheese Incident (Three Night run) on Friday July 20th, Saturday July 21st, & Sunday July 22nd
Beats Antique & The Polish Ambassador on Friday July 27th
While this fired up list is short, there are many more announcements to come.
This venue has been a favorite spot for artists to play at, especially for Bassnectar and The String Cheese Incident. It is unlikely to ever experience another Bassnectar show at Red Rocks due to the new addition of the sound ordinance but it has not stop other artists from coming.
The sound ordinance is also very difficult to pinpoint. As a patron, you are certainly going to experience an amazing and unique show and experience with little realization that the music is just a little quieter inside the venue than from years prior.