If you have been paying attention to the festival circuits or bass music in the last year, you have probably heard the name NotLö. She is currently one of the bass scene's rising stars and for good reason. The Denver-based producer's intricate music is irresistible after just one listen. Her sound design, melodies, and rhythms seem to make the listener dance uncontrollably. EDM Maniac was lucky enough to score an interview with this incredible artist covering her career, new music, upcoming tours, and a peek at what is to come! NotLö also just announced her new song "Catnip" which will release on November, 17th and you can pre-save the song by clicking here.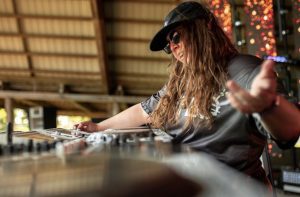 Interview with NotLö
EDM Maniac: You have been busy playing a lot of shows and big events recently. What are some of the highlights from the passing festival season and your tour with Veil?

NotLö: Every single show/festival felt like a movie to me, it was all so insane to process. I think the best part was being able to do this with somebody I call my best friend. It's super empowering to also be doing this with another queer lady in the industry. I also want to highlight the hilarious 5am airport bench naps and delirium from being tired while traveling. Loved all the positives and negatives that come from touring, it was nice to experience it with a good friend 🙂
 
EDM Maniac: Speaking of Veil, you two seem to be partners in crime; performing back-to-back often and releasing your EXOPLANET EP on Wakaan together. Take me back to how it all started for you two. How did you get connected? How did you get to where you are now?

NotLö: I have actually been such a fan of her project from when she was Spacegeisha, to starting street ritual and into her rebranding of VEIL. We started messaging because I was very interested in releasing on her label, then it led to hilarious voice memos and realizing we were meant to be friends. We decided to make one track, and it led to another! We were so excited that Wakaan was behind our vision and wanted to release the project 🙂
 
EDM Maniac: Over the last year and a half you have been catching a lot of people's attention with your music and performances. How has your rising popularity changed your musical career? Has it helped you to make valuable connections?

NotLö: It hasn't changed anything as far as how I view music and performing, although I will say it's obviously helped me to become a musician full time as my career. That in itself has been my biggest goal in life, and I can't wait to see where it goes! I wouldn't say I've made new connections, however, I have had the chance to connect with so many more people from touring and it's been beautiful!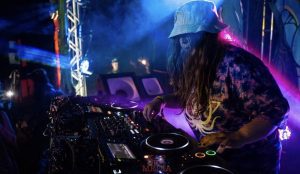 EDM Maniac: Everyone has to have some kind of balance between work and rest. When you get some time to yourself, how do you relax and reset?

NotLö: This has been the hardest difficulty to overcome as a touring artist. I actually made sure to have 2 weeks off before Halloween weekend so I could have some full-time rest. It does get a bit hectic only being home 3 days a week sometimes. It's hard to rest because I want to make more content for every show. I also have two pets and an amazing girlfriend that I like to be able to have some quality time with, as well. I'm very fortunate my girlfriend can come to a lot of shows with me with her schedule, but it's definitely different than being able to hang out at home and relax. With all of this being said, I have been making it work and I wouldn't trade it for anything.
 
EDM Maniac: Every artist has their own way of getting into the creative mindset. What is your approach to creating and getting in the mindset to create?

NotLö: It's such a random spurt of creativity with myself personally. I always get creative ideas while I'm traveling, experiencing nature, and when I get to see other artists play. The best thing for me is to just sit down and get my ideas out when they hit me. It's never a schedule with me, truly.
 
EDM Maniac: When it comes to your music and production, who are some artists who you have been influenced or inspired by?

NotLö: There have been so many people who inspire me. It's hard to list a couple! The first people that come to my mind are TRUTH, CloZee, Alix Perez, Of The Trees, G JONES, and EPROM. Although a lot of these artists are different from each other, bits of their sound have all inspired me and what I tend to produce.
 
EDM Maniac: With your experience in the music industry so far, what are things you love about it? What changes would you like to see?

NotLö: I absolutely love the community around it, from artists to industry workers and attendees. I love the creative freedom electronic music has and that everyone has a wide variety of tastes within sub-genres. Everyone in the community is always supporting each other. Of course, I would like to see more representation of women, LGBTQ+ community, and people of color. However, that's something I personally, along with my management team, is striving to do. We are definitely breaking the mold as a whole, and it's here to stay!

EDM Maniac: You have announced you have new music coming out soon. Can you give the people a hint of what they can expect and when to expect it?

NotLö: If you have seen any set of mine this summer, then you definitely have heard me say "this song is about my cat taco". It's a single, and one of my favorites to play out always. Keep your ears open this November 🙂
 
EDM Maniac: Looking into the near future, tell me about the big events and performances you have coming up.

NotLö: I'm beyond excited for New Year's Eve for G JONES' curated event in charlotte. Very excited because my close friends/family from home will be able to attend, as well. I'm also excited for 2022 because I will be going on tour with LSDREAM for the majority of his tour. I'm so excited this is happening, I actually met him after my set at CloZee's Voyage event this year. We connected very well, and he is SUCH A GREAT HUMAN! I love his music and his style, so I can't wait for the tour to begin. Okeechobee with VEIL next year is also going to be so much fun. I can't really share any more upcoming things, but 2022 is going to be just as unforgettable as this past year I imagine 🙂
 
EDM Maniac: As a parting note, what would you like to say to all of the people out there? And do you have any other upcoming things you can tell us about or hint at?

NotLö: My message to all is – if you want something, the only thing stopping you is yourself. I used to think even getting to this point of my career was impossible. Especially as a queer woman producing heavy & dark music. However, persistence and patience are key. Don't ever stop working hard on something you love so much! I also hope to inspire more women and people of the LGBTQ+ community that WE CAN DO THIS! On another note… next year we will be releasing my first vinyl, and an EP self-released next year. Very excited about this music, it's definitely the best music I have made to date. And don't worry guys… the CONRANK collab comes out early next year 😉
Where to find more
NotLö is undoubtedly one of bass music's "next big things". With her range in style, killer live shows, and rising popularity, NotLo's rise to stardom is something you won't want to miss. With the love and notoriety she has been receiving from big names like CloZee, LSDream, and G Jones, how could you not be curious to hear more of her music? Don't forget to pre-save her new song "Catnip" here and be sure to check out her SoundCloud, Instagram, and Twitter to keep up to date on new music and upcoming events!
Photos: courtesy of David Giovannini