Taking the bass scene by storm, Steller, aka Angelica Bafitis, is coming in hot to the EDM scene, bringing astonishing talent with her. With an education in music, Steller really understands the assignment when it comes to mixing heavy drops in with groovy bass music.
She mentions that one of the best feelings in the world is hearing a crowd go crazy when she drops a heavy beat after a slow and steady build up (we all know that feeling).
Earlier this year, Bafitis released a track with bass giant Jessica Audiffred and you can also find her collaborating with Evaluation. With vibes similar to Zingara, Liquid Stranger and Peekaboo, this dubstep goddess is unstoppable.
You may have also seen her magnetic energy on stage at festivals like Forbidden Kingdom, EDC and Home Bass. Not only is she a dubstep demon but she's also a total sweetheart. We got an amazing opportunity to sit down with her after her performance at Boo! Music Festival, one of her biggest sets to date: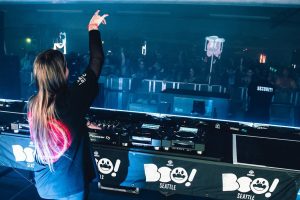 EDM Maniac: We know your name is newer in the EDM scene, but you've been in music forever. How did you get into making music?
Steller: I've been listening to electronic music since 2012, but I got interested in the more bass-y stuff with glitch hop. Some of my family lives in Greece, actually, so when I was younger I would spend like half the year there and play techno and house in the clubs over there.
I quickly realized that dubstep is more my vibe, though. So, when I went to college I studied audio engineering and that's how I got into producing.
EDM Maniac: What was it about glitch hop that you really liked?
Steller: I have a classic rock background and I loved how glitch hop blended organic instruments with bass. I just feel like bass music is the rock of EDM.
EDM Maniac: Completely agree, that's such a cool insight. Do you like screamo EDM like Sullivan King?
Steller: Yeah sometimes! I have a song with Jessica Audiffred and that's kind of the hardest that I've ventured so far.
EDM Maniac: Jessica Audiffred is such an icon! How do you feel about women in music and specifically dubstep right now? So you have any hopes for women in music in the future?
Steller: Honestly, I think it's great right now. I've gotten really positive energy from women I've worked with and I feel like we all lift each other up. It's a really big support system and we all back each other up. I really only think it's going to get better because I feel like, as a society, we are at a place where we want to see women winning.
EDM Maniac: That's great to hear! I would like to see some more women in headlining positions.
Steller: Yeah, I completely agree. I think that unfortunately that will take some time but, eventually, I think we will see more women headliners.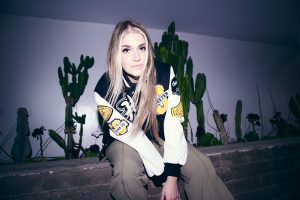 EDM Maniac: So, we talked about your song with Jessica Audiffred, can you tell us about some other collaborations you have in the works?
Steller: I'll give you some sneak peaks. I'm not sure if I'm actually allowed to say but, I have a collab with Zingara in the works. It's sick and I'm really excited about it and that's all I'm going to say!
EDM Maniac: Looking forward to hearing it! Are there any artists that are on your dream collab list?
Steller: Yeah, my top three are TroyBoi, Pretty Lights and GRiZ.
EDM Maniac: GRiZ has been releasing some harder tracks recently so I could totally see you two making a collab together. Speaking of hard, I would love to see you absolutely light up a Lost Lands stage. Do you have any festival goals to perform at in the future?
Steller: Electric Forest is the top of my list right now. I've been as an attendee and it was so sick!
EDM Maniac: Electric Forest is such a magical festival, that would be great! I'd like to hear a little bit more about your inspiration for dubstep music.
Steller: Honestly, I feel like dubstep is a genre that has endless possibilities. In a production sense you really can do anything and everything and I just really love that creative outlet. I like the fact that it's more freeform and I can make whatever music I am feeling and I don't have to stick to a particular structure.
EDM Maniac: How do you go about making a live set?
Steller: I like having a journey with my sets. I like mixing mellow moments with more heavy moments. It's easier for me to put a set together versus producing individual songs. Producing takes way more attention and focus. It's still super fun but I have to get into a flow state to make a banger so it's a lot more mental for me.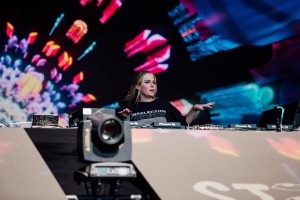 EDM Maniac:. What festivals can we expect to see you at this summer?!
Steller: I can't say much because a lot haven't been announced but I'll be at Okeechobee! I also am doing a three-night run with Buku and G-Rex in December, and I'm doing Mersiv's New Year's Eve show. I'm really excited for the Mersiv show because I've never played in New Orleans and I also just love his music.
EDM Maniac: I can not wait to see you perform live again soon. Well, Angelica, it has been so nice talking to you! Any last words that you'd like to leave us with?
Steller: It has been a pleasure! I just can't wait to continue to grow as an artist and to see you all again soon!
Featured photos provided by Steller Sounds Facebook page