One of Electronic Music's most leading labels for the past 15 years has proven to be Toolroom Records. They have always been at the forefront in bringing deep, groovy beats to the stage. Now, they would like to give select cities a taste of what Toolroom Records has to offer, and we are not complaining. This fall, they'll be bringing the Toolroom Stateside Tour.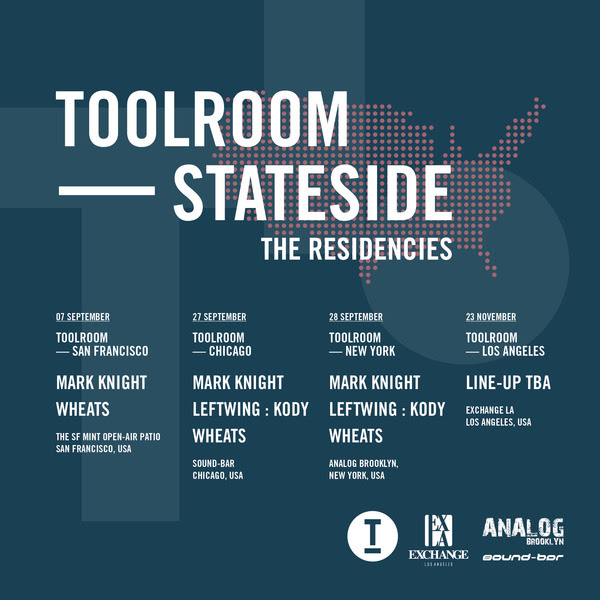 They have decided to dominate the cities that have the most heart when it comes to house music. They'll be touching down in Los Angeles, San Francisco, Brooklyn, and Chicago. Although the lineups haven't been released just yet, we've been lucky enough to receive a few sneak peeks. Aside from LA, the 3 other dates will feature label boss Mark Knight and up-and-comer Wheats who have been a prominent figure in Ibiza this summer. As for Chicago and Brooklyn, Leftwing: Kody will be joining the decks to prove an unforgettable night. 
Stay tuned for more information regarding the spectacular night at Exchange that's upon us. You can check out more information as well as tickets on their website. Click here!
Click here for a Toolroom playlist from their time in Ibiza this summer. 
Dates, Venues, and Lineups:
September 9 – San Francisco, CA at SF Mint Open Air Patio

Mark Knight and Wheats
September 27 – Chicago, IL at Sound Bar

Mark Knight, Leftwing : Kody, and Wheats
September 28 – Brooklyn, NY at Analog Brooklyn

Mark Knight, Leftwing : Kody, and Wheats

November 23 – Los Angeles, CA at Exchange LA
TBA – Washington D.C.