Art With Me is a five-day and four-night music and arts festival in Tulum, Mexico which "combines art, music, workshops, wellness, and cultural experiences into an epic journey to inspire change." The festival promised to, "nurture personal growth," and it did quite the opposite. Many festival-goers who decided to venture into Mexico to attend the five-day event ended up contracting COVID-19 and immediately brought it back into the U.S (so much for personal growth.) The beachfront festival had a multitude of amenities including large art structures, group meditation sessions, and a tremendous amount of having a good time. Mexico's current total of COVID-19 cases has amounted to over 1.18M and has claimed the lives of over 100,000 people. Despite these staggering numbers, Art With Me music and arts festival decided to host their third installment from November 11 to November 15 which lead to an increased number of COVID cases in American hospitals.
Art With Me's international arts festival hoasts over 300 activations, 120 artists, 40 musical acts, 50 wellness activities, and 20 food and wine happenings according to their website. One individual who attended the event described the food and wine happenings as, "They served food too-all open barbecue finger food. Everyone was grabbing with their hands," (per The Daily Beast.) Ironic enough, Art With Me's website has a list of helpful recommendations in order to help prevent the spreading of COVID-19 as well as their own guidelines for ensuring their guest's safety which were completely disregarded. Once the day's activities of yoga and meditation concluded, the festival turned to a nighttime, beachfront party with DJ's performing in exotic locations on the festival grounds. The festival had partnered with over 21 hotels to host the event which gives you a general idea of how many people were at the festival both during the day and at night.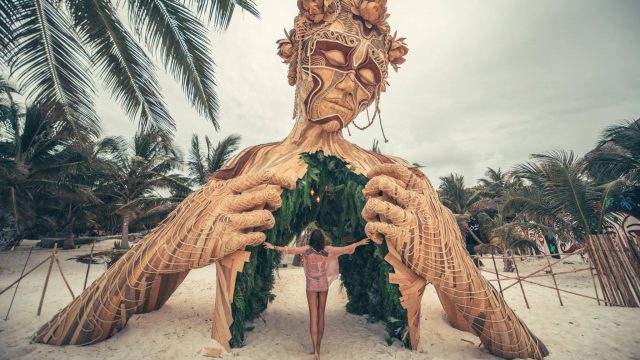 As a result of the five-day festival, many individuals who attended the festival were administered to Hospital de Tulum where The Daily Beast confirms that the hospital has admitted, "multiple people with COVID who attended the Art With Me festival and that they were almost exclusively tourists." Anna Yeung-Cheung who is a microbiologist who works at Manhattanville College disclosed to The Daily Beast that, "60-70 percent of her positive tests in the last couple weeks in New York City have been a direct result of either people coming back from Art With Me, or who have been directly exposed to someone who attended Art With Me." Not only is New York City seeing their COVID numbers rise as a result of the festival, but so is Miami.
It is important that festivals continue to pursue safe testing strategies while maintaining proper safety guidelines. As we can see, the results have a monumental impact on others so it is important to keep that in mind for our own "personal growth," going forward.
Feature Photo – Rebecca Hollman
Source – The Daily Beast