Throughout this time period of no live events, many artists within the electronic music industry have turned to Twitch. Twitch is an online service for intimate interactions and a place where fans can go to listen to their favorite electronic artists without having to leave the warmth of a bed. Although watching streams on a computer is far from a normal experience, Twitch has provided electronic music artists with a service to both build and interact with their fanbases. Whether it's live-performances, tutorials, or just hanging out, Twitch has revolutionized the way artists within the electronic music industry are able to interact with their fans and build their communities.
Artists within the electronic music industry have been able to grow their communities and connect with fans from around the world
For those who are unaware of what Twitch is or what Twitch does, Twitch is an interactive live streaming service that allows its users to broadcast content to anyone around the world. The live streaming service's primary sources of content are gaming, entertainment, sports, and music. Twitch's initial focus was on gaming when the company opened in 2011. Since then, the company has expanded to incorporate various other hobbies and activities besides gaming, like music. As the content diversity on the service began to expand, so did the number of active users. With 2.5 million viewers at any given moment, Twitch has created an environment for artists and fans like no other.
Since the start of quarantine, many artists within the electronic music industry have turned to Twitch as their primary source of content and fan interaction. By using Twitch, artists have been able to set up successful streaming schedules, many of which orient around playing video games, mixing, producing, and hosting Q&As. Fans are able to sit in on these live streams virtually, almost as if they were actually there. Fans can choose to donate, comment, or subscribe to the artist that they are watching. They are also able to purchase merchandise and eventually will be able to purchase tickets to live performances. As a result, many artists within the electronic music industry were able to grow their communities and connect with fans from all around the world, despite the pandemic.
Grammy Award-winning producer, RAC, is a perfect example of an artist within the electronic music industry who was able to grow and connect with his community amidst the pandemic. Like most artists within the industry, RAC was forced to cancel the remainder of his shows and tours once the news of the COVID-19 pandemic broke out. Right away, RAC turned to Twitch and began reaching more fans in a week than he would playing at multiple festivals. RAC would only stream 3 times a week for a few hours, but the community he was able to build grew at a staggering rate. Shortly after turning to Twitch, RAC's income from live streaming became greater than the income he made when he was out on tour.
RAC is just one example of how Twitch has made an impact on artists within the electronic music community. Krewella, Breathe Carolina, Subtronics, Soul Clap, and others have all announced exclusive partnerships with Twitch in recent months in order to spend quality time live with fans. Other artists who have not secured exclusive partnerships have created unique sources of content for their viewers. Baauer has been hosting 'Bop Battles' and Mike Shinoda from Linkin Park released a 3-volume series of albums that he created live on Twitch. Furthermore, FelixCartal created his own challenge where fans were able to submit their own remixes which were judged by Felix, Kaskade, and Zedd. Creativity is endless on Twitch, and in turn, has allowed us to feel closer to the artists and music we love, and has inspired others to challenge and create.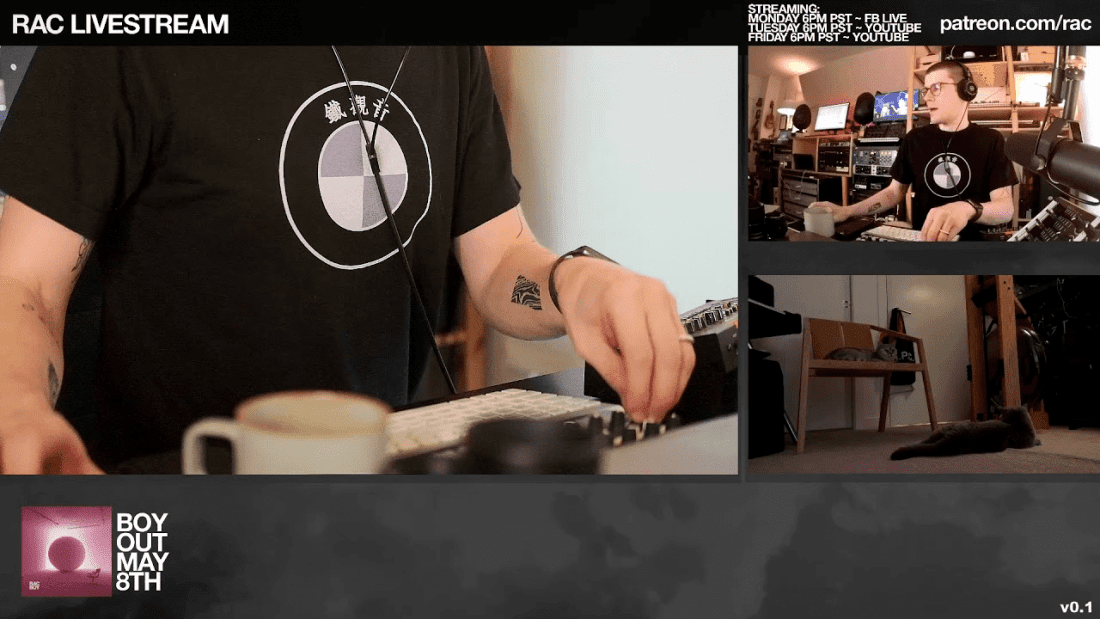 Artists are able to express themselves creatively within their communities in a way that is only possible on Twitch
Twitch has seen a dramatic rise in creators since the pandemic first began, especially music creators. Currently, the number of music creators on track to make more than $25k in earnings has grown 1,635% from January 2020 to Feb 2021. Additionally, the musicians who are monetizing on Twitch are doing so with average audiences of just a few hundred. This means that artists who are being compensated by their fans have been able to establish incredibly strong and tight-knit communities. The pandemic did not create a lot of revenue streams for artists but with Twitch, artists were able to get paid during a time where they were not able to perform live. Ultimately, Twitch has given artists within the electronic music community a chance to make a living with support from their communities.
Aside from artists and fans, Twitch has also supported various festivals and live event companies. Since music festivals moved online this year, Twitch became the primary service for streaming some of the world's biggest festivals. The Bay Area's iconic Outside Lands festival was changed to Inside Lands and had more than 3 million people tuning in (too many to fit in Golden Gate Park), with 52% of those people watching the streamed festival internationally. Additionally, Twitch hosted "Twitch Stream Aid" which was held as a 12-hour virtual benefit concert that featured John Legend, Steve Aoki, and others. The virtual benefit concert raised $2.77 million for the WHO's COVID-19 Soliditary Response Fund. Every week, Insomniac TV hosts live-streams that are broadcasted exclusively on Twitch. Insomniac TV is the most-watched streaming music channel in the world, averaging over 12 million viewers a month with non-stop music from the world's biggest artists. This partnership allows artists to perform live to thousands of online fans which can be accessed via Insomniac TV's Twitch channel.
In addition, Twitch has partnered with Soundcloud, Bandsintown, and DistroKid to give independent artists an opportunity to establish affiliate status on Twitch in order to give artists a chance to make back the revenue they lost on live shows. Twitch also partnered with Dolby which enables users to listen to live streams with incredible Dolby sound and allows artists to sound their absolute best at all times. All of Twitch's recent partnerships focus on artists and their fanbases, ultimately allowing artists to express themselves creatively within their communities in a way that is only possible on Twitch.
Twitch has become the live-streaming forefront of musical performances and expression throughout the pandemic. Twitch has provided opportunities to countless artists and communities within the electronic music industry and has allowed many artists to grow their current communities as well as reach new ones. Twitch has always been a home for artists of all sizes who want to build their fanbases and interact with their fans at intimate levels. The environment that Twitch has helped provide to artists and fans around the world has created an innovative and immersive experience; doing so, has left a tremendous impact on the electronic music community.