For the first time EVER, Ultra Miami will dedicate a full DAY and STAGE to the genre of hardstyle music. What's a better way to do so than have Dirty Workz Label host a hardstyle takeover? In 2022 Dirty Workz is celebrating 15 years of hardstyle music, to do so the artists of Dirty Workz are heading on a world tour and kicking it off in Miami. Being one of the leading Hardstyle labels in the world, Dirty Workz is known for its extreme and diverse sounds of hard dance music. Leading up to the world tour kickoff at Ultra, EDM Maniac got the chance to chat with Coone who started the label 15 years ago, and other heavy-hitters Sub Zero Project and Da Tweekaz.
EDM Maniac: What's up Coone, Da Tweekaz, and Sub Zero Project! Thank you all for meeting with me. I'm excited to chat and learn more about Dirty Workz. To start off, I would like to say congratulations on celebrating 15 years of Dirty Workz, can you tell me about the label and what your initial vision was? 
Coone: At the beginning of my career, I was signed to a label where I did not completely share the same vision music-wise, so I asked my current record company if I could start my own record label where I was able to have creative freedom, and they said yes immediately! And that vision, having creative freedom, hasn't changed since at Dirty Workz. All artists the label signs have their own sound and image, and I guess that's still is one of the most important things you need to have if you want to grow as an artist.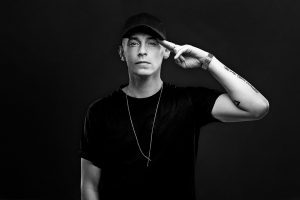 EDM Maniac: To celebrate 15 years, Dirty Workz is heading out on a world tour starting out at Ultra Miami, can you tell us what it's going to be like kicking off the celebration in Miami?
Da Tweekaz: Kicking off the world tour at Ultra Miami is just unreal. In general, it's such an honor to make our debut at this iconic festival. But celebrating 15 years of the label by hosting our own stage at Ultra Miami is something else! A great honor and everyone is stoked to play there. The line-up is massive, so the hard dance lovers of Ultra are in for a treat!
EDM Maniac: Ultra is one of the largest worldwide festivals and this will be the first year they curate a stage dedicated to hardstyle, how does it feel to have Dirty Workz host this incredible and long overdue takeover?
Sub Zero Project: It's a huge statement. We're grateful towards Ultra for trusting us with such an amazing, but also special opportunity. Over the past five years, hard dance has really expanded worldwide. For us, Ultra Miami was one of those top bucket list shows. By offering a dedicated stage for hardstyle, we feel really embraced. It took a long time, but Rome wasn't built in a day, right? We are here to stay now!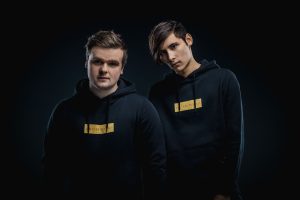 EDM Maniac: Who are some artists from Dirty Workz that fans can check out at Ultra Miami?
Coone: A sick list of great artists will play at this stage such as; Da Tweekaz, Sub Zero Project, Darren Styles, Audiofreq, Gammer, Ben Nicky, and many more!
EDM Maniac: The genre of hardstyle continues to grow, for someone that has never listened, can you describe the energy and lifestyle in a few words?
Sub Zero Project: Hardstyle is not just harder dance music. It's an experience. A combination of uplifting melodies, catchy vocals, energetic sounds, and of course the famous kicks that give this style power! The fans are hands down the most dedicated followers out there and are all united by the love for this music. That's what makes these hardstyle shows unique. One big crowd, sharing the same passion for this one specific genre… hardstyle!
Da Tweekaz: Pure joy and endless energy. But it's not only the music, it's also the followers and the unique vibe at events that transforms this genre into a very special lifestyle we're very proud to be a part of.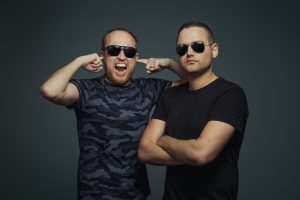 EDM Maniac: Through the last 15 years, what has been one of your greatest/proudest accomplishments?
Coone: Of course selling out a big arena with Coone And The Gang in Belgium at a very young age is one of them. But also breaking a lot of barriers worldwide is something I'm really proud of. My collaboration with Dim Mak in 2013 when hardstyle was not big yet in the states, being the first hardstyle act on Tomorrowland, Sziget Festival, and many others. There are a lot of accomplishments, even now. I just built my new studio at home with a meeting/lunchroom. And also, that again feels awesome.
Da Tweekaz: We've had so many! Personally, we feel our whole discography is one big accomplishment. We also built our own studio complex two years ago, which we're very proud of, but playing on the main stage of Tomorrowland is still one of the proudest moments of our career.
Sub Zero Project: We closed down a lot of big stages the last couple of years like Medusa Festival and Defqon.1 Weekend Festival. We'll always be proud of these things. But one of our biggest accomplishments is that we had a Top 3 spot in the annual Hardstyle Top 100 for three years in a row now. Last year we even had a No. 2 spot with HALO and the No. 1 spot with Trip To Mars (Astronauts). It's just insane seeing how many people have voted for us the last couple of years. Something we're very grateful for.
EDM Maniac: What are some future plans for Dirty Workz?
Da Tweekaz: The label has made big developments over the years. Dirty Workz always pushes to grow on behalf of their artists. New talent is the future. So this is something that is of high importance. Creating better accessibility for young producers, to make a successful musical career for themselves. They are essential for the scene and of course also the label.
Coone: Right now there are so many great talents signed to the label. I really think the future is bright for Dirty Workz with all these youngsters. We're just getting started, you know! On to the next 15 years!
EDM Maniac: What do you think is in store for the future of hardstyle?
Da Tweekaz: More global expansion. This comes automatically with more hardstyle DJ/producers. Followed by more hardstyle fans worldwide. More collaborations with producers from other genres.
Coone: And in a few years hardstyle at Ultra Miami's main stage? 😉
EDM Maniac: Thank you all so much for taking the time to chat with us, looking forward to experiencing the Dirty Workz takeover at Ultra Miami! See you then 🙂
Sub Zero Project: Thank you so much! See you at the Dirty Workz stage at Ultra!
Da Tweekaz: Thanks for having us, we can't wait!
Be sure to check out the Dirty Workz Takeover at the UMF Radio Stage on March 27th and click here to jam out to the Dirty Workz Takeover Spotify Playlist.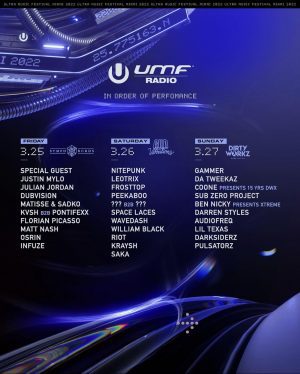 Social links:
Featured Photo: Rudgrcom