Believe it or not, the nation is in a very trying state of global warming. It's quite beautiful to see businesses on the macro and micro level taking initiative to make our planet a better place. In the spotlight today is Ultra Music Festival. When the sustainability campaign 'Mission: Home' was released earlier this year, 2.7 million fans flocked to all social media platforms before the gates had even opened. Now, they are committed to their goals since finding it such a success. 
"We are happy to announce that our Mission: Home sustainability initiatives including our Leave No Trace policy, single-use plastic reduction efforts and recycling program will continue in 2020 and beyond."
— Ultra's Senior Manager of Sustainability, Vivian Belzaguy
After all was said and done, Ultra received an "A" on an unexpected report card by local environmental organizations such as volunteercleanup.org. Their 2019 initiatives included prohibiting beach access, increased water refill stations, a ban on Styrofoam, plastic straws, and balloons, as well as the implementation of a "Leave No Trace" policy and recycling program.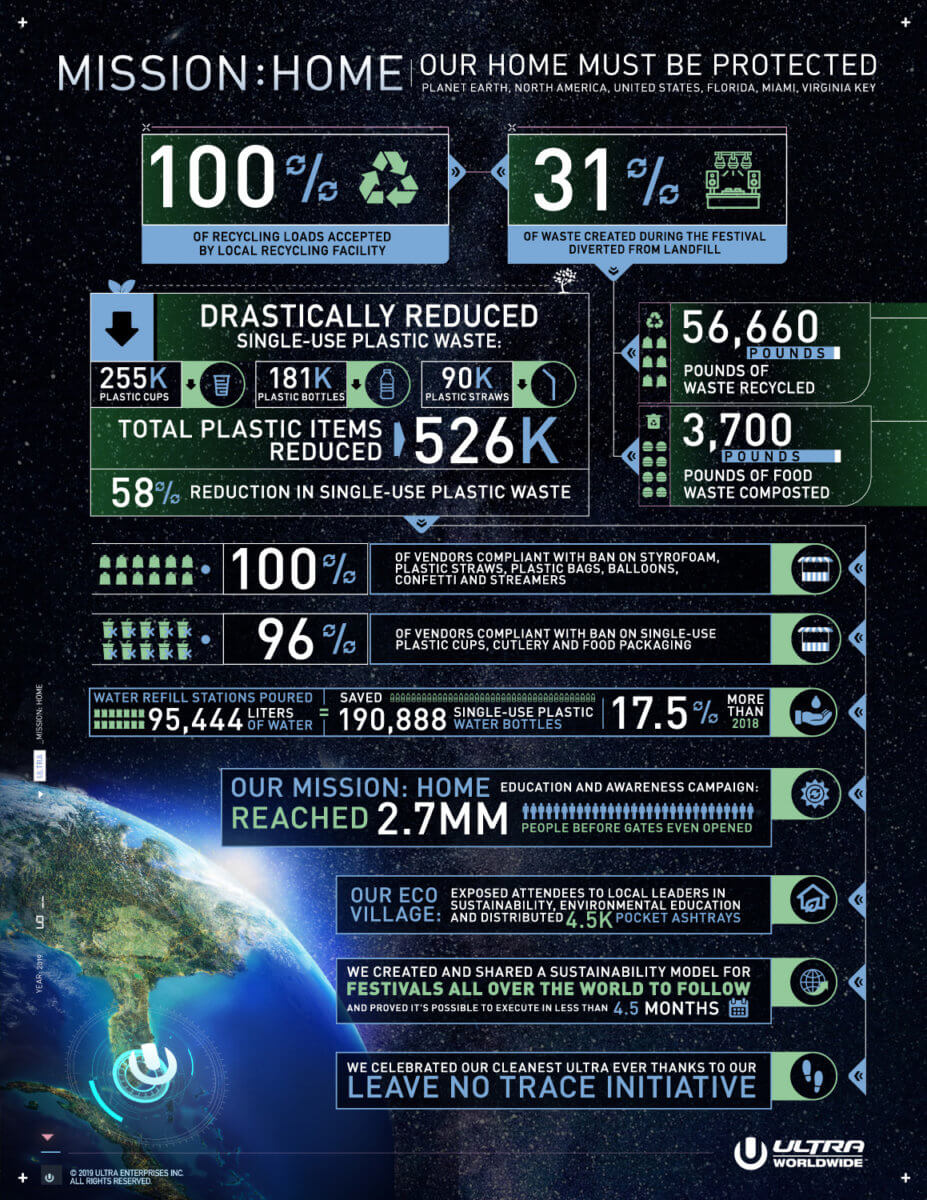 After receiving such positive feedback, they didn't want to stop there. They've since created an internal Sustainability department as well as engaging a global environmental consulting firm to assist in protecting wildlife. 
"Ultra later banned confetti and streamers, as well as single-use plastic cups, bags, cutlery and food packaging. Collectively, these initiatives avoided the use of over 526,000 single-use plastic items, 100% of recycling loads were accepted by the local facility and 31% of the waste created during the event was diverted from landfill. In total, 60,360 pounds of waste were diverted through recycling and composting."
It's so important that such a major platform like Ultra is using their powers for such good. The amount of environmental education that was available was phenomenal and incredibly inspiring. This education through the event reached around 55,000 attendees per day for three days. In addition, Ultra released a Youtube video about the Leave No Trace policy which pulled in 30 million views over the weekend. 
As they've undoubtedly achieved this year's mission, they have ample fuel and motivation to continue on and influence a movement towards a more healthy and sustainable future.