Save the date! EDM Maniac is hosting our OWN STAGE on November 15th at Exchange LA during Insomniac Events presents: Aly & Fila!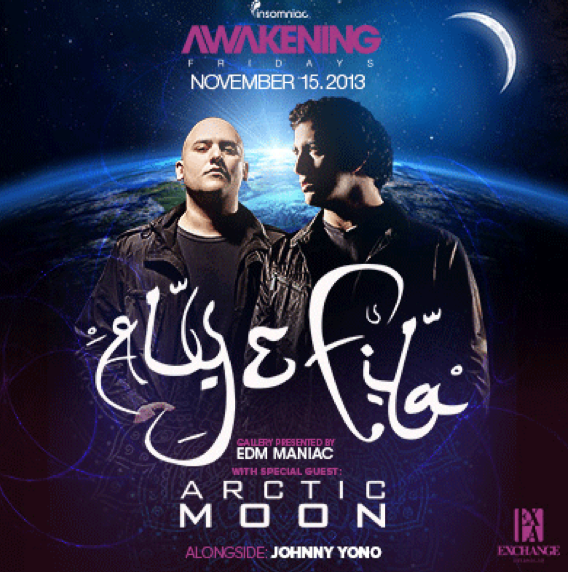 Exchange LA has quickly become one of LA's most iconic and well-known venues for EDM events, and their recent main stage enhancements make Exchange LA one of the best places to be in LA on a Friday or Saturday night. Insomniac brings the best in TRANCE on Friday during their AWAKENING series and Saturday Insomniac host's INCEPTION with more amazing EDM talent and even stays open till 6AM!
EDM Maniac is happy to be hosting our own stage downstairs for our ONE YEAR PARTY in the Gallery Room during what's going to be an AMAZING night!  Our stage will host some of the best local DJs with Trance , Hardstyle and more to tickle your fancy.  What's missing? Your beautiful faces and … ONE LOCAL DJ to open up the night.
EDM Maniac has quickly become the fastest growing online destination for EDM content. A huge thanks goes out to all of our fans that have helped us grow and expand in such a short amount of time.  To celebrate, we're going to give ONE LOCAL DJ an opportunity to play a set on our stage –– a tremendous opportunity for exposure in one of LA's most high profile venues for dance music.
To submit your mix to the contest, here's what you need to do (please read carefully):
1) head back to the original post on our page, and post your mix in the comments. In your comment, let everyone know a little bit about yourself , the type of genre you mostly play, and where you get your inspiration from.
2) get your fans to "LIKE" your mix that you posted in the comments. *NOTE: we  do not have time to review every mix that will be submitted to this competition. We'll pick the top 10 with the MOST likes, and we'll then post your mixes on our website and Facebook for the public to vote on.  The purpose of this is really to give you more exposure even if you don't win.
3) The top 5 with the most votes will move on to a final round of review. The TOP 5 mixes will be reviewed by our team, a mix of passionate EDM fans and seasoned industry professionals. The mix that is enjoyed the most by our team will be picked as the winner.
VOTING DEADLINES:
FRIDAY NOV. 8 – First round of voting closes
SATURDAY NOV. 9  – Top 10 mixes with mosts get posted, mixes open for public vote (a pool of 50,000 possible votes)
MONDAY NOV 11 – Top 10 voting closes
WEDNESDAY 13 – Winner announced
RSVP event: https://www.facebook.com/events/574134762639591/
Buy tickets: http://vor.us/8d64a
Hard tickets available (with no fees) in Los Angeles