Ever been to prom or looking to go back again? Look no further, because Yulton's 'Rave Prom,' is coming to Insomniac's Park 'N Rave Concert Series with DJ and producer Yulton on Saturday, March 6 in San Bernardino, CA at the Nos Events Center. Yultron's high-energetic live sets will help him headline an eventful prom-like evening. He has been notorious for his ability to blend different genres of electronic dance music – ranging from electro-house to bass and dubstep. You will not miss out on this opportunity to experience prom in  rave-like fashion. Yultron is currently the only name on the lineup as more acts will be announced closer to the start of the show.
Tickets will go on sale starting February 5 at 12:000PM  PST and can be purchased here. Tickets will start at $200 per car and will allow up to five adults per vehicle with the option to purchase additional passes for larger vehicles if necessary. All traffic laws and social distancing guidelines will be enforced at all times. The show is an 18+ event and will go from 6-10 p.m. Get tickets here.
In order to stay up to date on Insomniac's Park 'N Rave concert series news, follow Insomniac on Facebook, Twitter and Instagram. For any other additional event information, click here. For a list of frequently asked questions about the Park 'N Rave series, click here.
Get tickets here.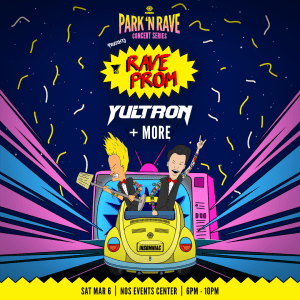 Feature Photo – Insomniac