Picture this: It's the first day of the Electric Daisy Carnival. You and your rave family wake up and get ready to the sound of your favorite set playing in the background. The group crams into your car and you make the drive from the Las Vegas Strip to the Motor Speedway parking lot. You get through security and sprint to the bleachers. As you glide over the last step, you see the world of EDC Las Vegas laid out before you. 
There is nothing that compares to that first moment. 
When you enter the Speedway, you are a part of something so much greater than yourself. The extravagance and pure excitement captured within the three days is unparalleled. The sets, people, and experiences are the memories that get us through the lows of each year, and we know we can't be the only ones. Insomniac spares no expense at making this festival extraordinary and, over the last decade, they really found their niche. These are a few of the most jaw-dropping EDC stages we got to call home. 
Kinetic Cathedral 2014 
In 2014, EDC contracted the largest stage ever built in North America. The Kinetic Cathedral was the first of a new era of Kinetic Field stages dedicated to showcasing love, acceptance, and a boatload of visuals. In the light of day, you would see a beautiful cathedral complete with ornate stained-glass windows, a beautiful altar, and two massive owls. However, once the sun went down, the stage developed into a massive ball of light equipped with dozens of lasers, massive fireworks, and seven different LED walls.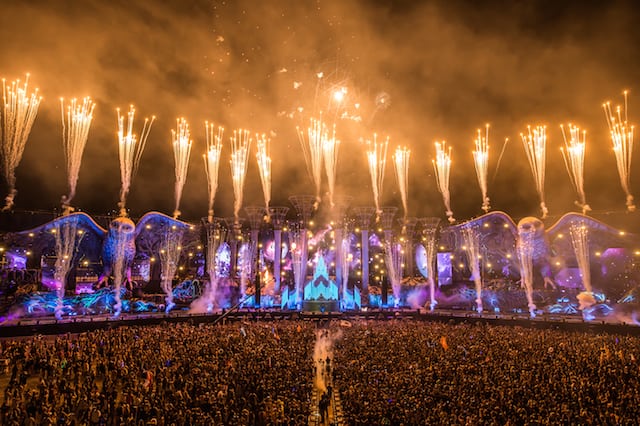 All things considered, one of the most beautiful parts of the stage was that Kinetic Field now had a story. EDC contracted the Leisure Expert Group to take their stage from simply a structure, to something that would revolutionize the festival. The Kinetic Cathedral embodied the element of eight that came with EDC 2014. There were eight stages, each emphasizing their own respective genre, all brought together by an overwhelming love for the dance music community. It was a beautiful beginning to the Kinetic Field saga and a source of excitement for all years to follow. 
Circuit Grounds 2015
When it comes to originality, this stage is hard to beat. The giant open-faced venue we know as Circuit Grounds today used to be a megastructure dome complete with over 4,000 video panels. But, that's not even the best part. The structure housed a ginormous set of giant rings that descended from the ceiling in an arrangement of glowing shapes.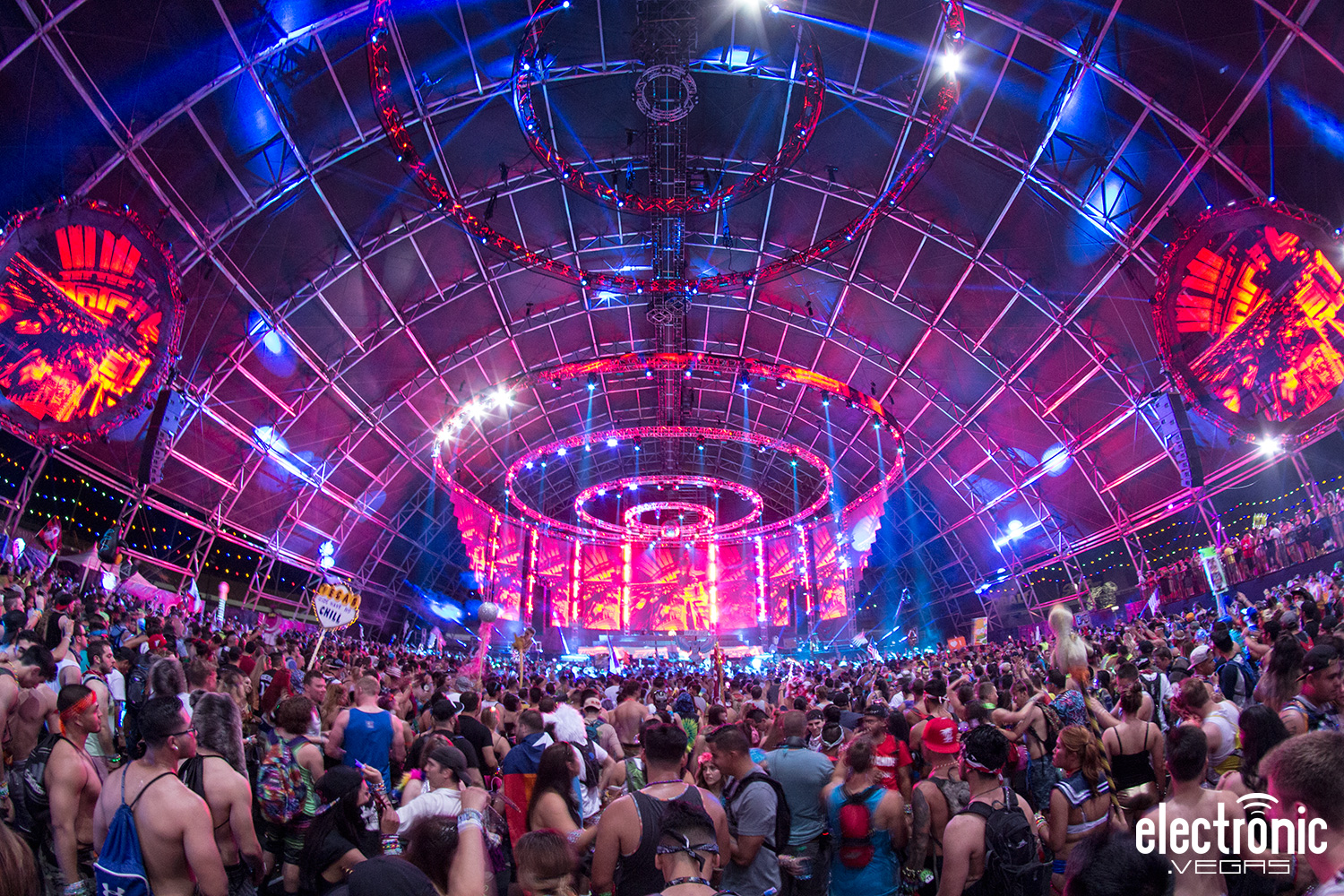 While this stage will always have a place in the hearts of those from EDC 2015, the festival outgrew the stage. With thousands and thousands of more people coming to EDC each year, the capacity of a shielded stage just wasn't enough. While the megastructure is clearly missed, it proved just how amazing Circuit Grounds can be. 
Kinetic Field 2017
At festivals, you have your family, and every rave family needs a mother. The 2017 Kinetic Field stage came with enough rave mom for all 500,000 guests. In Greek mythology, Mother Gaia watches over the earth and protects all of mankind; so it was only fitting that she was watching over all of us.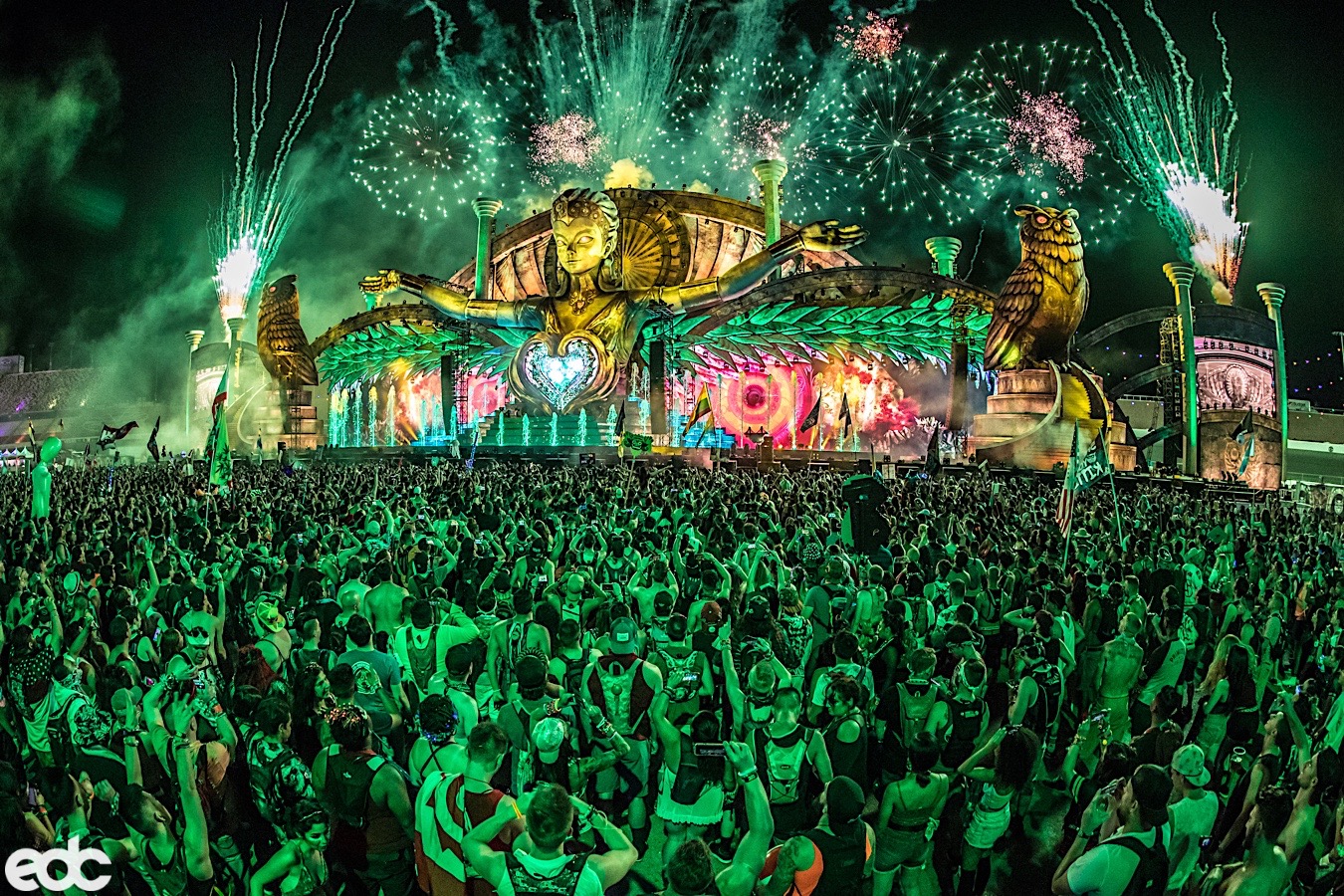 That being said, when we say she was watching over all of us, we mean it. She towered above the Kinetic Field crowd at a massive 7 stories high and 147 yards long. If you're having trouble visualizing that, just know that the average festival-goer is smaller than a single one of her fingers. 
Bass Pod 2015 
This massive, eruptive stage spanned farther than just the DJ booth. There were four other giant speakers dispersed around the outside of the crowd to help create a fully immersed bass experience.  Not only was it beautiful to look at, but the sound system also gave you a level of bass that rattled you to your core.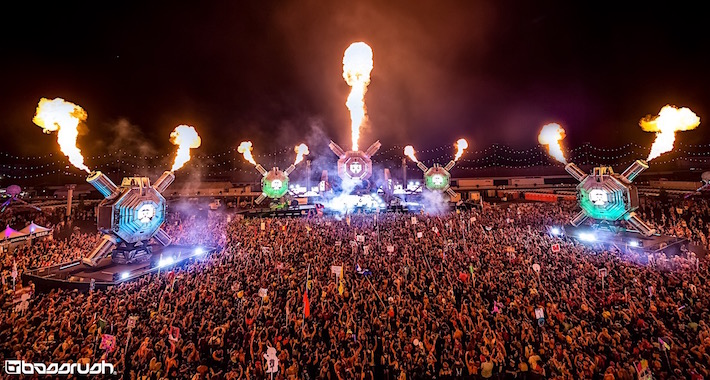 However, it didn't stop with just the awesome noise. Each pod would periodically erupt fire into the sky as the sets raged on.  This stage was so "lit" that it literally caught on fire at EDC Las Vegas 2017… our heart goes out to the EDC staff for how stressful that must've been, but wow was that crazy to see. 
Basscon 2014 
Considering that the Basscon 2014 stage was made by the same people who do Kinetic Field, we should not be surprised that it was such a showstopper. Even the plot behind the stage was immaculate. An Armageddon experience that threw the guests into a nuclear power station wasteland complete with vintage Las Vegas signs, graffitied storage containers, and flashing lights.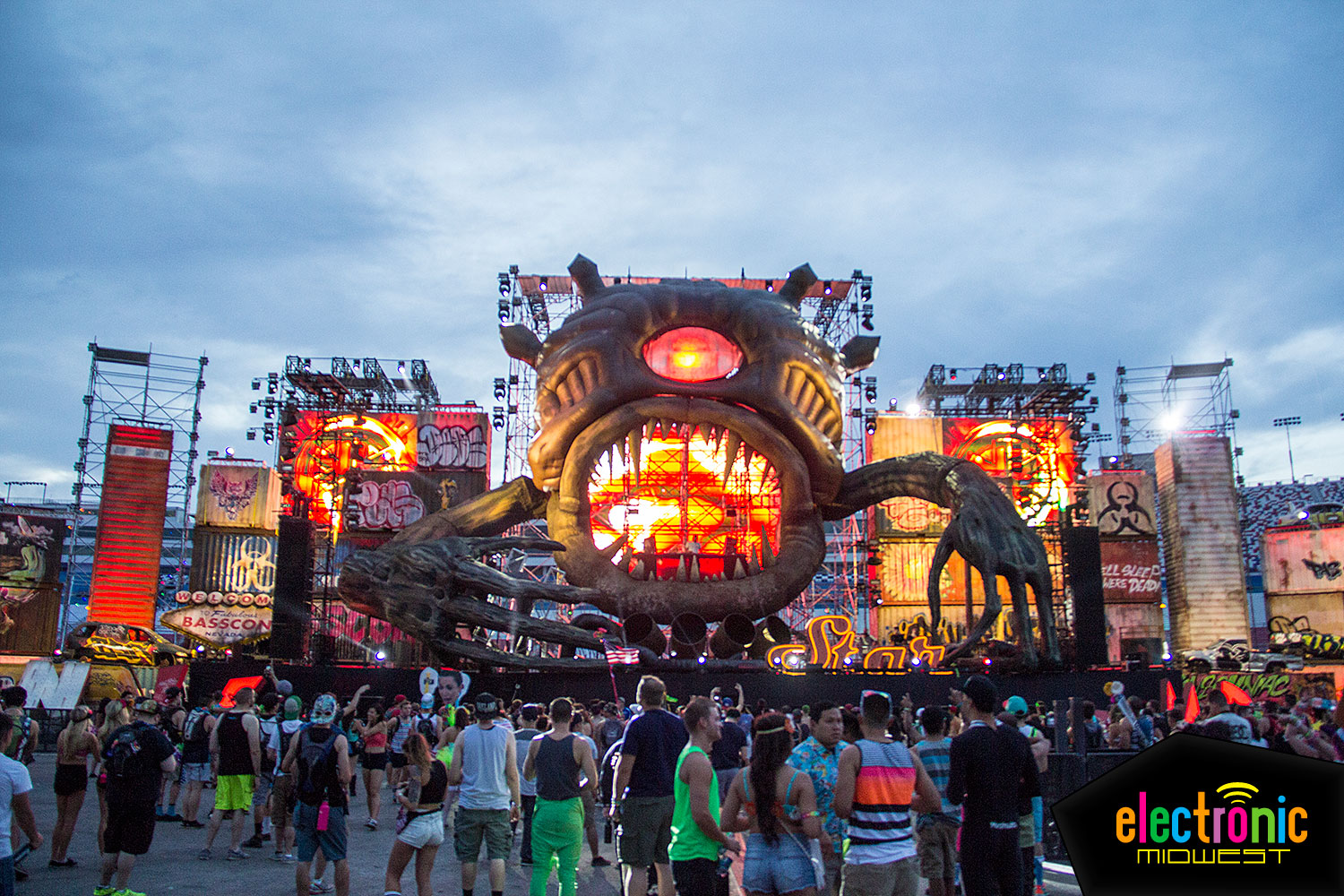 Can you imagine being an artist and seeing that stage for the first time? I know there are some crazy stages out there but how many people can say that they blasted hardstyle through a four-story tall monster? That has to be bragging rights.
These are just a few of the many incredible stages that have been housed at the Electric Daisy Carnival. As this quarantine (hopefully) comes to an end, we are excited to see what 2021 will hold. After a year of rest, we can only imagine the energy, excitement, and extravagance that will come with the first festival back. Hold on and stay strong, we are on our way back to raging from dusk to dawn!
Featured photo by Insomniac