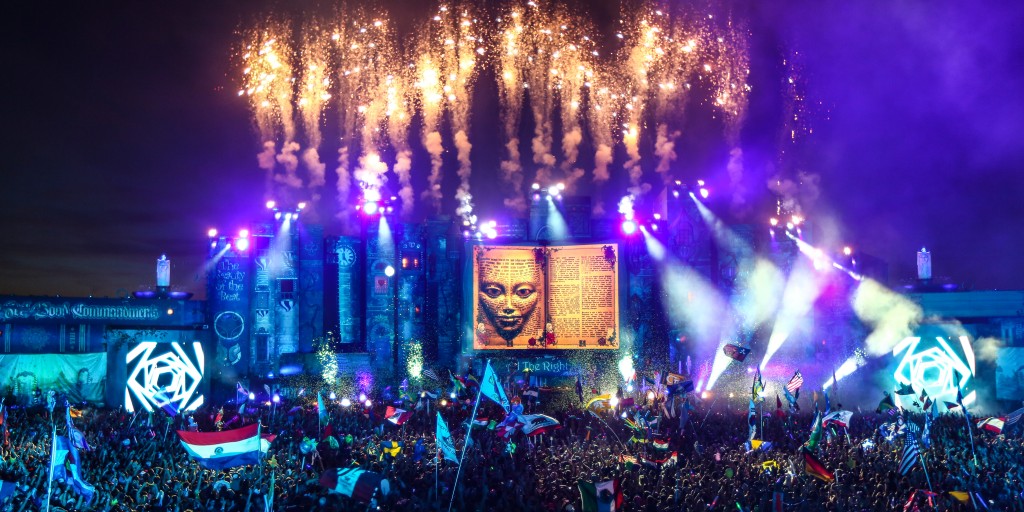 TomorrowWorld makes its return to the beautiful Chattahoochee Hills just outside Atlanta, Georgia this weekend for their second edition of what we believe is without a doubt one of the best festivals in the world. 140,000 pioneers made the journey from all corners of the globe to last year's inaugural edition, many of whom camped under the stars together in Dreamville creating one-of-a-kind memories together for 4 days and 3 nights. If you're as excited as we are for TomorrowWorld's return, wondering whether or not this is the festival for you, or just plain curious to know what all the fuss is about, we're going to give a few reasons why you don't want to miss out this year.
Chattahoochee Hills, Georgia:
1. SFX & ID&T spent a year scouting over 100 locations across the United States before settling on Chattahoochee Hills in Georgia as TomorrowWorld's official home.
2. Chattahoochee Hills officially spans over 8,000 acres
3. Last year TomorrowWorld only used 500 acres and plans to expand even more this year
4. Natural amphitheaters are created by majestic, green rolling hillsides
5. Small lakes add to the already stunning natural beauty
6. Over 300,000 square feet of custom wood flooring was constructed just for the festival
7. TomorrowWorld is set for the next 10 years in Chattahoochee Hills allowing them to mold and hand tailor every aspect of the festival to perfection
8. The Chattahoochee Hills location was first used by CounterPoint Music Festival
9. While being a very secluded location, TomorrowWorld is easily accessible from Atlanta just about a 30 minute drive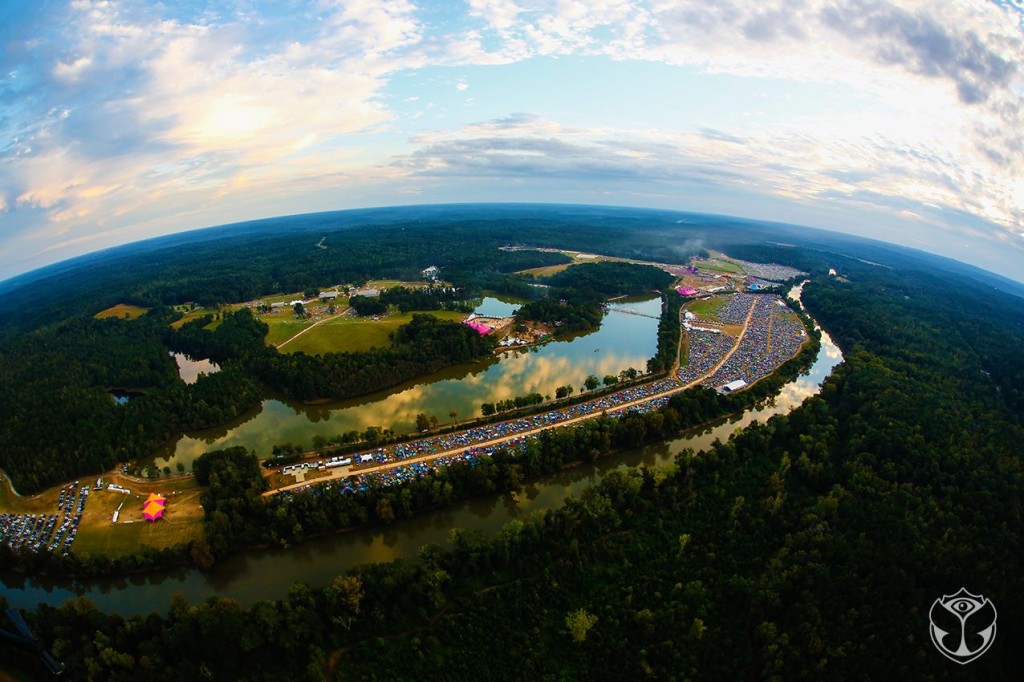 The beauty of TomorrowWorld.
Dreamville:
10. Camping! Never leave the festival and truly live the eat, sleep, rave, repeat lifestyle all weekend long
11. Daily newspapers are available to campers detailing the madness of the day before and days to come, just one of the many unique quirks TomorrowWorld creates
12. Dreamville campers get to attend an exclusive Thursday night show called The Gathering, what better way to kick off the weekend?
13. If you're intimidated by camping don't worry, TomorrowWorld provides Easy Tent set-ups with a tent, sleeping bag, air mattress, and lamp
14. Want to camp in luxury for the weekend? VIP camping is available with full size beds, comfortable mattress, electricity, personal locker, and even a terrace with chairs and table.
15. Experience different cultures while living with party people from all over the world for 4 days 3 nights
16. Easy access from Dreamville to the stages. Left something in your tent? No worries!
17. Lasers dance across the Dreamville skyline all through the night
The Stages: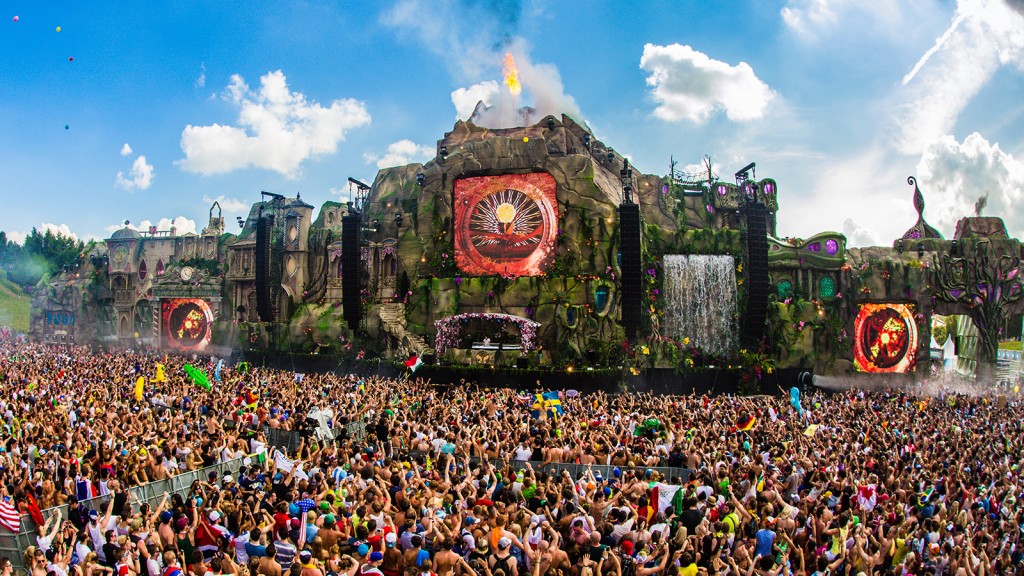 18. Last year they shipped the famous "Book of Wisdom" main stage from TomorrowLand over-seas, and are already preparing their Volcano stage for its U.S. debut
19. The main stage sits in-front of a huge natural amphitheater forming a large grassy hillside for attendees to relax on and get an incredible view over the madness
20/ Not only do stages feature amazing pyrotechnics, but most are accompanied by beautiful water fountain displays as well as massive co2 cannons and many, many confetti showers
21. Amazing detail on every stage design, delivering a Disneyworld like fairy-tale feel to the festival
22. Much more than just LED panels and lights, many of the stages came to life as the night went on with themed decorations slowly illuminating and performers accompanying DJs
23. Unique artist introductions with complete storylines complimented the fairy-tale feel of the festival and help set the mood as stages show off their light-show capabilities
24. Numerous stages hosted by labels allow for random back 2 back performances and special appearances throughout the nights. A few of the stages included: Fool's Gold Clubhouse, Mad Decent, Dim Mak "Up All Night", OWSLA, Full On & More
25. Hardstylers! Q-Dance brings an amazing line-up that will keep you dancing all day long.
26. Laidback Luke brought his famous Super You&Me stage with the highlight performance by Superman, Spiderman and Batman
27. DJ time slots were staggered so well you were most likely able to travel the festival stage to stage and catch some of every act you wanted to see
28. TWO amazing firework displays, one on the main stage and the other launched off boats located behind a stage right on the lake
29. Every stage is built to hold way over its capacity, giving the feel that no matter how crowded it might be it never feels too full and there was always room to dance
30. Custom built wooden dance floors on every stage adding a level comfort to the entire festival
TomorrowWorld General:
31. 21+ event
32. Take your beer anywhere!
33. Custom built wooden paths connecting all parts of the festival (which is located throughout the dense forest)
34. Amazing tent structures add to the festival feel accompanied by small lights and decorations everywhere like the random bubbles floating through the sky
35. Highly decorated food courts by almost every stage, so many booths there are seldom long lines if any to wait in
36. TomorrowWorld features food from around the world, guaranteed to have something for everyone. Here's some of what was featured last year: Italian special flatbread pizza, make your own salads, Pimento cheese burger named the "TomorrowWorld Cheeseburger", Special A.T.L. stand with spiked tea, lemonade and a peach drink called the "Georgia Peach Explosion", Belgium stand featuring waffles and crepes,Asian stir-fry, Greek food
37. 51+ full bars last year
38. Complete dining areas around all the concession stands to relax and hang out in with wood flooring, tables and condiments
39. Authentic Belgian beer café featuring famous Belgian beers on tap served in the actual glasses the beer was meant to be served in
40. Full on-site bakery which starts baking at 5 A.M. and delivers fresh bread, cinnamon rolls, croissants, and bagels every morning to the Dreamville Marketplace for campers to purchase
41. Over 80 containers shipped over-seas last year with decorations, materials, and staging equipment unavailable and never used before in the United States
42. Dance Safe organization was on-site delivering water, ear plugs, and a helping hand where ever needed all over the festival
43. TomorrowWorld shirts claiming to have the "Best Crowd In The World" may be true, we will leave that for you to decide
44. Literally everyone attending partied safely and were all very respectful towards each other, very few incidents occurred festival wide compared to your average massive
45. Co-ed bathrooms were everywhere easily accessible with minimal to no waits and noticeably kept clean well maintained
46. Urinary troughs for the guys so you NEVER have to wait in a line again
47. Clean sinks to wash up and make sure you're still looking B-E-A-UTIFUL
48. VIP is more than just fast entry and a special viewing area, TomorrowWorld also provides:
$100 drink credit
Special Parking
Air-conditioned flush toilets
Complimentary lockers & cell phone recharge stations
Complimentary hors d'oeuvres
Gourmet food options
49. Don't worry about your phone dying and losing touch with your group, sign up for TomorrowWorld's PWRBOX – a mobile battery pack you can pick up and charge your phone on the go! You're even allowed to swap the battery for a fresh one twice a day.
And last but not least:
50. YOU
It's not just the years of experience from TomorrowLand used to create this one of a kind festival, but each and every one of you that makes the journey to the Chattahoochee Hills is truly what makes TomorrowWorld what it is. The unique vibes brought by individuals from around the world who come together to create an absolutely one of a kind atmosphere within a legendary festival.
Don't miss out on the madness as TomorrowWorld prepares to invade Georgia again this weekend! We'll see you there.
– Grant, Staff Writer