Junkie Kid (aka 91X) is a young and extremely passionate electronic dance music DJ and producer who began producing his own Techno, Trance, and Hardstyle tracks when he was just 16 years old. Junkie Kid's diverse production abilities have allowed him to develop a greater passion for Techno music, a passion in which he has spent much time practicing and perfecting. At first, Junkie Kid's passion lied in the sounds of Hardstyle. A genre of music in which he was so skillful at, he named his own sub-genre. Instead of focusing on what he knew, Junkie Kid turned his passion and focus to starting his own alias focused entirely on Techno, known now as 91X.
Although 91X has not released any music as of yet, the alias has appeared on a few of Junkie Kid's releases as features. Both '777 Skyridge' and 'Pyramid' were released on Harsh Records and feature 91X. The two tracks shed a light on the producer's production skillsets and what is to come for any future 91X release. Both tracks have amounted to nearly 31,000 plays on Soundcloud and have allowed 91X to be regarded as a top-tier underground producer, even though no music has been self-released.
As if 91X's breakthrough into the underground scene isn't impressive enough, the young producer will be showcasing his Techno sounds via his exclusive 91X debut set, which will be brought to light this upcoming Thursday on MANIAC BLVCK's debut livestream show on Insomniac TV. Trust us, you will not want to miss it.
We were lucky enough to sit down with Junkie Kid (91X) before his MANIAC BLVCK Livestream to talk about his career, his new Techno alias and any projects the young producer is currently working on. The MANIAC BLVCK Livestream on Insomniac TV will debut Thursday, April 29 from 10 PM PST -12 AM PST on Insomniac TV's Twitch and YouTube channels.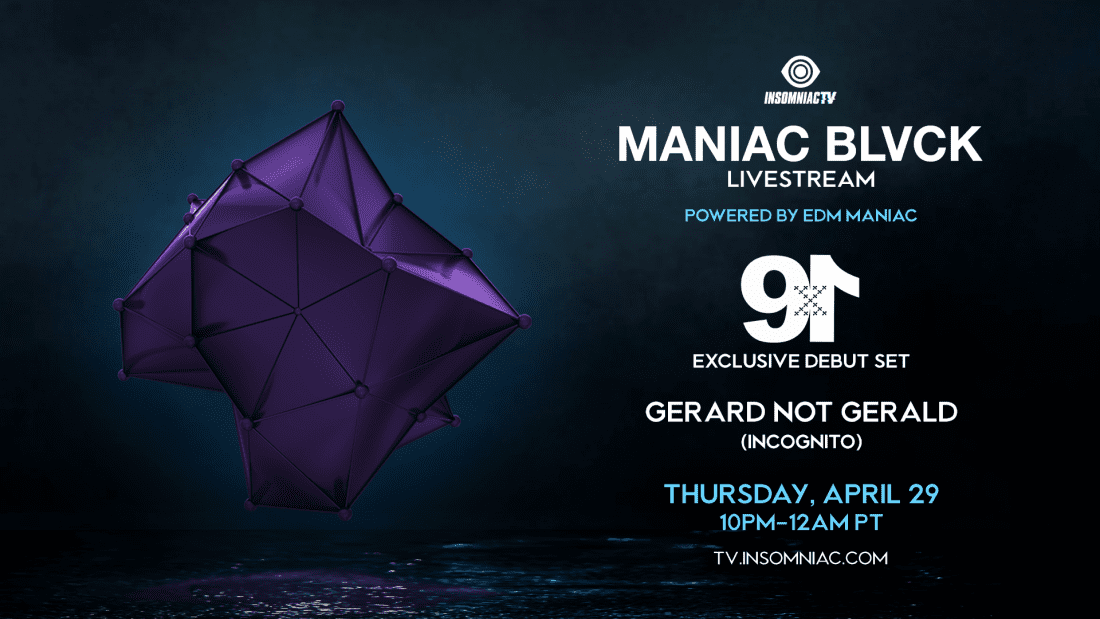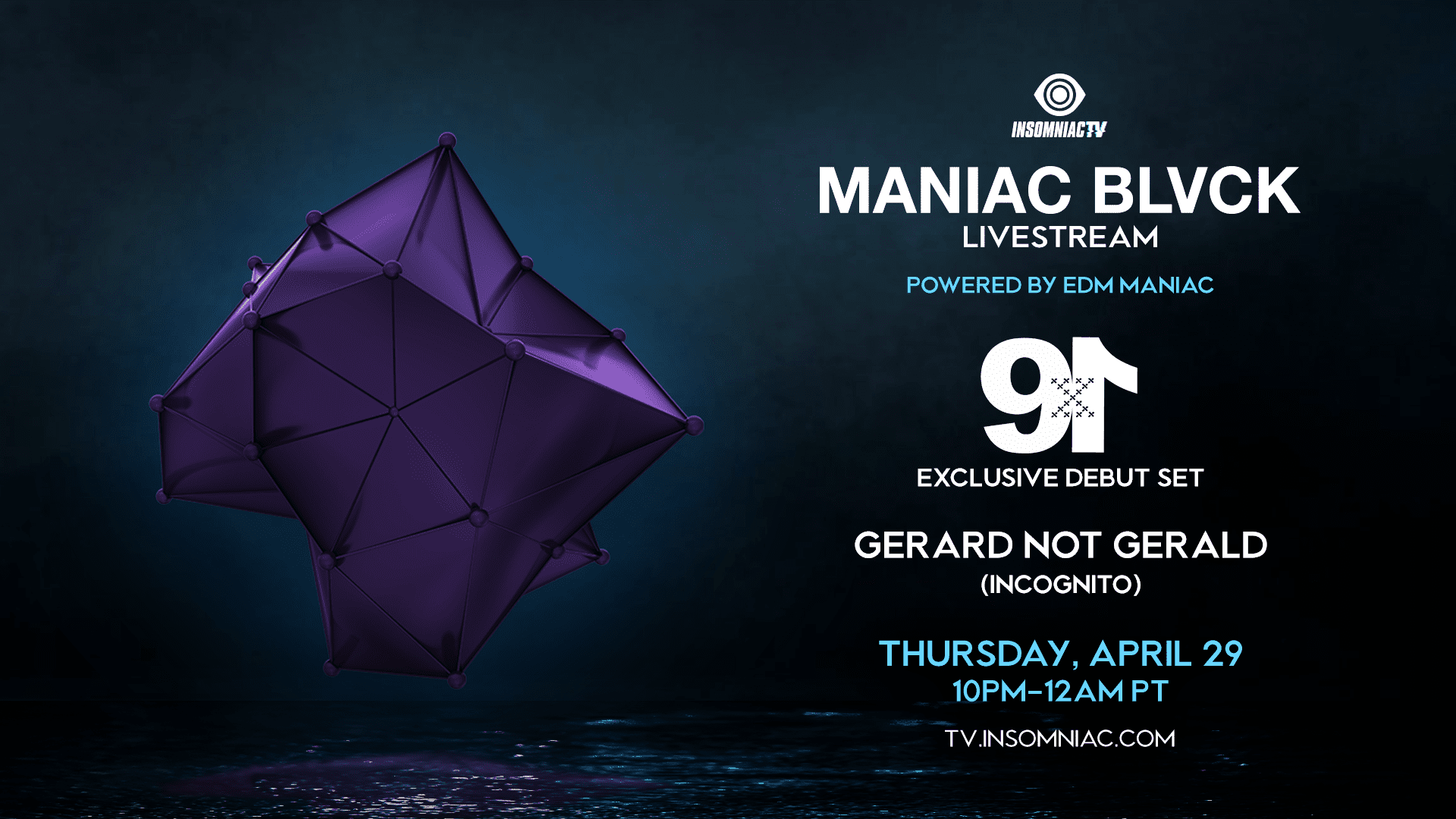 EDM Maniac: Where did the idea of an underground alias come from? What inspired the alias, '91X'? What or who encouraged you to pursue a different avenue of sound? Why?
91X: I have always produced almost any type of music, Techno and House obviously one of them, you can actually hear a couple of 91X tracks on my album "Find Yourself" that came out in 2018, and I just wanted to take that Techno part of me to the next level. I decided to make a new alias because I didn't want to mix my Hard Dance fanbase with the Techno/House scene, I think those 2 words are just so different from each other. I encouraged myself to put this project out there for the world to hear because I enjoy making Techno and House music, So I said, why not?
EDM Maniac: 91X… Where does that name come from? Is there a story behind the name? Influences? Tell us the story of the name 91X and how it came to be.
91X: I was born in 1991 so that's where the 91 came from, and honestly I just added an X haha, not a long story, just representing the 90's generation.
EDM Maniac: What have you enjoyed most about producing music under an alias? In what ways has producing music under your new alias allowed you to grow both personally and professionally?
91X: I love the fact that I can finally release all the No Hard Dance music I have. Allows me to be available to express myself, I feel more relieved, freer, and happy with myself to finally put all this music out for the world to hear.
EDM Maniac: Having produced various Techno, Trance, Hardstyle, and House records, which genre of music do you enjoying producing the most? What genre of music do you enjoy performing the most? Why? Do you see yourself exploring another avenue of music in the future? If so, what genre or genres?
91X: I think I enjoy making music equally, like, It doesn't matter what genre I just love to make music, it's my passion. Performing live… they just are different, I enjoy playing Hard Dance bangers…And I enjoy playing some Techno bangers too! Yes, another genre that I love to listen to and produce is DNB, so who knows, in the future, you might see me with a new DNB alias haha!
EDM Maniac: How much of your music is inspired by your cultural background? Growing up in Mexico then moving to Spain…. How has this affected your music? In what ways has this influenced or affected your music and allowed your music to grow?
91X: I don't think my culture really affected or has any influence on my music taste, I came from a 0 musicians family, but somehow I was born with it. Since I remember I always wanted an instrument, a piano, a guitar, some drums, etc. I never had toys, never asked for toys, I was just a big music lover and soccer fan haha! Since I remember.
EDM Maniac: Where do your musical inspirations come from? Who or what inspires you to make music? Who or what motivates you to produce music? Where do your motivations come from?
91X: Ever since I remember I've always loved music, I was always playing the piano, playing the guitar. But I remember, it was thanks to a cousin that I started liking dance music, I remember he was always blasting  Mauro Picotto, Gigi D Agostino, Dj Quicksilver, Dj Sammy, D-Devils, DERB. And I just fell in love with it! I remember my dad had an old (new back then) computer which had Sony ACID, I think It was the very first version, haha! And I started making beats when I was like 11 years old. Then, a couple of years later I discovered FL Studio, and I loved it! And that's how everything started.
EDM Maniac: Where do you see 91X being 5 years from now? Where are you looking to take the project? What are you looking to accomplish with your underground alias? What is the goal, if any?
91X: I see this project playing big Techno/House shows, festivals. And with this amazing team that we are building for 91X, I think we are gonna make it happen! Honestly, my goal is to take all my music worldwide, not only my Hard Dance music but also the Techno music.
EDM Maniac: How excited or nervous are you to be making your debut of 91X on Insomniac TV, powered by EDM Maniac? Tell us how you feel!
91X: I'm just happy, so excited! I want to release all this music ASAP! haha! I think I'm ready for this project to go really far. Every time I sit down and start making music, I always try to make something new, come out with a new sound, something you've never heard, and that's the same thing I'm tryna do with 91X.
EDM Maniac: What can we expect the rest of 2021 to look like for 91X? Any upcoming releases, festival announcements? Anything you would like to tell your fans before your performance tonight?
91X: I'm gonna keep the release dates and details as a secret just for right now, but yes you can expect Techno bangers this year, and probably some shows! Go follow me on my new social media if you want to know more about it! ( @ninetyoneex ) Thank you!
You will not miss the premiere of Junkie Kid's 91X Techno alias this upcoming Thursday on MANIAC BLVCK's debut livestream event, so make sure that you are tuning into Insomniac TV's Twitch and YouTube channels this Thursday to see 91X in full effect.
Make sure to follow 91X on SoundCloud and Instagram in order to stay up to date on all of 91X's future releases.