Clear your plans for 4/20 this year my friends, as they're unlikely to top Central Florida's premier boutique festival, Asteria. With secluded festival grounds surrounded by 120 acres around Lake Pierce, Florida, it is just a short drive from both Orlando and Tampa. These nature preserves in the heart of Florida allow a unique getaway featuring all kinds of music, art, and more.
Taking place from Friday, April 19th-Saturday, April 20th, prepare to wake up to an electronic paradise, home to fully-furnished private villas, conveniently complete with bedrooms, full bathrooms (showers), air conditioning and storage areas. They changed locations this year to better accommodate attendees, who will enjoy indoor dining, premium industry workshops, and activities including basketball, volleyball, hiking, biking, private pool parties and other exclusive events that can be reserved.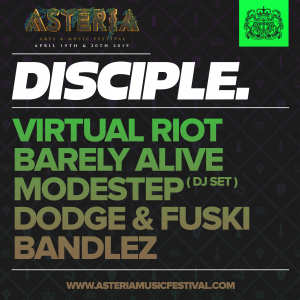 The intimacy of this festival should be noted, as there are limited tickets. This year's lineup appeals to a wider variety of audience, as it added some electro house, deep, dark techno, and tech house, to its already loved compilation of dubstep artists. I strongly believe that the addition of these new genres will skyrocket this festival into popularity, while continuing to keep that intimate feel.
Campsites at Asteria will be 10'x10', and there will be a GA section located on the southeast end of the property, as well as a Quiet Camping (VIP) section which will be located on the southwest end. Asteria is featuring two after hours events happening simultaneously, to keep the party going all night. Keep in mind that this event does not allow car camping, so pack light, but mini kitchens and restrooms will be provided within your camp sites.
Without further ado, check out Asteria's wonderfully underground lineup, that will grace Central Florida with the sounds that we need to keep it moving all night.
Feed Me, Virtual Riot, No Mana, Barely Alive, Modestep, Hatcha, I_o,
Dodge & Fuski, Fytch, Bandlez, Valentine
American Grime, Creation, Ecto, Hairitage, Jkuch, Lizzy Jane
M.E. Swank, Moore Kismet, Sora, Too Kind, Xavi
Cazanova, D-day, Dekerakt, Drewlface, Foreign Suspects, Hallucinate,
Jinx, Klimbr, Knockturnal, Lawless, Luny, Masf, Mowdi, Myth,
Nvikto, Paper Mushrooms, Phoenix Jagger, Romeo, Skyhye,
Sub-lo, Terminal Velocity, Too Heavy Crew, Unknown, Yokai,
And More! 
This is Asteria's third year, and each year they've grown in size. With Dirtybird Campout East Coast tanking last year due to issues with noise abatements, it's refreshing to know there is still an intimate, underground option for Central Floridians.
Don't wait, with limited tickets available for this boutique festival, purchase them here. Check out the options for Squad Villas and Shared Villas as well. If you can't quite make it to the festival, check out the Road to Asteria events, there may just be one coming to your city. Like AAMF on Facebook to stay updated. Volunteer opportunities for this festival are available. See you there, Asterians.