There have been raves in the forest, ice caves, cathedrals, and now for the most unique venue yet, a prison. Audio Obscura have announced that they will be throwing a 3 night even in the iconic and old Bijlmerbajes prison in Amsterdam. The shows will take place from Thursday, October 18th to Saturday, October 20th.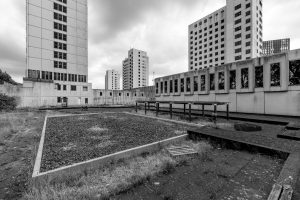 As it looks like some strings had to be pulled to get something to be produced here, the Bijlmerbajes is considered the most famous prison in the Netherlands and it can be expected that this will be the only event here. Although eery scenery, Audio Obscura will undoubtedly transform this into a joyous and electrifying environment perfected  by attendees.
Kicking off the night Thursday will be Seth Troxler and Honey Dijon. Friday night will be entirely hosted by Speedy J's Electric Deluxe label and saturday night will be headlined by Nina Kravitz. 
Tickets will go on sale Wednesday September 5th at 12 PM.
Audio Obscura x Seth Troxler & Honey Dijon at The Prison
Thursday 18 October 2018
Location: Bijlmerprison, Amsterdam
Opening hours: 22:00 – 06:00
Line up: Seth Troxler, Honey Dijon, Carista
Facebook: https://www.facebook.com/events/2319436838073214/
Audio Obscura x Electric Deluxe & Dystopian at The Prison
Friday 19 October 2018
Location: Bijlmerprison, Amsterdam
Opening hours: 22:00 – 06:00
Line-up: Speedy J, Rødhåd, Clouds, Jon Hester
Facebook: https://www.facebook.com/events/252208482301261/
Audio Obscura x Nina Kraviz presents Tрип at The Prison
Saturday 20 October 2018
Location: Bijlmerbajes, Amsterdam
Opening hours: 22:00 – 06:00
Line-up: Nina Kraviz and трип guests TBA
Facebook: https://www.facebook.com/events/287790525385881/