"Nothing Fishy, Just Bass"
The electronic dance music industry brought in $963 million to night clubs in 2018, and the global economic value of the EDM industry is estimated at $7.1 billion. These facts can be mind blowing to someone who's not part of the scene, but attend an event or festival, and you'll see the love for this music seeping through peoples' pores, and their willingness to spend money on these events comes along with it.
So how do YOU become part of these massive numbers? How do you contribute back to the scene that has given you so much? I sat down with the curator of BassNight, a local bass music lover's oasis each Sunday night in Orlando, FL, about breaking into the local EDM industry, and tips and tricks for how you can, too.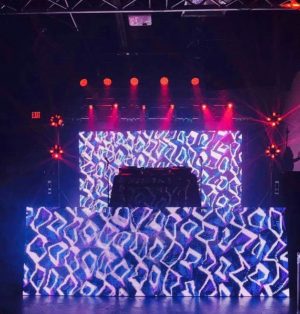 Cue: Loren Hardy, who ironically looks like, and has the same name as Bassnectar, the artist he credits for sky-rocketing him into the scene in 2015. Loren explained how curating BassNight took massive rapid action, networking with motivated individuals, and most importantly, bartering.
"DJs are so much more accessible than rock artists, if you reach out to them on social media, they're likely to respond." Loren highlights how he manages to book DJs each week for BassNight, it's as simple as not being afraid to ask. "DJs can come here to get experience so they can put it on their résumé and get more gigs. This is about a springboard effect."
I was shocked to discover that only a small amount of money was needed to boost BassNight from the ground up. "It's all about bartering with others in the industry, about trading your talents for theirs, about making bridges and uniting people in bass" said Loren. Many local venues are actually willing to lend their space out if they have nothing planned for that weeknight, as events like these allow them to sell drinks on nights they would normally be closed. You bring the crowd, they provide the drank. Loren's first event involved him and a bunch
of his friends acquiring PA gear and converting an alleyway in Longwood, Florida into a bar. Loren wants you to know that all his "conquest of bass" took was a lot of passion. It's truly awe-inspiring and humbling to witness the amount of talented people that have come together in this industry to create mind-blowing events and keep the music pumping.
Loren was tired of waiting around for events in between festivals, so he kicked BassNight into gear to appease those who felt the same. Walking into the Geek Easy, for BassNight, I was greeted by extremely
talented, local art and clothing vendors like the gorgeous Calypso Arts, the Orlando DanceSafe booth, and people playing video games. There were gourmet snacks and sandwiches, and a selection of craft beer. Towards the back was the production, and Dropkick was on the decks playing a set of all original songs, followed by Orlando native, Rest in Pierce, and Diceman with the New York HEAT. The lasers caught my eye of course, as Beardthug took the stage and shook Orlando to the core with the underground originals.
"The missing element of American society is the pow wow, where we come together and stomp the ground, where all politics and differences are left at the door." When I walked through BassNight's door, I was greeted as FAMILY. I left feeling inspired, and today I give BassNight the spotlight it so greatly deserves. Thank you Chantalle and Loren for an amazing night, I will be back very soon.



Facebook: https://www.facebook.com/bassnightorl/
Instagram: @bassnightorl