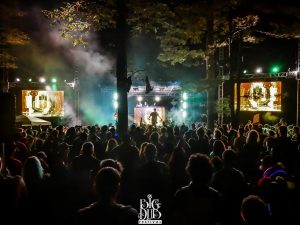 What if I told you you could run away to a mountain for a long weekend to explore incredible sights and sounds? That the mountain houses a clear water river to swim in, a fully functioning castle, pirate ship, life-sized Candyland game, a forest of giant mushrooms and surprises around every corner. Sounds like some shit out of a fairytale huh? It's actually just a small sample of what festival-goers can expect at this year's Big Dub Festival.
This year marks Big Dub's 9th event held at Four Quarters Farm in Artemas, Pennsylvania. Big Dub is a four full-day festival that will take place this year from July 25-29. The festival goes above and beyond just music, gaining national recognition in recent years for " its prioritization of community & culture." Seriously though, there's so much to do and see at Big Dub it seems as though there aren't enough hours in the day to play! Here are a couple reasons why Big Dub needs to be on your festival lineup this summer.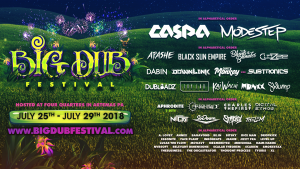 1- That lineup is heavy as shit
Big Dub has always brought the heat for previous lineups but I was literally screaming yesterday at work when I saw this year's (oops). Artists play throughout the weekend on four, fully decorated stages. Here's who I'm particularly stoked to see (and suggest y'all plan to catch if you're going):
Caspa
The 19-year old dubstep youngin inside me lost her shit after seeing Caspa first on the lineup. Caspa was one of the main artists that drew me to the scene back in college and I've been dying to see him since. Plus his newest single 'Hide & seek' is fire.
Modestep
Another oldie but goodie that my old self was screaming over. I never thought I would get to see a lot of the names that originally got me into dubstep but it's been awesome to see them popping up on festival lineups recently.
Apashe
After years of listening to Apashe I finally got to see him this past winter at Black Tiger Sex Machine's Ceremony Tour. Dude has great sound and puts on a dope show. I think he has a lot of big things coming for him the rest of 2018 and beyond.
Blunts & Blondes
I saw Blunts & Blondes for the first time in January but have been following him for a minute now. It's been super awesome to see his name on so many different festival lineups. He's also been known to join the crowd for shenanigans before and even during his own set.
Downlink
Downlink is another artist who has yet to disappoint the handful of times I've seen him. I don't think he gets enough recognition for how fucking hard his sets go.
Dirt Monkey B2B Subtronics
Caught these two on the Ganja White Night Origins Tour and have been super into their music before and after that show. Subtronics has been dropping banger EPs left and right and Dirt Monkey's recent collabs have been straight fire. I'll also be catching them again on their Warp Drive Tour next weekend.
Dubloadz
Dubloadz is an absolute wild man on the decks. I saw him recently on Kayzo's Monster Outbreak tour and the crowd literally broke the rail (on accident) during his track with Sullivan King "Break the Rail." Needless to say, he always brings the heavy shit.
Kai Wachi
Kai Wachi was also on tour with BTSM and always throws down ground-shaking, face-melting tracks. His energy on stage is also pretty damn electrifying.
Monxx
Ahhhh yesss the man who brought us the infamous Wonky Song. I caught the second half of Monxx's set on Excision's Paradox Tour this year and his drops are always throwing the crowd a curveball. Excited to see what he has in store for Big Dub.
Brightside
I caught Brightside's set this past weekend at Digital Gardens and was pleasantly surprised. This guy's style seems to pull influences all over the place to morph into one, mind-blowing psychedelic bass set. Pure genius.
Digital Ethos
Also caught him for the first time live at Digital Gardens but I've been all over his work recently because of my obsession with the artists on Wakaan. Dude bought some super heavy sounds and had the whole crowd gettin rowdy. Definitely didn't disappoint and I'm amped to see him again so soon.
SoDown
Saw him play at one of the Digital Gardens after-parties and I LOVE this dude's sound. Another artist who masters sound design, but also throws live saxophone playing into his sets. Super awesome.
If you'll notice, that's like the majority of the lineup. Hence yesterday's screaming. Big Dub did the damn thing this year with this lineup. AND it's only phase one. I'm excited to see the other talent on this lineup too. However, I can personally attest to the fact those I listed above will. throw. the fuck. down.

2- Theme camps are an attraction all their own.
A lot of festivals have camping, but what makes Big Dub camping different? Theme camps (ideas pitched and curated by attendees) help add to the character of the festival. The Symbiotic Castle is the most popular returning theme camp, offering a functional castle and a full calendar of medieval events and activities. Another returning favorite is Camp Candyland which brings a life-sized version of the game along with them complete with intricately designed props and actors posing as the characters. There will be over a dozen more theme camps open to the public to check out at this year's event.

3-Seminars make the festival way more than music.
Most festivals offer curated events and art exhibits but not too many offer full seminars and workshops throughout the weekend. Festival-goers can attend these workshops to learn about everything from sustainable living to flow arts to music photography. Stay tuned for a full list of workshops, seminars and activities in the coming months here at EDM Maniac!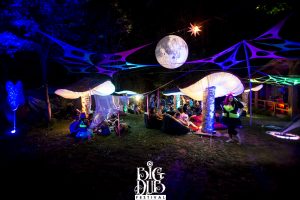 4- You can find some serenity amongst the madness.
All of the things to explore; music, art, workshops, seminars and events are enough to make anyone's head spin. Big Dub's got festival-goers covered when it comes to downtime too. Movie Cuddle Puddles are offered on select nights for those who just want to throw on their jammies and watch a flick with friends. Daily yoga and meditations are also available alongside workshops on spirituality for those trying to find a deeper connection with themselves. Feel like you wanna just plop into an inner tube and float along a clean water river? You're in luck, because Big dub offers that too.

5- You'll become part of a tight-knit family for life.
When I was planning my festival schedule last year I asked a lot of my fellow ravers what they're favorite festivals were and I was amazed at how many said Big Dub. Everyone seemed to hold this festival to such a high regard. The camaraderie that comes from the 'Big Dub Fam' is something I immediately wanted to be a part of. I can't wait to go to my first Big Dub this year and see what all of the hype is about.
Tickets are still on sale but are going quick! There are a couple of different camping options to choose from to accommodate any and all needs. Soooo, who will I be seeing at Big Dub this year?!