Last year as I was making my playlist for Electric Forest and trying to figure out who I wanted to see, I came across this badass looking group of dudes who call themselves Black Tiger Sex Machine. I loved their powerful, ominous sound and put them on my schedule to see in the forest. I had the chance to see them there as well as Lost Lands and both sets were these galvanizing experiences that had me officially on the BTSM train.
Church Fam! You can now relive our full LOST LANDS live set!Watch it here: www.lostlandsfestival.com/livestream/

Posted by Black Tiger Sex Machine on Thursday, January 18, 2018
You can watch the full BTSM set from Lost Lands I mentioned for an idea of what to expect on the Ceremony Tour.
2017 was a great year to get into the sounds of this heavy bass trio with the banger singles they released like "Hell Motel" and "Face Down." It was toward the tail end of the year though when they dropped "Lions," and I began to hear chatter of their sophomore album and a tour coming in 2018 when I got really stoked. This year is about to be one hell of a year as a member of the BTSM church.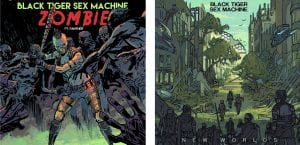 Last week BTSM released the second single, "Zombie" from their upcoming LP "New Worlds" on Kannibalen Records. If this track is any indication of what this album is going to be like, count me in yo!
The track starts off strong with few aggressive hip-hop influenced vocals (Québécois Panther) and signature bass infused, heavy hitting BTSM sound. The first drop brings the hype but the second drop is when shit gets real y'all. Check it out for yourself. You'll be brain-dead like a Zombie too by the time you're done with it.
The good news doesn't end there. BTSM is blessing us with a monstrous tour across North America starting the same day their album drops. **excited screeching** With over 2 dozen stops, the "Ceremony" tour will bring the bass and BTSM (of course) but also a new custom stage design. This production allows the guys to have full control of all lighting from the stage to their masks. They will be creating a unique audio-visual experience each time they take the stage.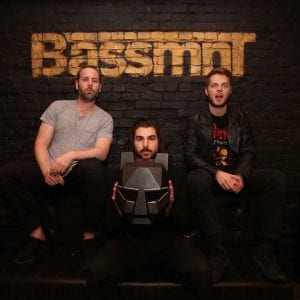 If all THAT isn't convincing enough, take a look at the supporting talent: Apashe, Kai Wachi, Sullivan King and Lektrique. Guys, your whole goddamn face is about to get melted off on this tour. I've seen Sullivan King and Kai Wachi live and they are both incredible performers. I've been listening to the other two for years (especially Apashe, "No Twerk" was my SHIT summer of 2015) and just have been waiting for them to get close enough to Cleveland where I could go see them. The time has finally come AND it's with BTSM. Let's goooo.
The album "New Worlds" drops on March 2, which is also the same day the masked Montreal-based triad begins their tour. You can pre-order the album on iTunes and get "Zombie" today! Come see the Ceremony for yourself guys, I promise you that you won't regret it.
'CEREMONY' TOUR DATES & TICKETS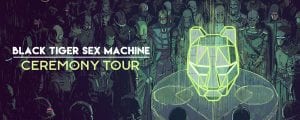 Feature image courtesy of BTSM Facebook