Whether as a front-row festival-goer or as a beat-dropping DJ in the booth, style's a huge part of the music scene. Sure, the music always comes first, but increasingly, we're all aware that looking good can be vital to playing good.
That said, it's pretty perfect that our friends at Blenders Eyewear are working harder than ever to put the style in "lifestyle," and their most recent partnership has never been more relevant to all of ya here at EDM Maniac.
Blenders Eyewear x The Yacht Week
Previously, we gave you the 411 on the San Diego-based sunglasses and snow goggles brand and their partnership with The Groove Cruise. Now, Chase and his Blenders squad are bringing their radical, unapologetic designs to party unicorns everywhere as part of their official sunglasses partnership with The Yacht Week—and we're stoked to offer a preview of the scorching-hot, limited-edition shades they're about to drop, as well as what The Yacht Week offers wanderlust-feeling, dance-crazed festival fiends such as yourself.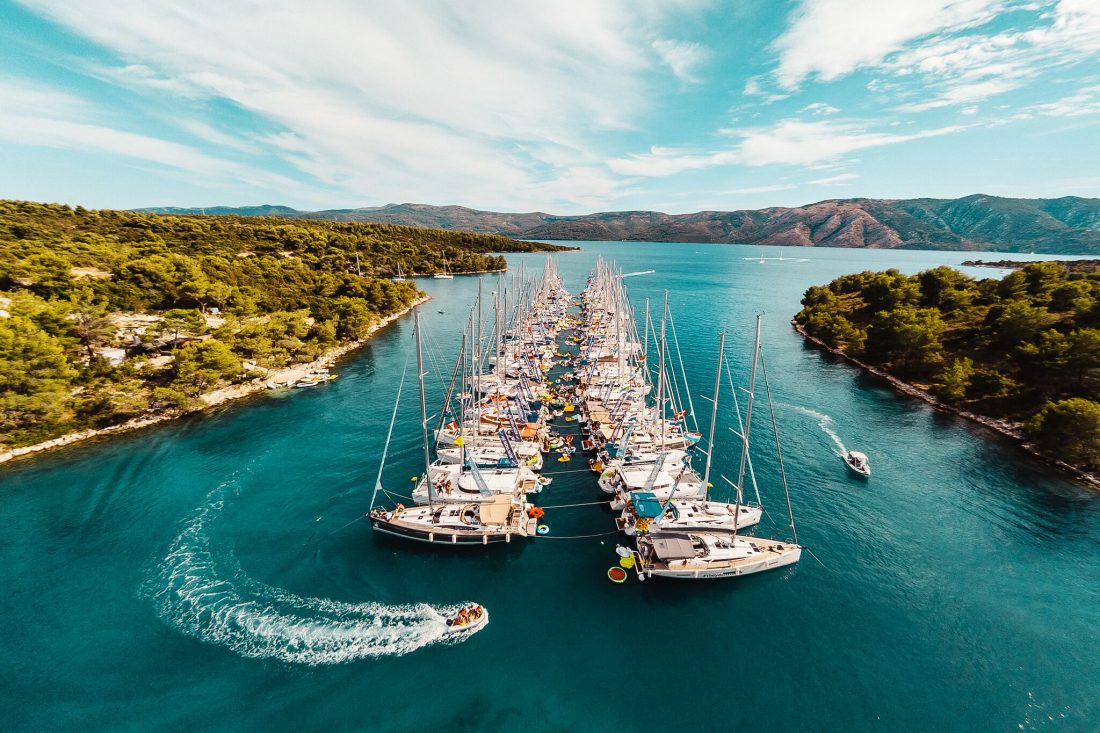 Get Ready for the Week of Your Life
So, why care about The Yacht Week?
Well, it's simple: These guys are out here offering blowout, boutique seven-day floating sea festivals strewn across the Earth's most exotic locations. It's basically the craziest intersection of Travel x Music x Style (courtesy of Blenders) around.
Here's how The Yacht Week works:
You select your preferred event/destination.

You choose the dates that work with your schedule.

You pick the perfect cabin or yacht.

You cobble together your fav festival fam to rage with.

You prep your mind, body, and soul for something that's gonna rewrite your expectations for what a good time is.
The upcoming destinations include Croatia, Greece, and the Caribbean, all along various routes and some starting as early as June. Each offers headlining DJs, themed parties, and downtime opportunities that range from hikes to seaside yoga sessions to wellness sanctuaries.
Obviously, music is a huge component here, and to give you a taste, here's who's gracing the upcoming Croatia route: Mark Knight, Illyus & Barrientos, Weiss, OFFAIAH, Ministry of Sound Presents: Monki and Melé, and Applebum.
Learn more about how The Yacht Week works and what's included, and take the time to drink in everything you'll experience!
High Seas, High Fashion
Blenders is about to drop two limited-edition sunnies in honor of their official partnership with The Yacht Week. Whether you're stageside or seaside, this is style we swear will make a splash. 
Compass Blue
Wave Music
 
Each of 'Compass Blue' and 'Wave Music' offer seaworthy, shenanigan-ready style via polarized lenses, durable polycarbonate frames, and mixed metal features. And most importantly, each is made to last from sunrise to sunset.
If you're ready for the week of your life, follow @theyachtweek (IG). And even if you're not sure yet about sailing across the world, you can always ensure your outfit's positively dripping ahead of EDC and Tomorrowland by copping some of the latest Blendz. 
Use code
EDM20

today for 20% OFF any pair of Blendz over at BlendersEyewear.com!