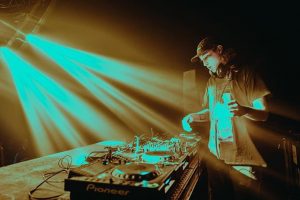 Blunts & Blondes (Mike Guard) from Florida has been in the game for several years and I could not believe he hasn't blown up more by now. He's been playing mostly small-scale events with a couple festivals last year like Okeechobee, Imagine and Life in Color Miami.
I listened to all of his stuff on Soundcloud and just like that, I'm hooked on this dude's music. His sound is different and the same at the same time. It's this dope wonky, head knocking, grimy wobble, bass face warranting sound. So I'm thinking shit if those mixes and the videos I've seen are any indications of how Blunts & Blondes is live, I HAVE to see him.
When I get super into a DJ, I scourge the internet to figure out when they are coming near Cleveland. I saw nothing close enough at first. A couple weeks later I see a post from My Best Friend's Party, an EDM event curator in Columbus, announcing the lineup for one of their events and there it is right below Buku is Blunts & Blondes. YASSSSS. The day of the show rolls around and my friend Alison and I head down to Skully's in Columbus.
The show
After the local openers and Roevy, I saw Blunts & Blondes pop up behind the DJ booth. He came in with a drop that made the whole crowd lose their shit in the first 20 seconds. It wasn't more than ten minutes into his set that he started to play the notorious 'Prison Riot' and literally stopped the music until the entire pit made a circle that almost took up the whole floor. With his hand on the dial he smirked, "Show me what you fuckin got, take care of your friends" then he dropped it into some hard riddim and the crowd went insane.
Every kind of drop you expected was NEVER what you expected, he just threw curveballs all night. Mixed with his amazing energy, it seriously was like nothing I've ever experienced.
The meet-up
I reached out to Blunts & Blondes to see if I could meet up with him after the show to ask him a couple questions. He agreed and I was beyond stoked. Dude literally took the time out of his night to follow through and answer some of my questions. He's just as chill as he'd seemed.
But what sets him apart from every other dubstep DJ in the game? Why do you need to pay attention to him this year? He's not just trying to make it in the game, he's trying to change it.
"All of us are trying to make music and express ourselves," he pointed out. "Dubstep is really fun and I care about it and the whole scene. But I'm trying to do something different with my music."
He continued to explain, "So for instance, you have a favorite dubstep song. It's your favorite dubstep song for like what, two months? Then you have another favorite. I'm trying to bypass that. Like 'Yo Blunts and Blondes is making his own name, this shit he does isn't cookie cutter.' That's what I'm really trying to do here."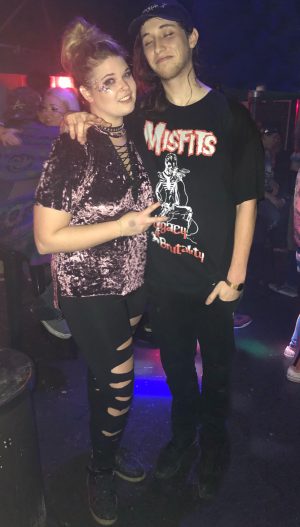 In my opinion, he's one of the most underrated dudes in the game. He's been working on creating a name for himself and getting it out there over the past couple years. And now that it's out there, he's trying to build on it.
"I got a lot of cool shit coming up. I'm gonna work with Sluggo and I'm coming out with my first EP this year."
In terms of festivals, Blunts & Blondes is playing Okee again, and I'm praying to the bass gods I see him at Lost Lands too.
One of the craziest parts of my conversation with him was when he told me he wants to continue to use his music to show how he's really feeling. Not that as much as his response when I asked him what he was feeling…
"You know… I dunno," he shrugged. "I haven't figured out how to express that musically yet, but once I do, you'll know. I'm tryin' to be the next shit"
Timeout… you mean to tell me this kid hasn't even tapped all of his abilities yet? Damn, I'm not playin' when I'm telling you that you need to watch his come up, I think it's about to be one hell of a time.
"I'm coming through with some new shit, trying to find my little piece of the puzzle in the dubstep community," he told me. "If I do, I do. If I don't, I don't. But no matter what, I'm gonna have a good time tryin."
Feature photo by Tessa Paisan