In many ways, the tole of the PNW rave community in today's dance music scene speaks to the role of music as both an expression of culture as well as an influence on it. One thing that makes EDM culture fascinating is that everything within its umbrella is always evolving: the music, the fashion, the events, and all the trends they generate. At the same time, it's clear to see that different communities develop vastly different relationships with these trends. What results is an incredible story about what those communities value—and the PNW is no exception.
One thing that stays constant in the EDM scene is that genre preferences take root in different places over time. If you've ever traveled across the US (or other parts of the world) to attend events, chances are you've seen this too. An artist performing under a certain genre (trap, house, techno, etc.) will sell out every event they play at in your city. However, if you so much as mention the same artist's name or their style in a different location, you're met with nothing but raised eyebrows and confused looks.
 I've experienced this a lot having moved across the US several times. As I explored different corners of the country's rave scene, I learned that paying attention to which producers' names appear on jerseys, shirts and hats can tell you a lot about the musical preferences in a particular city.
One might compare it to discovering which sports team a city supports based on the logos you see on hoodies at a local sports bar…one or two logos in common may be a coincidence, but stepping into an entire room full of them is another game —it's a surefire sign you've entered loyal fandom territory. With this same perspective, the most popular type of merch you'll see among any gathering of ravers in the US Pacific North West reveals one clear message: Bass music is king here. 
The Great PNW: The "Other" Bass Capital
Some consider Denver to be the "Bass Capital" of the US, but the Pacific Northwest arguably holds equal claim to this title.  Whether at a local club or the Gorge Amphitheater, it's near impossible to step foot on a dancefloor without seeing the likes of SLANDER, Sullivan King, Excision, and other major bass music producers' names stitched into jerseys and hats throughout the crowd.
Perhaps the PNW's preference for this hard-hitting, visceral genre of EDM stems from a deep-rooted connection to gritty styles of rock music like grunge and metal– genres to which the region has significantly contributed for decades.  It's no surprise that legendary bass music producer Excision chose Washington State to host Bass Canyon, the only other three-day bass music festival  produced under his name in the US besides Lost Lands.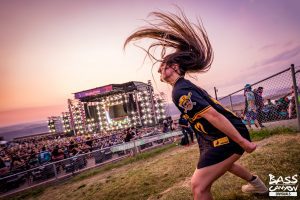 This loyalty to headbanger culture runs especially deep among the region's smaller urban centers like Spokane, where gigs for promoters are more limited relative to larger cosmopolitan cities like Seattle or Portland. In either case, bass and dubstep continue to generate massive pull for large and small events across the Great Northwest, even as different trends sweep other parts of the country. 
That said, nothing is immune to change. House music experienced a powerful surge in popularity over recent years, and glancing at some of the year's biggest festival lineups will reveal that the trend is set to continue in 2022. Insomniac and its affiliate brands are also introducing more genre-diverse festivals like HARD PNW and Beyond Wonderland at the Gorge to the PNW this year, and with so many new and diverse artists returning to the stage after the pandemic, it's not inconceivable to imagine that the house music craze could gain a foothold in this staple basshead territory. Could this be the beginning of a game change for the PNW scene? It's hard to say for sure, but it's certainly a question to ponder as new events roll out. 
A Foothold For Change?
Perhaps HARD Fests' latest debut event HARD PNW can give some anecdotal insights into this question.  The March 19 event featured several well-known house music artists like Joyryde and Wax Motif, who are regulars HARD event lineups year-round. Other artists like Kayzo,  RL Grime, and Juelz also brought different styles to the mix, but overall, house music saw the most representation from the production end, and all things considered, turnout for the event seemed promising as well.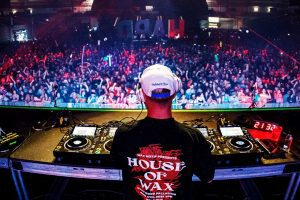 There was no shortage of good vibes and enthusiasm from the crowd at HARD PNW. Several local first-time ravers expressed they'd been looking forward to a chance to get out on the dancefloor since the pandemic began, and that HARD PNW was a perfect opportunity to do.
Others expressed they'd looked forward to the event specifically to hear different music styles. Many attendees traveled from all over the west to attend the event,  and some even traveled from the east coast. These various accounts from attendees suggest that there certainly is a place for house and other genres among the PNW crowd, but whether they stand a chance to rival the bass and dubstep scene is another question yet. 
Duel of the Dome: HARD PNW vs Thunderdome 2022
Barely over a month before HARD PNW, the Tacoma Dome hosted another massive event of a very different tune: Excision's Thunderdome.  Thunderdome featured a lineup stacked with bass music heavy-hitters like 12th Planet, ATLiens, Liquid Stranger, and of course,  Excision himself.
Crowd turnout for this event was massive. Attendees waited to get inside for upwards of 40 minutes across the weekend before filling the Tacoma Dome's 110,000 square-foot floors from wall to wall. Most fans held out to the very end of the show on both nights, even after a near 20-minute sound cut-out during Excision's set on the first night.  Vendors sold out of most of their merch, and  Excision's eye-dazzling laser light show was re-shared feverishly on social media for days after the show.
That kind of crowd turnout and enthusiasm demonstrates a fierce kind of loyalty. Admittedly, there are other factors to acknowledge when comparing the two events–namely the fact that HARD PNW is new to the area whereas Excision has hosted Thuderdome numerous times. Nonetheless, the success of genre-specific events like Thunderdome in the  PNW is undeniable.
All that said, it's not necessarily a zero-sum game.  Indeed, HARD PNW didn't generate the same kind of pull as Thunderdome, but the fact that the event gained support from locals and visitors alike shows there's also plenty of room for other genres in the Northwest's EDM scene. 
Looking Ahead 
Where there is demand, there is potential. For every die-hard basshead who is perfectly happy to stay in their lane, there are countless new ravers, genre floaters, and other people hungry for new music in the PNW. These two groups may appear to be at odds with each other, but in fact, this duality can create a more rich and dynamic music culture.
Diehards act like anchors, serving as a steady fan base through which a region develops a legacy. On the other end, the fans, artists, and promoters pushing for new sounds open the door for diversity to take hold, creating more options for everyone. 
Not all are happy to see change, and others may never be satisfied with new changes, but this will always be the case. What's in store for the PNW rave scene is yet to be discovered, but these insights point to a future filled with possibility. Just what those possibilities look like depends on whether the community will choose to believe that the scene is ready to grow and evolve without erasing what's already here. 
Photos courtesy of Bass Canyon, Hard Fest and Excision Presents