by Jarett Pierce, Staff Writer
Attention Los Angeles: Are you ready to go f***ing bananas!!??!! We at EDM Maniac sure are. Of course, this means the eccentric duo Dada Life is coming back to LA this Friday at Avalon, as part of Control Friday's 5 year anniversary. If you were lucky enough to get tickets for Dada (which sold out in a couple hours), don't expect to go to Avalon. You're going to Dada Land.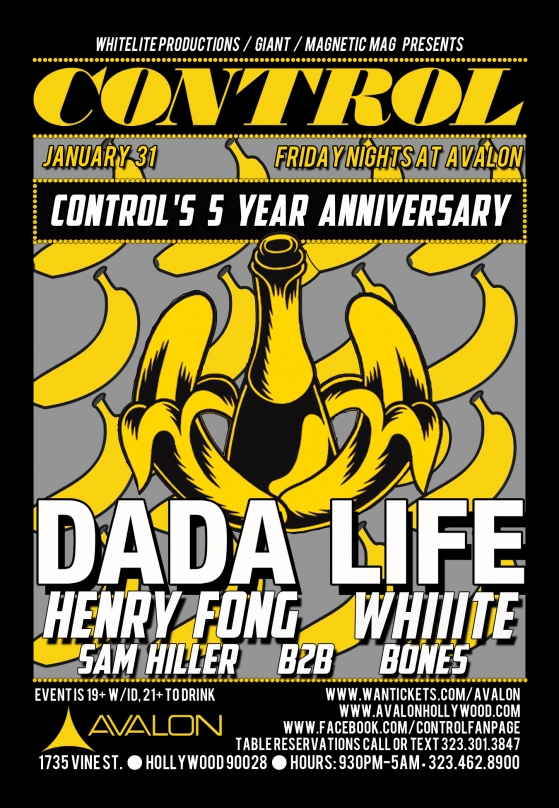 Dada Life is known for putting together some of the wildest, loudest and just straight insane sets that are second to none when it comes to an epic electro-house show. In addition to some of the hardest house music known to mankind, you can expect more from Dada than just an awesome set. If you can make it through the screaming crowd to the front of the stage; be prepared to be impaled by champagne and bananas. Yes, real bananas. Speaking of which, there of course will be inflatable bananas surfing the crowd, as well as people actually dressed in banana costumes raging their face off at this record-breaking show. Record-breaking in the sense that the Guinness world record for a pillow fight happened at…You guessed it, a Dada Life show. It will be messy and brutal, but just know that the pillow fight will be "Happy Violence." This show is coming at a perfect time, as Dada Life has been releasing new music, like "Born to Rage" and "This Machine Kills Ravers."
In addition to Dada Life, up-and-coming electro-house producer, Henry Fong will be gracing the stage with some of his newly released music. Dubstep artist Whiite will be performing, as well as B2B and Bones. Avalon has some of the best vibes any club in the country has to offer, which makes this messy show even more tantalizing. If you can possibly go, we at EDM Maniac highly suggest feeding the Dada. Just know that once Dada asks the crowd if they're ready to Kick Out the Epic Mother F**cker, the ground shaking isn't an earthquake. Well, hopefully.