by Eddy Leon, Staff Writer
The night before the Grammy Awards has always been a night full of anticipation, anxiety, and excitement for the biggest night in music lies only a few hours away. As some of the biggest names in music descend upon the city of Los Angeles, music enthusiasts come from far and wide to catch a glimpse of their favorite artists even if it's just for a brief second.
On Saturday January 25, Tiesto stopped by at Create in Hollywood, Ca for a pre-Gammy performance unlike any seen before at the in-demand venue. As the EDM Maniac team ventured out to Create, we had a sense of eagerness to see the one and only Tiesto, as his sets have always been some of our favorites when witnessing him at a few festivals over the past years. With a sold out show crowd waiting, we were content with the mentality that it was going to be a packed house. Surprisingly when arriving into the venue we were welcomed with warm smiles by the security and no long lines outside the club; took us less than 5 minutes to go through security and enter the venue.
Walking into Create however the crowd was already alive and energized. At times (even before Tiesto graced the stage) you could just feel the crowd energy thanks to the opener JORDAN V who guided crowd while playing various hits such as an electro house version of the hit song "All Of The Lights" and the Alesso & Starkillers remix of "Pressure" just to name a few.
At around 12:30 am the moment that everyone was anticipating had arrived. Rising from behind the DJ booth, a very electrified and happy (smiling) Tiesto graced the crowd and started off his set with his hit "Paradise" from his album 'Club Life Vol. 3' and "Alive" mash up, just as the cool air from the CO2 cannons blanketed the crowd of tireless partiers here to get lost in his musical presence.
As geisha dancers and Chinese lanterns themed upon the night, I found it really interesting how Create made an effort in starting off the Chinese New Year celebration theme by embracing the holiday through their setup. Tiesto knew that the patrons of city of Los Angeles wanted to hear his musical journey through his track-list for the night and that is exactly what he did with so much more. At times when dropping his hits like "Take Me", his remix of "Show Me Love", and his latest single "Red Lights", the crowd would belt out the lyrics in unison with the track. The warm welcoming smile on Tiesto's face said it all. Reaching out and embracing the country flags from Peru to the Ukraine it was very noticeable that the musical genius loves his fans, what he does, and embraces every single one who takes the time to see him.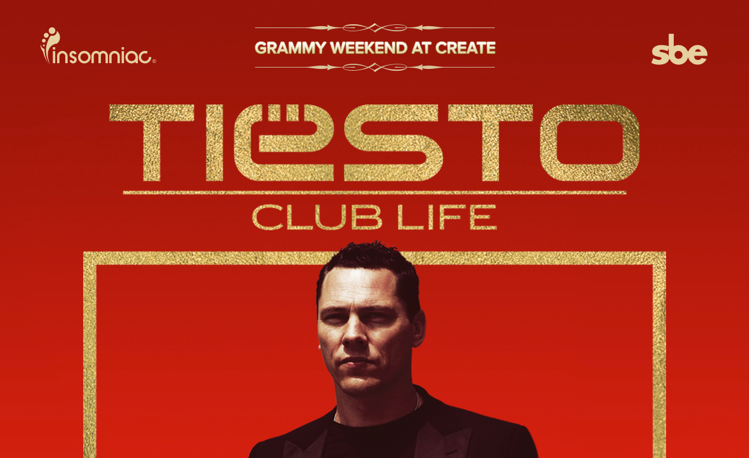 A set list composed of progressive, vocal, tribal and electro house; Tiesto made sure he reached out every single person in the night while collaborating other hits like "Starlight (Otto Knows Remix)" and "Walls" from his 'Club Life Vol. 2' album; often times taking us back to those exact memories with him at previous festivals like EDC and TomorrowWorld.
Around 2am Tiesto dropped a trap mix of "Animals" incorporated with his hit "Feel It In My Bones" from his album Kaleidoscope, back to back with "Maximal Crazy" to close off, as many would say the "bangers" section of the night. What he began playing next however caught the crowd in complete surprise as no one anticipated it.
Transitioning into a deep house set for the following 45 minutes of the night Tiesto revisited some of his previous remixes such as Imogen Heaps "Hide and Seek" and a deep house version of "Love and Run" to show that he was here to engulf us with classics that most of his fans grew to love him for.
As the night drew to a close at around 2:45 am; Create still housed the same packed crowd as we looked around and saw that no one was ready to leave and call it a night. With that said as the last 15 minutes of Tiesto's set time came around a wave of energy swept the venue with mix of energetic melodies to give the crowd that last splash of energy that was left, in true Tiesto fashion. We often had to remind ourselves that we were still in Los Angeles not Las Vegas where Tiesto is known to hold residencies at some of the in-demand nightclubs in the city.
By the time 3 am came around a now energetically drained club bid farewell the man of the night as the night had slowly come to an end; truly a night that not anyone can or will forget anytime sooner. Create was packed but for a major artist like Tiesto its inevitable. Once again a huge thank you to Tiesto, his team, and Create for requesting our company on experiencing one of the most energetic and majestic shows I have witnessed this year alone. We at EDM Maniac look forward to many more nights to come and as for Tiesto, Los Angeles will be waiting for your arrival to reunite with you again until we're on 'The Search for Sunrise'.