Today, LA-based DJ, singer, producer, and gamer, CRAY, has announced a North American DJ tour that will stop at major U.S. cities including Houston, Albuquerque, San Francisco, Denver, San Bernardino, and Dallas, among other cities that can be viewed via the ticket links below. Since CRAY first entered the scene back in 2015, she has been a force to be reckoned with, having produced multiple hit tracks including 'Peaches' '4never' 'Lotus' and many many others. Her genre-defiant tracks and her humorous observations on life have allowed her to curate an amazing fan base that only continues to grow.
Before moving to Southern California to pursue warmer weather and a sociology degree from Chapman University, CRAY (short for Cheney Ray) grew up in Vancouver, where her passion for electronic music was merely just a thought at the time. Once CRAY completed her degree at Chapman University, she decided to put her early love for electronic music to work and began seeking a career in artist management. She soon began dedicating herself to learning music firsthand and eventually began creating her own sounds.
Once CRAY started developing her own sounds, she began playing shows under her childhood nickname-turned-stage name, CRAY, and the rest was history. Already being an avid gamer on Twitch with a large following, CRAY began incorporating DJ sets into her regular live streaming routine, which received an overwhelming amount of support from fans. Her success on Twitch and the feedback she received allowed her to perform as an opener on Anna Lunoe's 'HyperHouse Tour' in 2016. Since performing as an opener on Anna Lunoe's 2016 tour, CRAY has since been able to perform at major music festivals including HARD Summer, Voodoo, and Electric Zoo, among others.
We were given the opportunity to talk to CRAY before her 2021 North American DJ tour and were able to ask her about 2020, live performances, and what she is looking forward to the most since the world is reopening. View CRAY's official DJ tour schedule below.
EDM Maniac: Well, 2020 was a bummer… what have you been up to? Does your quarantine release "Bad Summer" pretty much sum it up… or?
CRAY: 2020 was the biggest learning experience, full of ups and downs.  Honestly, it's been so hard not touring, but it's also been a blessing to take the forced break to become a better, healthier person!!!… But yes it was a pretty bad summer 2020 lol.
EDM Maniac: How psyched are you to get back out on the road and play some DJ dates again?
CRAY: On a level from 1 – 10 I am 10293821038 & so excited to tour again, make new music, see new fans & play new venues.  I am READY…. It's been a year… tooooo long.
EDM Maniac: Obviously, you released a full album on the last cycle and played headline *LIVE* shows in New York and LA. We loved "Roses R Red" + the Alaya Festival stream more recently as well.  Will we be seeing more live music and performances from CRAY when the DJ tour is done?  What can you tell us?!?
CRAY: I'm starting to transition to be a full live act, but I still love djing and ALWAYS will. So you will see a mix of both!  My dream would be to have a tour where it's all live and then have DJ after parties. I love both worlds too much to give it up!
EDM Maniac: And finally…. most importantly – now that the world is reopening, what's that one thing you've been just DYING to do which you have either planned or just done & how psyched are you about it?!
CRAY: I'm just ready to be on stage. Playing music and watching the crowd really gives me purpose and excitement to keep working my ass off. I'm excited to travel to new places, play new venues, see new faces and meet new people. I'm just ready for it all! I'm also excited to eat great food on the road in every different city!
CRAY'S Official 2021 North American DJ Tour Schedule: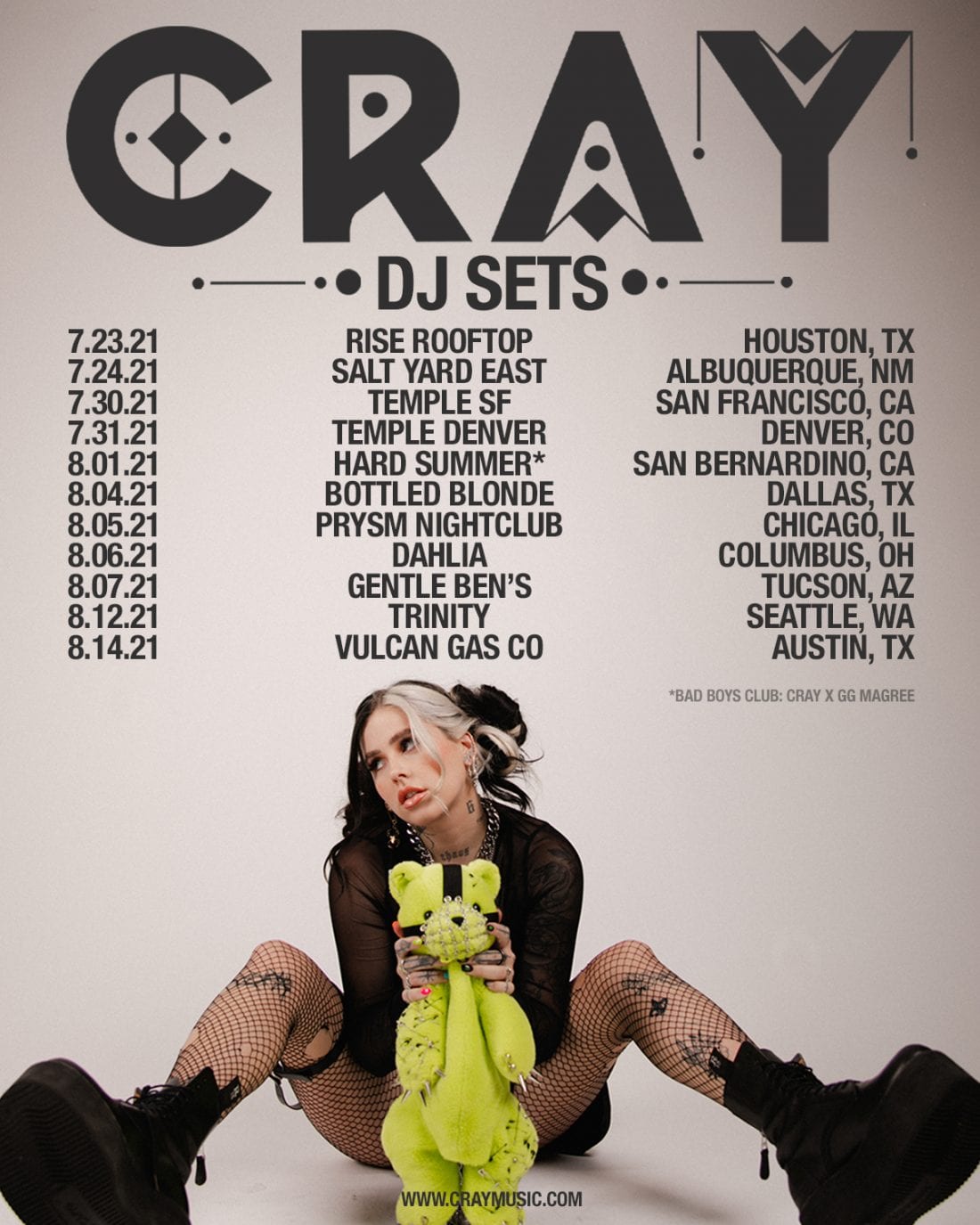 Make sure that you are staying up to date on all of CRAY's upcoming tour announcements by following her on Instagram, Twitch, Twitter, Spotify, SoundCloud, and Facebook.