We've all heard the saying "birds of a feather flock together," but Claude VonStroke's three-day boutique festival, Dirtybird Campout, gives it a whole new sentiment.
This year, Campout is taking place on October 7-9 and is celebrating its 8th anniversary. This year new additions include a debut Ganja Garden presented by People's Remedy that includes a retail and consumption area for cannabis, cannabis-themed activities, and musical talent.
The Dirtybird gang and its loyal flock of freaks with beaks fill the reservoir with eclectic beats and activities for those looking to reconnect with their inner child.
According to their site, it's a place where "you can transport yourself back to the most carefree days of your childhood." Campers can expect performances from Ardalan, Get Real, Souls of Mischief, Goldie, Mr. Carmack, a triple, all Chicago artist back-to-back set with Derrick Carter, DJ Sneak, and Mark Farina, plus more.
The festival hosts three stages: two for musical acts, and an entertainment stage that goes beyond the music.
For attendees looking to groove to house and techno, the Birdhouse stage is your destination. For those looking to get their bass and hip-hop fix, Bass Lodge is the place to be. To wrap it all up, the third stage, Claude's Cabin, is a platform beyond the music curated for comedy, talent shows, and even speed dating.
Dirtybird Campout has a lot to offer. Here are EDM Maniac's five must-do activities to enhance your campout experience to is maximum potential: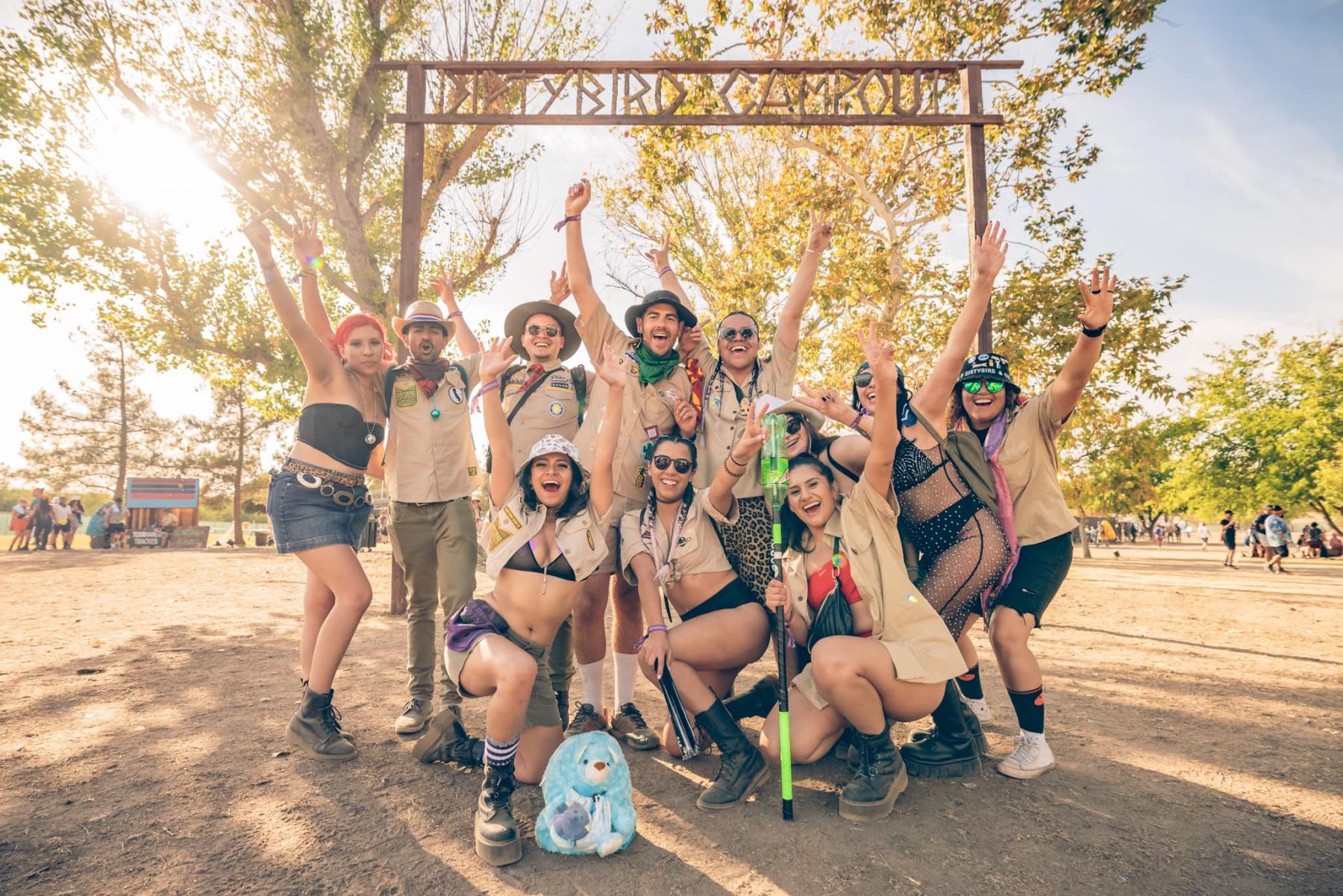 1. Visit Their New Ganja Garden
This year for the first time Dirtybird Campout added a Ganja Garden. During the weekend, campers get the opportunity to access a cannabis retail and consumption garden that features flower, edibles, vaporizers, and more.
They've paired all this up with a special program of cannabis-focused activities like Puff Puff Pass Debates, and musical performances from Arnold & Lane, Kevin Knapp, Dirtybird 2022 Equal Opportunity Scholarship Winner Zora Monico, and other top-tier artists.
2. VNSSA'S .5k Floatie Race 
You read that right. An artist-led .5k floatie race with Newport Beach native, VNSSA will take place on Friday at 3PM and we suggest you don't miss it. Grab the coolest, wackiest floatation device (not counting actual boats cause that would be like, cheating) and get ready to race for the gold.
Attendees get to participate in artist-led games and activities, helping camp-goers connect with their favorite artists outside of their performances.
To get the full experience of Dirtybird Campout, stop by Games HQ upon arrival to receive a color team bandana and then jump into the fun. Other artists like Chocolate Sushi will guide a Dodgeball Tournament, and Miami's very own, Nala, is teaching participants about screen printing. Check out all the activities here.

3. Practice Mindfulness And Movement At The Yoga Center
Tuck away the dancing shoes and roll out the yoga mat throughout the weekend. Apart from the free dance therapy that comes with the festival, folks can relax and disconnect from their everyday stressors by practicing movement and stretching at the Yoga Center.
Located inside Claude's Cabin, sessions like Chirp & Flow Yoga IRL, and The Waking Hour DJ & Yoga Flow can be expected bright and early. Every morning at 11 a.m., folks can kickstart their day meditation led by some of the best-handpicked meditation and yoga masters. See the full schedule here.
4. Love Birds Dating Show At Claude's Cabin 
Claude's Cabin is meant to provide a unique entertainment experience that surpasses music at Dirtybird Campout. One note-worthy activity taking place here is the Love Birds Dating show. In this competition, participants will have the opportunity to meet someone special, or simply have fun, while battling for a chance to win two FREE tickets to Dirtybird Campout West Coast in 2023.
From comedy and live shows to competitive games and panel conversations, this space is a must-do. There will be sign-ups for other cabin activities like QueerLeader Tryouts, Bad Drag Show, Spelling Bee, and more. Check out the full list here.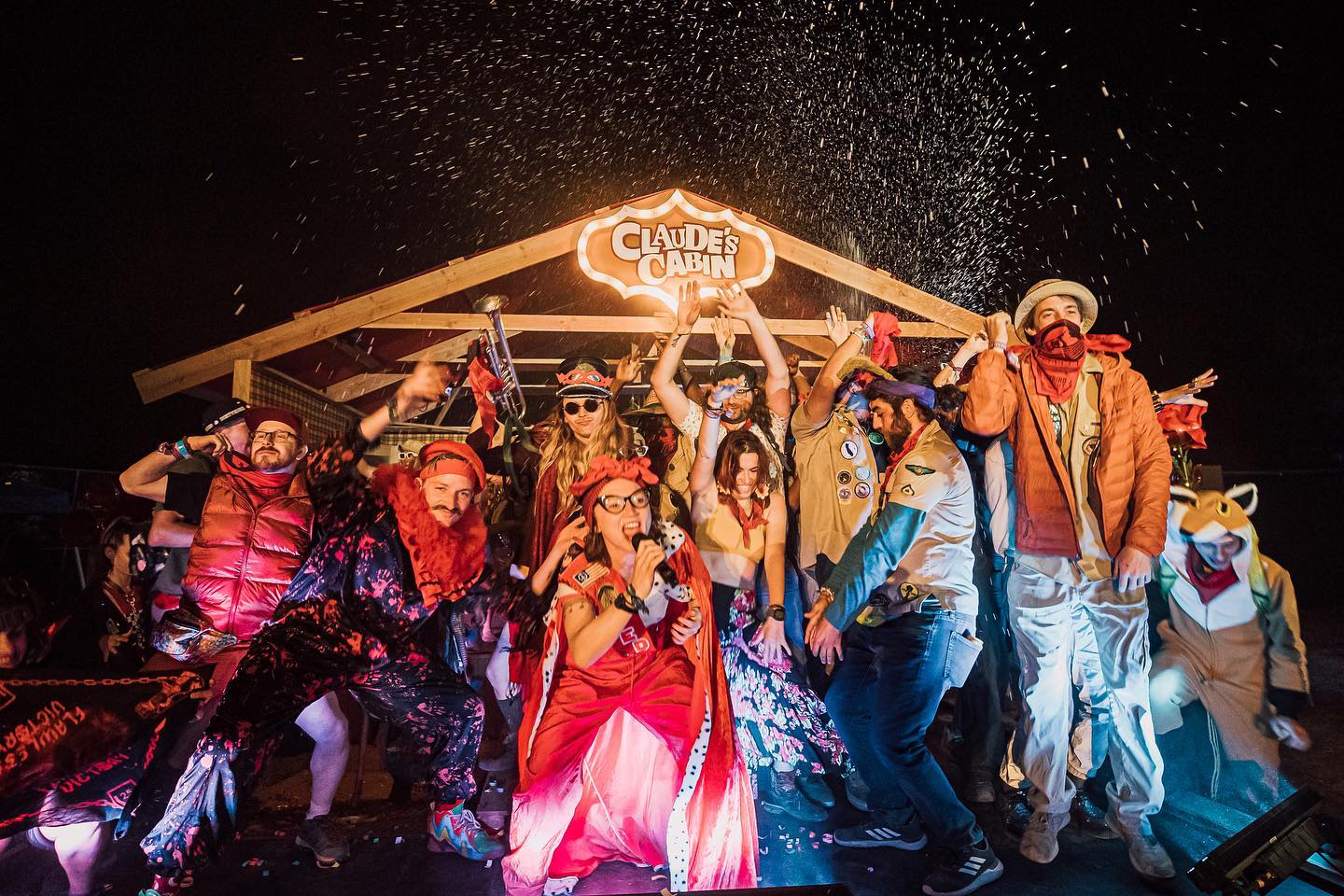 5. Indulge Grillson's BBQ
Nothing says camping like a good ol' BBQ, and this one pays homage to the memory of Dirtybird family member, Grill$on.
Indulge in the flavors of Grillson's BBQ from Friday to Saturday during the windows of 11AM – 3PM and 5PM – 7PM Additionally, vegan and vegetarian options are available for those with dietary restrictions.
Enjoy the juicy and barbeque marinated Pulled Pork Sandwich or Pulled Pork Loaded Potato. For those who prefer meatless, they'll be serving Smoked Beyond Meat Burger with a  "special sauce" and a Baked Potato loaded with Beyond Meat. To top it all off, foodies can pick from sides like Mexican Street Corn and Cranberry Coleslaw.
Dirtybird Campout is taking place on October 7-9, 2022 at the Modesto Reservoir Campgrounds. Click here to purchase tickets.