WOW. WHAT A PARTY!
Insomniac Events held their second installment of Dreamstate, this time in San Francisco.  Trance took over the Bill Graham Civic Auditorium last Saturday and Sunday, and it was epic.
The 2-day party featured some of the biggest names in trance music, including some legends and rising stars. The rainy weather didn't put a damper on attendees who waited outside for the venue to open.
Our crew arrived EARLY, around 4:15pm and got in line. There were about 75 dedicated trance fans ahead of us, as more people descended on the venue. The rain began to fall about 20 minutes later, and it kept raining, and raining. Some people came prepared with umbrellas, jackets and ponchos. Others braved the wet weather because doors would soon be opening at 5pm for RAM. The rain didn't even seem to bother the crowd whose energy was palpable.
Doors opened about 15 minutes late,  we got through security and quickly headed inside the venue to catch RAM open the party. Once inside, I was taken back by the massive LED screen and stage set up. Above, a massive lighting rig was attached to the ceiling – packed with lasers and lights. We arrived super early so we could hear RAM drop RAMELIA, but I'm not sure if he played it before we made it inside the venue. Sean Tyas was up next and he got the energy pumping. More and more people were making their way to the dance floor, some came with totems. I was happy to see the ALIEN totem which was also at Dreamstate Southern California. It's like he is a staple of Dreamstate! You can even follow him on Twitter at @followmyufo !! He also has a name, Martin the Martian!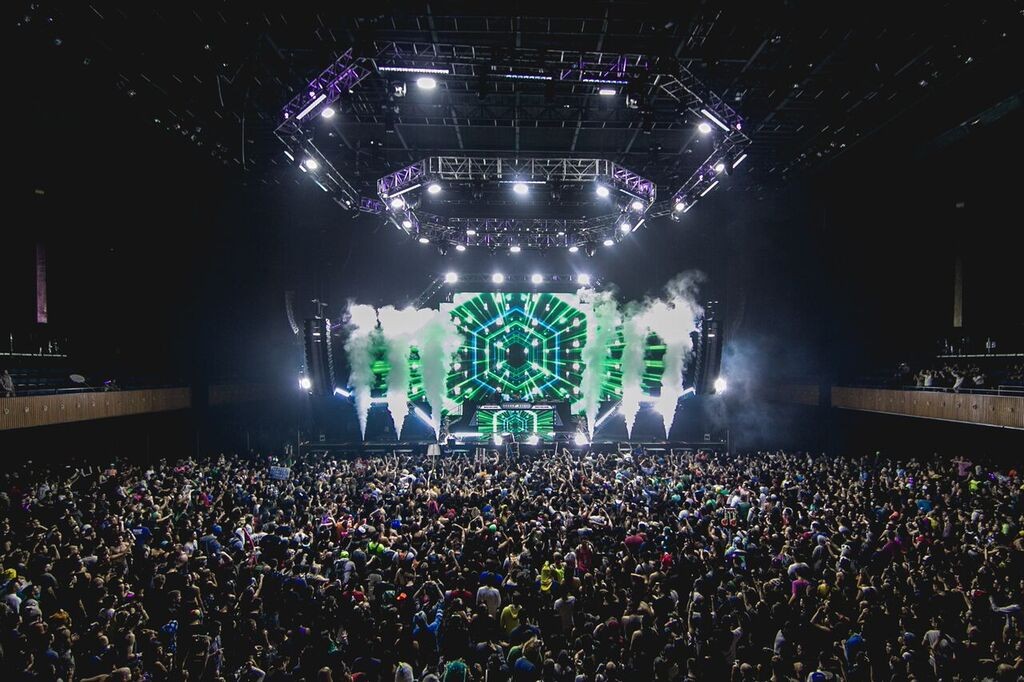 Vini Vici. Where to begin with this set. This was my first time seeing him play, and he LEVELED the crowd. He opened his set with his hit,  "The Tribe."  You could feel the explosion of energy inside the venue. IT WAS WILD. The stage was lit up in blue, pink and purple as some trippy graphics played on the massive LED screen. Vini Vici took the crowd on a very intense journey, closing with "Free Tibet." He really got the party started.
Jordan Suckley was on deck and brought psy-trance to a whole new level. At this point, the lasers had not been fired up yet, and I was waiting for the big moment. That moment happen during Jordan Suckley's set and the crowd went crazy! The lights, lasers and confetti added to the intense energy that was at Dreamstate. Simon Patterson was up next to deliver another fantastic performance. I saw him at Dreamstate Southern California, and this set was just as good!
Paul Oakenfold was back as well with another Full on Fluoro set. I wasn't that impressed with his performance at Dreamstate Southern California, as I felt it lacked energy that every other set had. So, I took a break and decided to roam around the venue. There were a number of bars and food options for guests. It was also nice to have a coat-check area as many people came with jackets to keep dry. There were also a few lounge areas with seating so you could take a much needed break from dancing and trancing.
I went and checked out the lasers from the balcony area. I'm glad I did. The seats in the balcony provided you with the BEST area to view the lasers. They beamed high above the crowd and gave you a priceless view! People were dancing in their seats and doing light shows… it was quite the sight!
The vibes in San Francisco were a bit different than in Southern California. Trance Family SF was in FULL EFFECT, and there was a lot of PLUR. I only encountered a little bit of shoving and people pushing their way through the crowds without saying excuse me – or at least being nice about it. I didn't see any incidents of people pick pocketing or cutting bags like in Southern California. Everyone was there to have a good time and come together in the name of Trance.
Paul Van Dyk had another great set! He was one of my favorites of Saturday night. The "Unicorn Slayer," Markus Schulz closed out the evening with a banging set. We left about ten minutes before he ended his set so we could catch an Uber over to Ruby Skye for the official Dreamstate afterparty.
Sean Tyas was destroying the club when we arrived. We were shocked and overjoyed to see Vini Vici take over the decks as the special guest. He provided another memorable performance and got the crowd dancing to his hits once again. We decided to go home around 4:30am and get some rest before doing it all again.
Sunday night was my favorite night because of the music. It was on point. I didn't leave the dance floor for 5 hours, it was that good. For me, the party really started with Solarstone. From there Fleming & Lawrence took the stage – and took the crowd on a fierce ride! I've been a fan of Christopher Lawrence ever since I started raving in SF and LA back in 1998, so I was glad to catch him and John Fleming in action. Bryan Kearney was next and didn't disappoint. The three artists I was waiting for all night were coming up next. John O'Callaghan, Aly & Fila and Cosmic Gate.
My favorite set of the weekend belongs to John O'Callaghan. The whole crowd sang along to his hit, "Find Yourself." I found myself doing the same, as it's my favorite track of his. He took me on an emotional journey surrounded by a sea of colorful lights and lasers exploding in the air. It was like a wild dream.
Aly & Fila followed and opened with "Beautiful" by Ferry Corsten. This is a trance track that pulls on my heartstrings, and has been a favorite of mine for a decade! The whole set was beautiful. I'm hoping it gets released on Soundcloud or YouTube very, very soon.
Cosmic Gate brought the house down with their set that was full of feels. The duo ran through their many hits and had the entire venue singing along. This was my second favorite set of the night. I finally decided to use the restroom and get some air after these amazing back-to-back performances. I caught the last 30 minutes of Gareth Emery and walked back inside as "Sanctuary" was playing. Every DJ brought their A-game on Sunday night. It was a night of magical music to say the very least.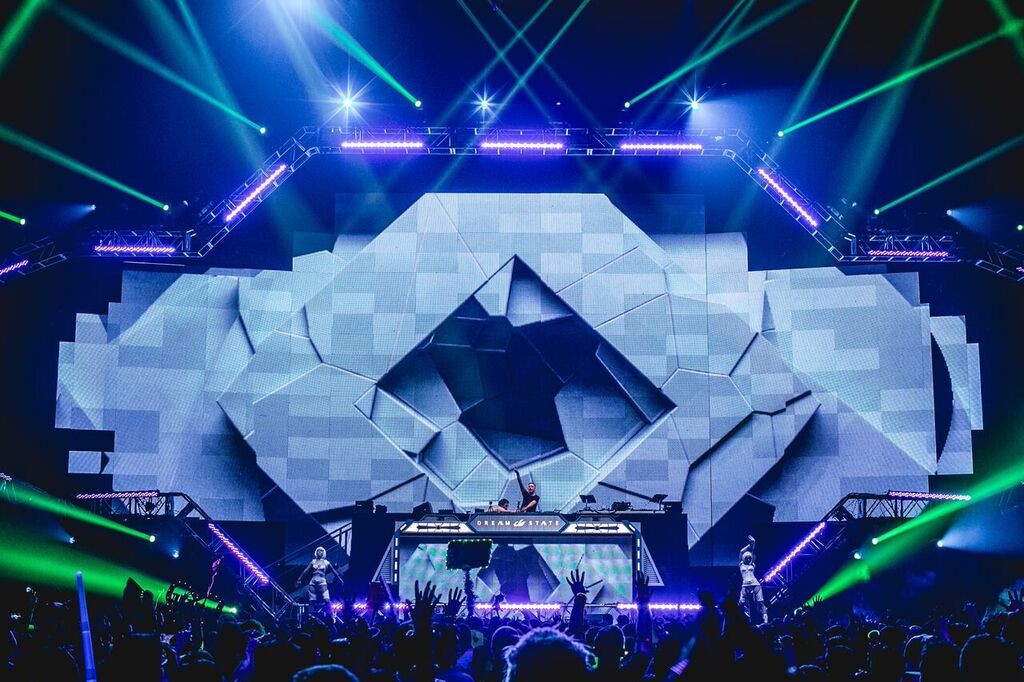 Trance music is alive and well here in California. In fact, you could say it's flourishing! I expect Dreamstate to keep growing, as more and more people attend these parties.
If you still want another dose of Dreamstate, you're in luck. There will be an official Dreamstate stage at Beyond Wonderland in Southern California. Beyond Wonderland is set for March 18 & 19 at the San Manuel Amphitheater in San Bernardino. The Dreamstate stage will happen on Friday, March 18. Insomniac Events says to expect some secret surprises at this first ever Dreamstate stage at one of their festivals. For all the details and a look at the insane lineup visit http://socal.beyondwonderland.com.
Until then, check out these sets from Dreamstate SF!
-Jared
Photos: Kristina Bakrevski for Insomniac, The Holy Mountain for Insomniac