Today, EDM Maniac is extremely excited to announce that we are partnering with Eclectic Events to host central California's first-ever socially distant "pod rave" experience.
Central California's first-ever socially distant "pod rave" will take place Saturday, April 17 from 6-10 P.M. at Hobbs Grove in Sanger, CA. Surrounded by trees and nature, this unique experience will allow fans to come together for one night of bass-filled fun under California's starry night skies. Dancers and various performers will be present throughout the duration of the event, which will be headlined by Boombox Cartel with supporting performances from Stuca, Gawm, and Floating Species.
As the world begins to open back up, bringing the electronic dance music community together in the safest way possible is our top priority, which is why we are partnering with Central Valley's top promoters to curate an exceptional socially distant "pod rave" event.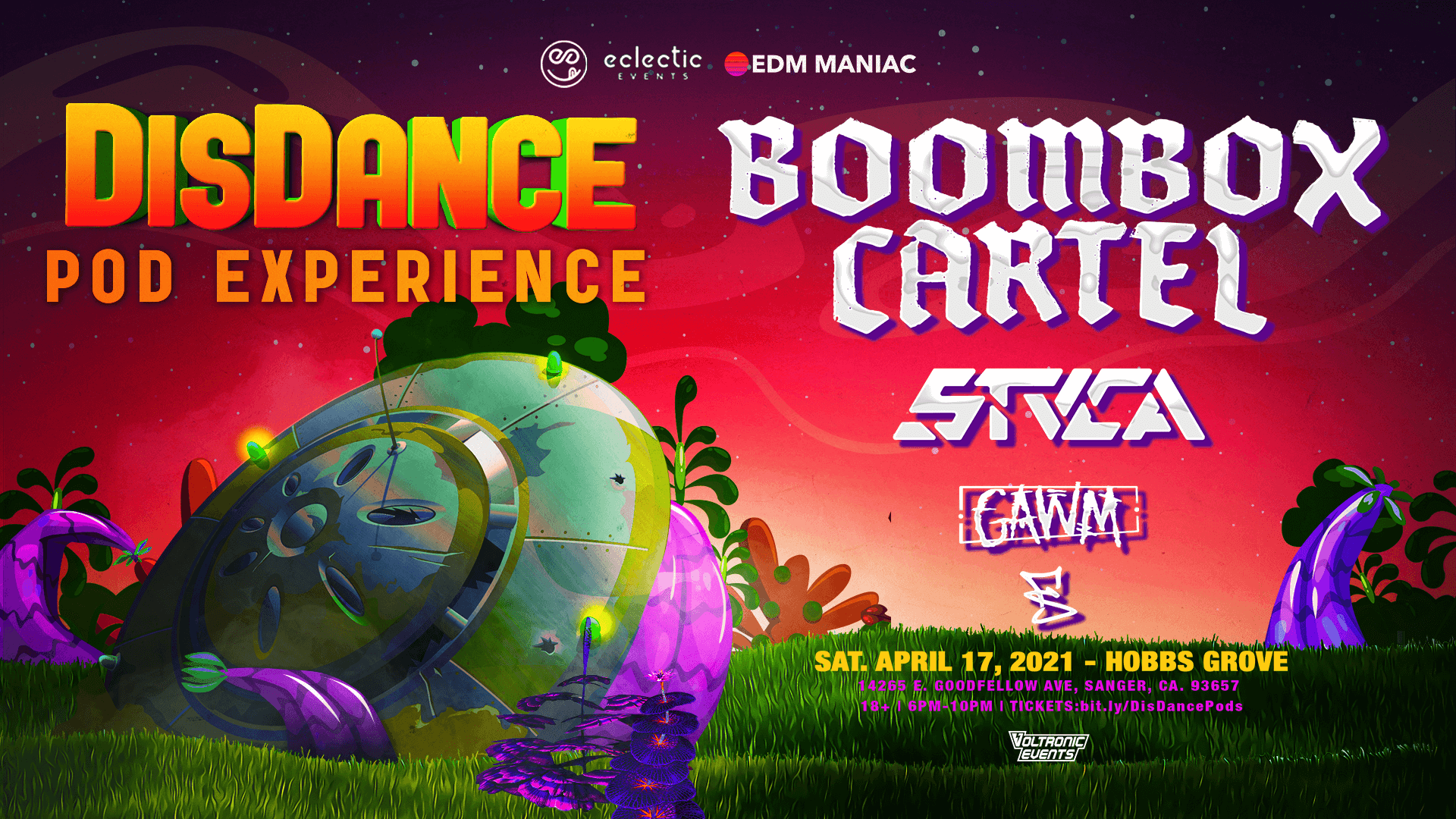 The event will follow specific safety protocols to ensure the safety of all attendees. Masks are required AT ALL TIMES besides consuming food and drinks. Each pod will be 6ft apart and attendees will not be allowed to visit other pod spaces. All bathrooms will be sanitized and cleaned vigorously and frequently, and security will be patrolling throughout the event to make sure all protocols are being abided by. Markings will be placed 6ft apart at concessions and bathrooms while guests what in line. We will continue to strongly encourage, share and state information about staying safe and following all COVID-19 guidelines both prior to and during the event.
Eclectic Events has always been an evolving team that has worked to build a stronger community by showcasing both rising and top-tier talent. Founded in 2013 by Brandon Caballero, Gonzalo Suarez & Jarret Brooks, Eclectic Events mission has always been the same, "to entertain, bring value for guests and curate an event that will bring joy and happiness to our community of followers."
Similarly, EDM Maniac has continued to be the premier source for all things EDM; bringing information, entertainment, and unity within the electronic dance community's ever-changing landscape both to online platforms and offline. 
Tickets are available now and can be purchased here. Tickets per pod will range from $150 (Pre-tax)to $300 (Pre-tax) for VIP options. Purchase tickets.
Make sure to follow both EDM Maniac & Eclectic Events to be notified of all updates surrounding the event.