Kristina Sky is a legend in the trance scene. She's received support since the beginning from some of the biggest names in the genre including Armin Van Buuren and Paul Van Dyk.
She's also an accomplished Twitch streamer, regularly performing six to 12-hour sets. Now her latest track "Rollercoaster" is out with remixes from Paul Sawyer and Glynn Alan on Solarstone's Pure Trance Recordings.
We got to interview Kristina Sky after her incredible performance on United We Groove aboard the Hornblower in San Diego, an event she co-hosted with local event company boss Kaleb Nicola. She spoke about her 20+ years in dance music and how DJing and producing have changed since she started her career:
EDM Maniac: Being at United We Groove for Pride and supporting the LGBTQIA+ community, what does that mean for you personally and as an artist?
Kristina Sky: First of all, the scene is supposed to be inclusive, that's part of the draw. As the LGBTQIA+ scene has become more open, I want to be a part of it.
Especially since Kaleb [organizer of Happy Dark Productions that helped organize United We Groove] has this vision of combining the scene he grew up in his whole life with a more mainstream music scene. His brand is Unite!, mine is United We Groove, so it made sense. I'm also from LA, so I know a lot of people in that space. 
EDM Maniac: You started off mixing records and making mixtapes before even beginning DJing. How does that affect your sound or production process? 
Kristina Sky: DJ-wise, I feel like it's helped me to create intricate tapestries of sets. I have played so many different types of shows and supported so many different types of artists, so I feel like the DJ background helps make more cohesive and dance-floor-friendly sets. 
Production wise it's great because oftentimes, I collaborate with artists who are able to do all this technical stuff I'm not as good at, but I'm able to guide them into working the arrangement out so it works on dance floors as well as radio. I didn't even really start to fully produce until about five years ago, I was always a DJ first.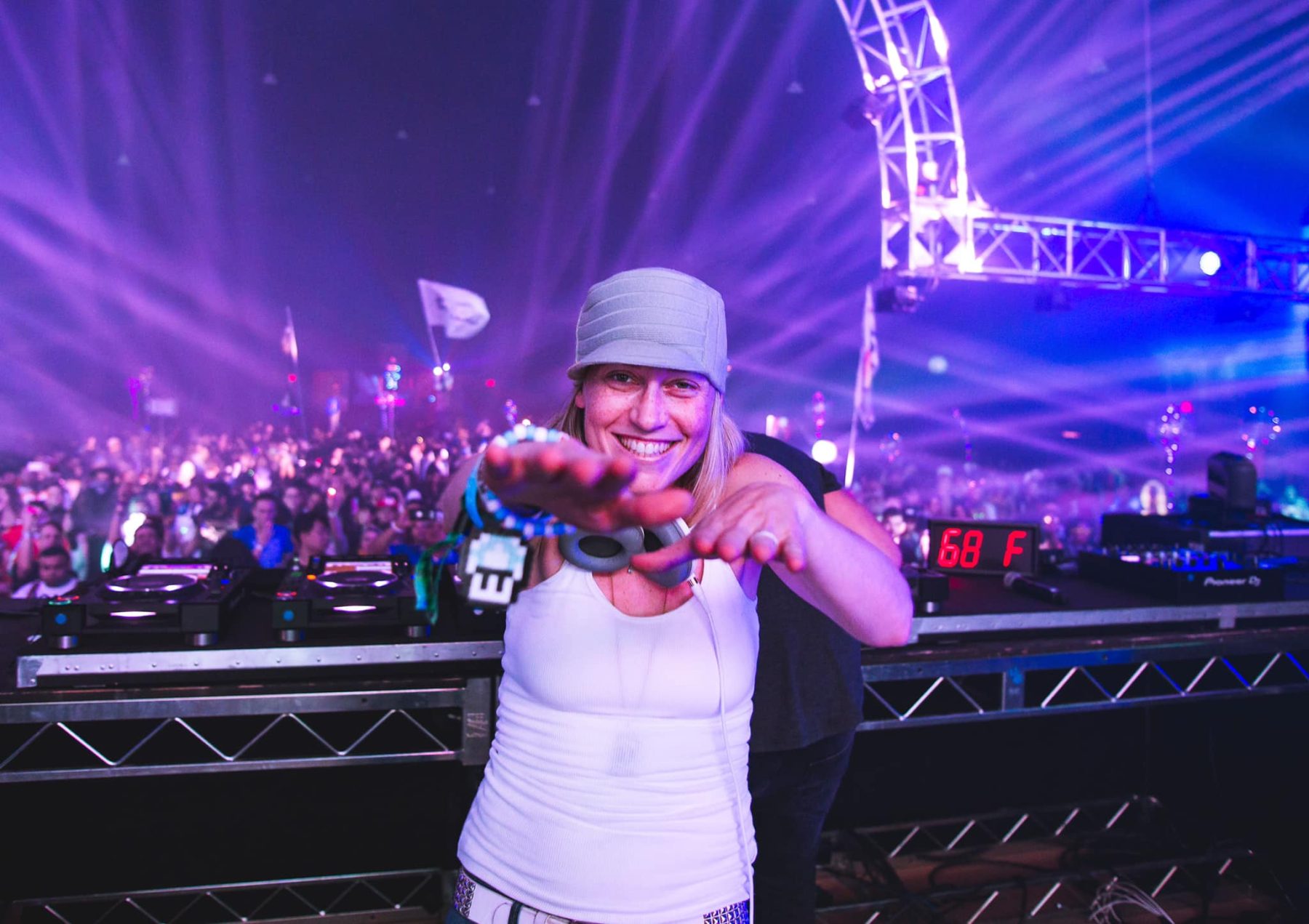 EDM Maniac: Who or what are some of your musical inspirations? 
Kristina Sky: Coming up throughout my career, big influences were Paul Van Dyk—especially his Out There and Back album, which I still think is one of the best dance albums of all time—Solarstone, and Chicane.
They were trance, but they also were able to tell stories with their albums and weren't as clear-cut in their genres. 
Current day, I play a lot of deep house and progressive so I've been more recently moved by people like Fred again… and Boris Brejcha.
I was a really early fan of Rufus Du Sol and I was lucky enough to be getting their music sent to me super early. Antdot is an unbelievable melodic and progressive South American artist I've been wanting to play in the states. 
EDM Maniac: Your first release in 2006, "EnMass– CQ [Seek You] (Randy Boyer & Kristina Sky Remix)" debuted on Armin van Buuren's "A State of Trance" and received massive support from Paul van Dyk, Markus Schulz, and Sander Van Doorn. What's it like to have such huge names in the trance community backing you since the beginning? 
Kristina Sky: It's really, really cool. The remix was like a neo-trance classic and the original came out in 2004. It was the very first "A State of Trance" on digital not vinyl: ASOT 001.
There's this sad moment where Markus [Schulz] was going to debut it at his set at Space during Miami Music Week and there were guest list problems. I was waiting for them to fix it in line and I had to hear my remix while I was sitting on the curb outside.
EDM Maniac: You've held a residency at Groove Cruise since 2012. What has it been like seeing a festival grow for almost 10 years?
Kristina Sky: It's been very cool to watch and be a part of. When I came in they had already been going for a while, but I came in right when they transitioned to a full ship. I play multiple sets, as most DJs do, so for me, it lets me do a bunch of different stuff I don't get to play at a club gig. 
They have a pretty dedicated base of people who have been there for five-plus years. They convince a friend who convinces a friend and if you never go, you'll never know the family energy. At its core, it's a very unique experience within dance music.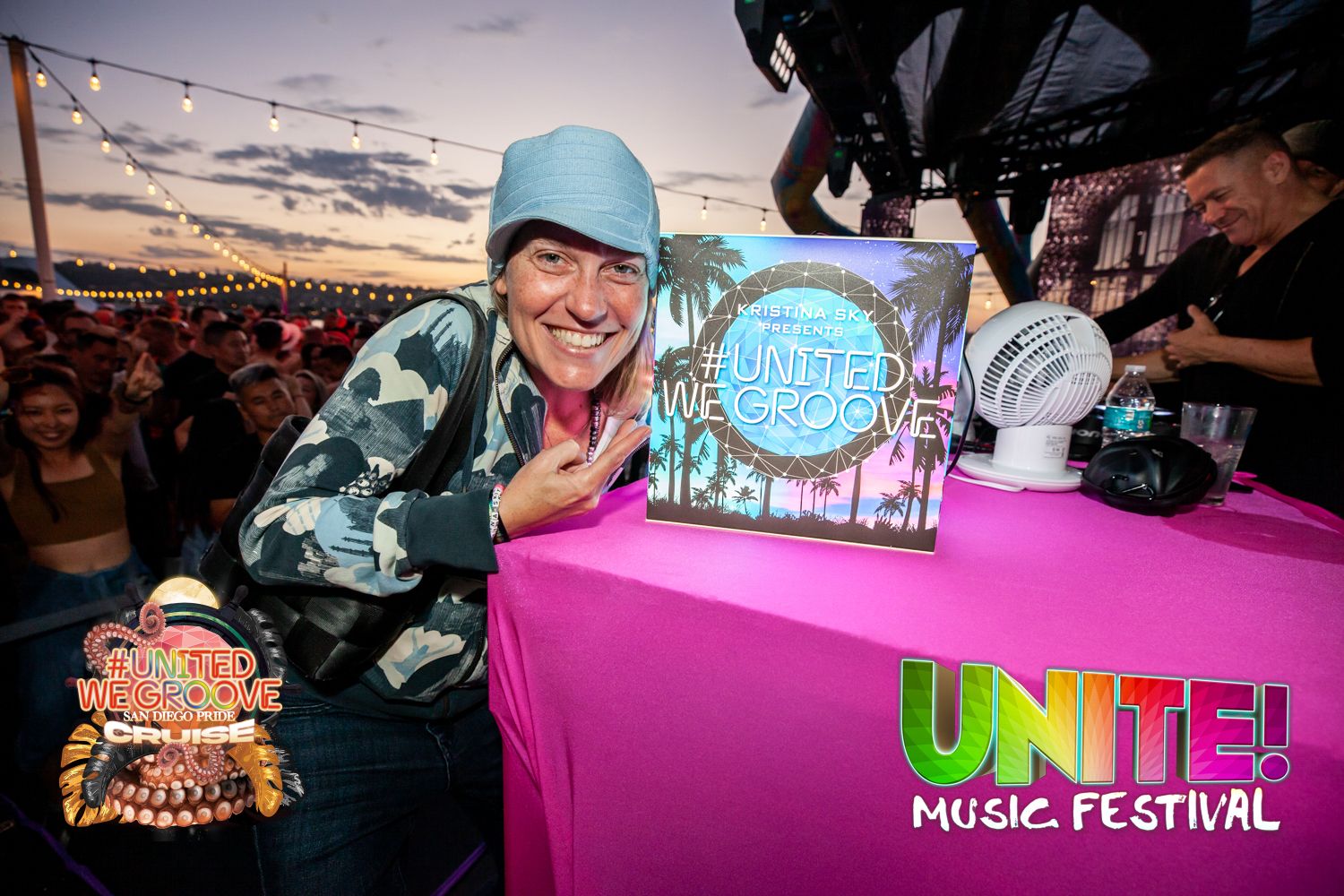 EDM Maniac: Do you have any advice for up-and-coming DJs or producers? 
Kristina Sky: A piece of advice that I would give is that producing is the quickest way to bypass a lot of the trenches. You write a really cool track, or remix, or bootleg and you can already get better gigs than if you start as an opener and go through the ranks.
When I started there was a division of labor and producers made a good amount of money because you couldn't steal vinyl as easily as you can download it for free today.
Once the digital thing happened it kind of forced producers to DJ in order to make money. Producing is definitely the best entry to what is now a super saturated scene.
EDM Maniac: You've hosted a few boat parties including in NYC in 2019 and stage takeovers at Groove Cruise West and Miami. What makes the 2022 Hornblower United We Groove Experience so special?
Kristina Sky: Ironically, the United We Groove brand was started in Miami, but I'm born and raised in LA. Doing it in the San Diego harbor on the biggest ship in Southern California was so full circle.
United We Groove's thing is rooftops and boats and it's all about blending trance, progressive, and some deep house in a beautiful setting. 
Part of the vision of this specific lineup and other events is having it be an accessible trance lineup, where people can have their eyes opened to what trance can be. We take a lot of pride (no pun intended) in trying to bring some of the trance names that have that flexibility and versatility.
Featured and third image from UNITE credit Isaiah S. Walter, All other images from Kristina Sky