Lean into booty bouncing basslines with the rising twin act, Rae and Nicole, who are rapidly gaining recognition as RaeCola.
The two grew up in Chicago, a city that's famously known to embody house music, but as creatives searching for success at the age of 17, Los Angeles was calling their name.
On a journey of self and sound discovery, the duo decided to merge classic melodies from the city that birthed them with tones from the place they were groomed to produce "ghetto tech house." They describe this sub-genre as "elements of classic house and tech house with booty bouncing basslines, and highlights of ghetto house/juke." 
Rae and Nicole have accomplished bookings at infamous events like Day Trip and Dirtybird Camping, playing music with the intention of making fans feel defiant and not afraid to break boundaries.
After showing the culture what they're capable of through their high-energy sets, ability to connect with the crowd, and diverse fashion sense, the two are now ready to take it a step further.
RaeCola held space for EDM Maniac to discuss their new two-track EP, their upcoming set at this year's Dirtybird Campout, and the self-described genre "ghetto tech house."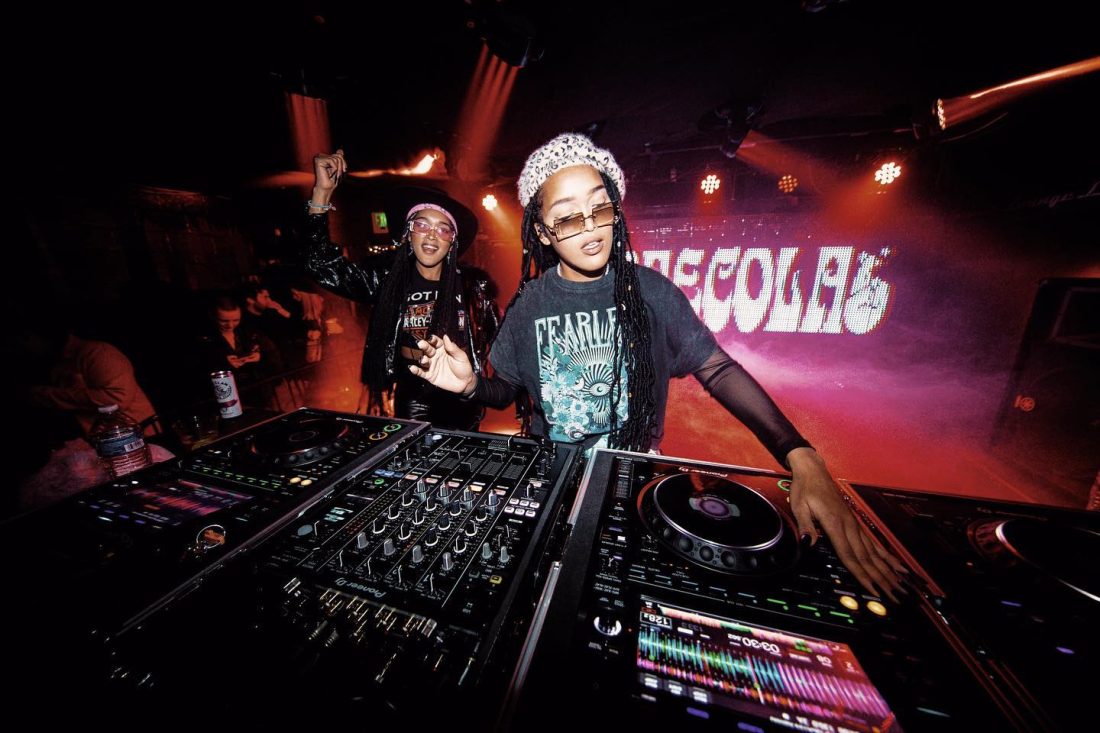 EDM Maniac: What is it about dance music culture that calls to you and what difference do you hope to make within it?
Nicole: If you look back to the roots of house music, it started when Black, Latinx, and queer people didn't feel a sense of belonging. There was a lot of segregation. For them to be brought together with music in this culture and [given] a place to express themselves and create something new, it kind of took away from what was going on outside of club walls.
We think that origin and that feeling really capture us. It's something that we need, even right now with everything that's going on in the world. So, being able to be a part of something that brings people together [is special].
Rae: I try to think of it less as escapism, but more as a place where we can come be together, let loose, have fun and bring this higher energy.
EDM Maniac: You self-describe your style of music as "ghetto tech house." Can you break down what that genre consists of and how it came to be?
Nicole: Our first interaction with house music was actually ghetto house music from Chicago. When going to school, parties, even in the second grade on the radio, they were playing ghetto house. So, when we were figuring out what we wanted to play, we brought it back to the first thing we truly loved.
Rae: Yeah, and being out in the West Coat, there's a lot of tech house. Our experience with house music out here was with tech house, so we fused those together. I think that it brings an underground edge to tech house, but it still has that, like, groove people can understand.
Nicole: Also, bass-wise and lyrically, a lot of the things we play are ghetto house.
EDM Maniac: Bezerk is going to be the first EP y'all put out since entering the scene… What do you hope fans gain from it?
Rae: It's been so exciting making this. The whole journey from the beginning to now has been amazing. I'm really excited for people to truly listen to it and have this feeling to let go. Just vibe with the music. The first track "Bezerk," is a nice end-of-summer song. It's lighthearted, fun, silly, and for people to have that sense of letting go.
Nicole: Yeah, I feel like the more you play it, the more you can easily groove to it. Also, having a ghetto house track [in there], or a more juke footwork style is going to be cool for people who don't listen to that on a regular basis. They'll be exposed to a new sound, but it still has elements of tech house. It adds a new edge to the juke scene.
We're just really excited!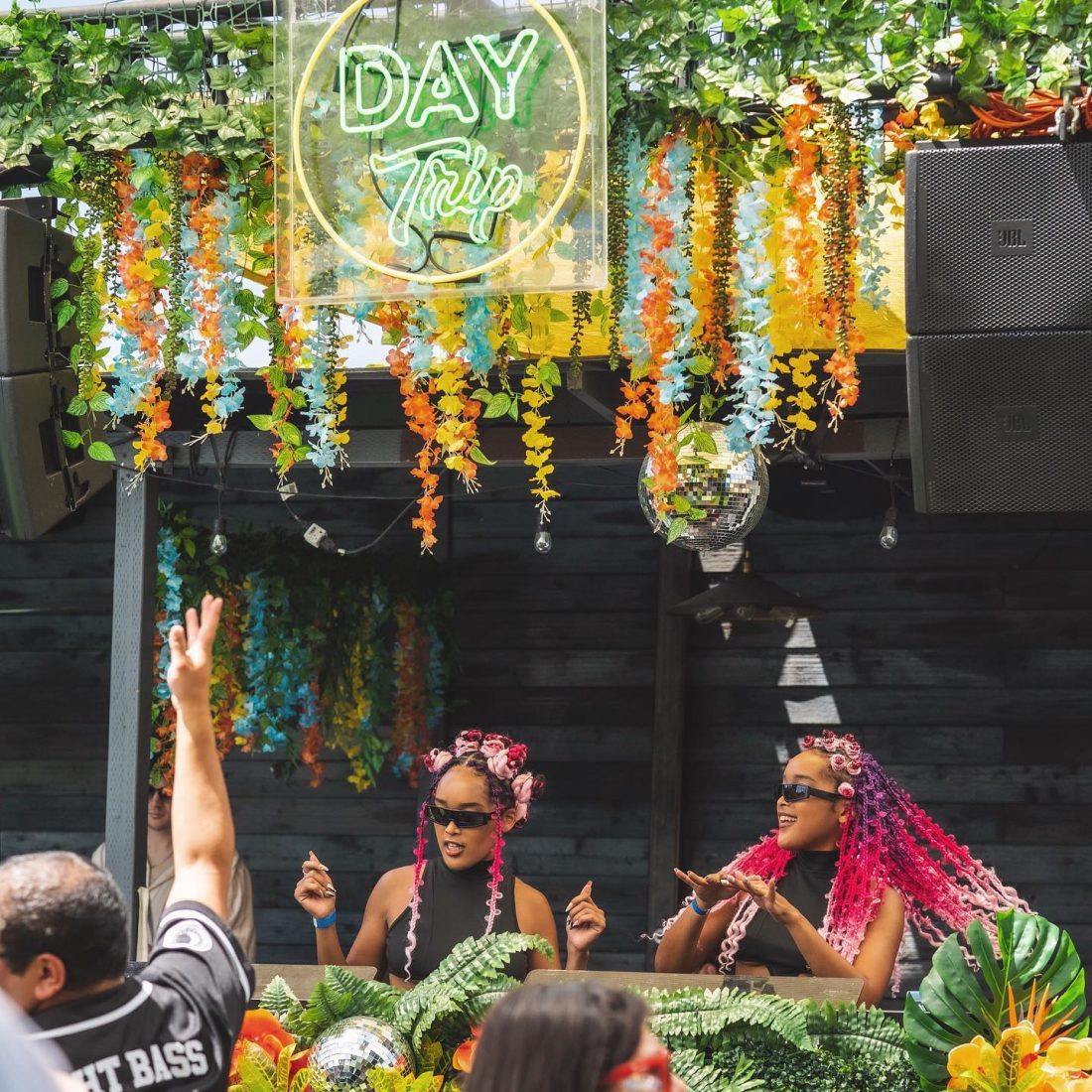 EDM Maniac: How has the transition from graduating ICON Collective Music Production to performing at events like Day Trip and Dirtybird been?
Nicole: It's so crazy! Performing at Day Trip and festivals has been a dream I've had written down. Like, we've been DJing before we were producing and we [would tell each other] "this is going to happen one day."
Rae: It's been overwhelming exciting! The crowds are getting larger and larger, and it's really cool to even be able to play our own tracks and have people dancing to them. I feel like that's been the biggest change. From graduation to production and being able to play our own [music] has been very liberating.
Nicole: It's been fun, now, being able to produce freely. When doing class work, you have an assignment and are not as creatively free, so it is nice to create whatever [we] want.
EDM Maniac: Later this year, y'all will be performing at Dirtybird Campout in October. What can fans expect from your set, especially now that you're putting out your own music?
RaeCola: This is our first Campout!
Were playing mainstage in the daytime, so we can play a different kind of vibe instead of the usual late-night hours. You can expect some fun surprises like breakbeats, and hip-hop tracks with our normal sound of tech house. Also, some ghetto house, and some booty banging bass.
Listen to RaeCola's Bezerk EP now in full below: