With July swiftly approaching, it's almost halfway through the year. Rewind to January of this year and we were all making New Year's resolutions, many involving getting or staying in shape. No one wants to be that friend stuck at a Yellow Claw set with the Cash Me Ousside girl on stage because they couldn't run away fast enough to keep up with their group. Whether you want to believe it or not, music festivals test our body's resilience to the extreme, and being in shape naturally enhances the experience in many ways.
Luckily for us, electronic dance music is ideal to work out to. Let's explore some of these heart pounding beats that help us work up a sweat, as well as some very inspirational fitness journeys. It doesn't have to be New Year's Eve to commit yourself to a resolution.
Karetus- Battle Royale
Jauz & Snails- Motherfuckers
Zedd- Dovregubben
Omiki- Balkan
Bijou- Gotta Shine
Deadmau5- Avaritia
ZHU- Provocateur
Skrillex- Kill Everybody
Knife Party- Parliament Funk
AC Slater- Bass Inside
DJ Hanzel & Drezo- Need You
Jauz- In the Zone
Tchami & Malaa- Summer 99
Armin Van Buuren & Vini Vici- Great Spirit
W&W & Vini Vici- Chakra
Jauz & Lazer Lazer Lazer- Keep the Rave Alive
Wolfgang Gartner- Undertaker
BetatraXx- Electra Heart ft. Marina and the Diamonds
Throughout my EDM journey I have had the pleasure of meeting some amazing women. While they've always been beautiful, they wanted to make sure their bodies were at optimum strength and performance before attending their next festival, because the physical aspect of festivals is huge. With all that walking, running, dancing and just downright SURVIVING that goes on, these ladies took it into their own hands to transform their bodies, and I am LIVING FOR IT.
Marisa.
Marisa has always dabbled in health and fitness, but this January she added in consistency, and has seen major results. Her go to EDM for the intense personal training sessions she endures are: Gorgon City Podcast & Kayzo live sets. We are so proud of Marisa and her efforts to become a better version of herself, I MEAN LOOK AT HER! Follow her progress @ma_risaxx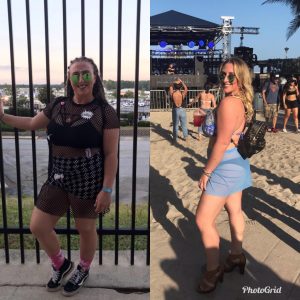 Adrianna.
Adrianna was frustrated after becoming constantly fixated on what to eat and how to work out correctly to obtain the perfect rave body. She ditched this obsession for intuitive eating, following the 80/20 rule, and figuring out workouts that she enjoyed, like Orangetheory. Ade's go-to EDM songs for her workouts are: AFK & Carbin- Boss, Skrillex- Purple Lamborghini, The Weeknd- The Hills (RL Grime Remix), and Nghtmre & Dillon Francis- Another Dimension (Yookie Remix). CHECK OUT HER PROGRESS! I am a proud EDM Maniac. Follow her journey @vibewithade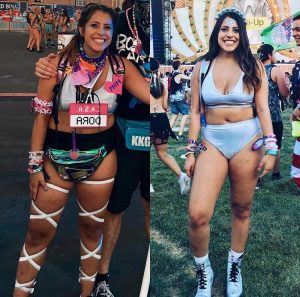 Alex.
Alex decided it was time to really amp up her workouts to receive maximum results. Since joining a boot camp in her area, she's truly gained what she wanted, a challenge and amazing results. Her top 3 favorite workout songs are Skrillex- Purple Lamborghini (this one's popular), Rick Ross ft. Jay Z- Movin' Bass (GTA remix), and ZHU X Skrillex x THEY- Working For It. Look how fierce she looks now! Follow her on instagram! @menaxoxa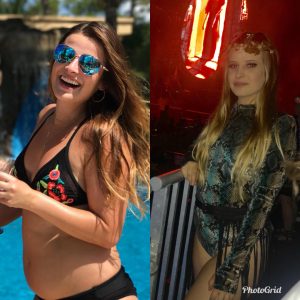 Kaley.
Here are my humble results after going to EDC Orlando in 2015 (before picture) and noticing I had gained some weight. I wanted to make sure I'd always be able to keep up with my amazing brothers on our rave journeys, and started weight training, tracking calories, and yoga. My go-to EDM genre for working out is always psytrance. Follow me! @instakalez

As you can see, EDM changes lives. One great aspect of festivals is motivation for EDM fans to become the best that they can be, whether this means incorporating meditation techniques in their everyday lives to get their minds right, or working out the get their bodies right. Listening to EDM at the gym has proven to help these ladies work as hard as they possibly can, and these photos show it. EDM Maniacs are motivated people, getting to and from a festival is not an easy task at all, and requires a great amount of planning, and close to perfect execution. If you're reading this, you've probably gotten yourself to and from a festival or two. If you set aside some of that massive effort and use it on your fitness journey, you're bound to see changes.
If EDM has helped you on your fitness journey, send me your pictures! I'd love to add you to this article so we can showcase the positive changes EDM can help make in this crazy world.
Featured Photo by: WatcharaPhoto