Destination festivals have become one of the most sought after experiences around the globe. New festivals are popping up every year in some of the most exotic, tropical, and beautiful locales on the planet. But what do you get when you combine the ultimate destination with ground-breaking music and environmental and spiritual consciousness? Envision Festival.
Envision Festival, set to take place at the picturesque Rancho La Merced in Costa Rica, is the ultimate culmination of music, art, health, and nature. All of these elements blend together to create the perfect environment for human beings to awaken and expand their full potential. Workshops, theme camps, and some of the best in bass, house, and techno are just a small taste of what awaits you at Envision. The lineup for 2019 includes some heavy-hitting headliners, plus lesser-known but equally as incredible artists from around the world that will open your mind to new sounds and frequencies. Headliners Griz and Tycho will be performing some very special sets, one dubbed Chasing the Golden Hour and the other a sunrise set, respectively. On top of that, you have the melodic techno stylings of Lee Burridge and Bedouin, which will provide the perfect soundtrack for this gorgeous setting. In addition to the music, there will also be workshops, theme camps, and so much more yet to be announced that will set Envision apart from the rest of the festival circuit. Envision is also leading the pack in terms of environmental awareness, ensuring that sustainability is a key component at all of their festivals. Check out the thoughtfully curated lineup below to get a sense for what awaits you in the jungle.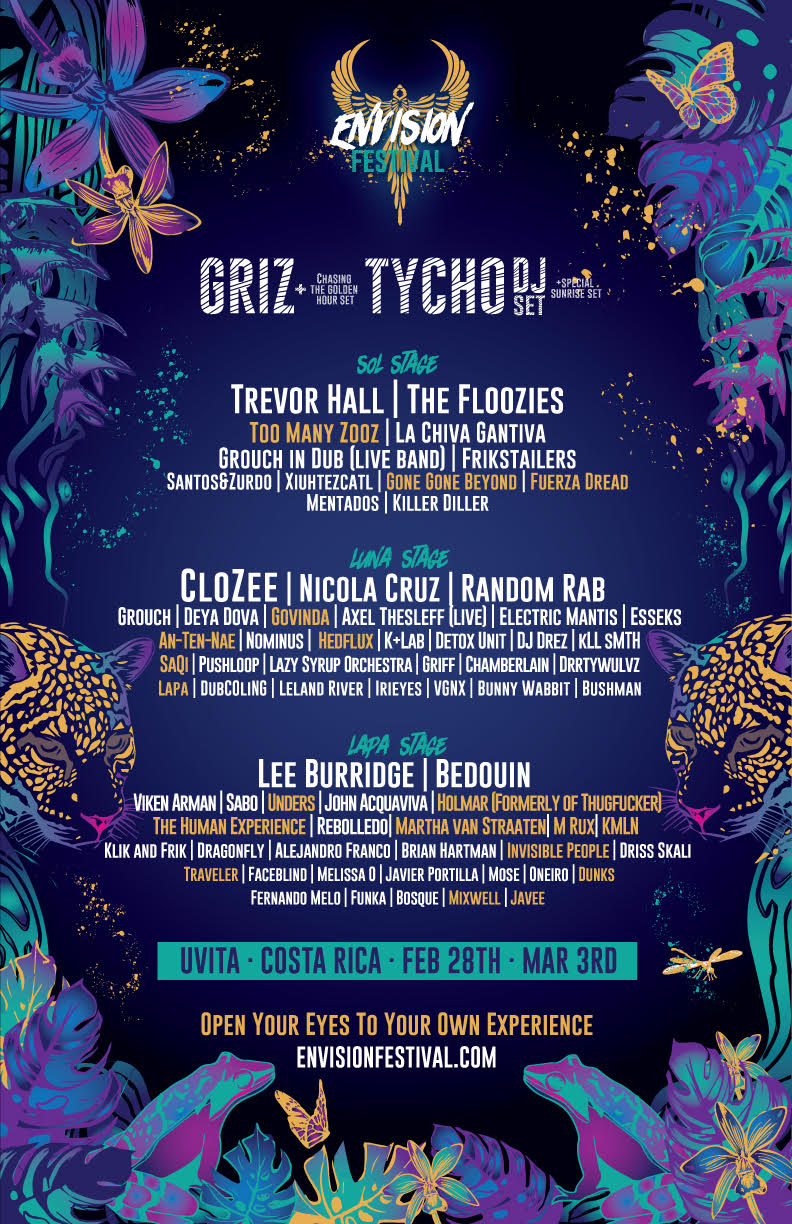 Envision Festival will take place February 28 – March 3, 2019 at Rancho La Merced in Costa Rica. For tickets and more info, click here. The jungle awaits!
FEATURED PHOTO: Eric Allen