An ancient temple run by Medusa, a psychotic evil clown staring you down, a rotating panoramic view of the Los Angeles skyline: just some of the many mythical places we were taken on an unimaginable journey this past weekend at the Shrine Expo Hall. Q-Dance, the company behind some of the most ground breaking hardstyle artists and events from all over the world, made its return to the city of Los Angeles for the third edition of "The Sound of Q-Dance."
For many who had previously experienced a Q-Dance event or have seen their elaborate stage designs across the globe; they sure would say it is a one of a kind experience not found at just any event or festival. For this edition, Q-Dance seemed to have taken a different approach to its third installment by constructing a stage composed full of LED panels. A 'less is more' statement is underrated as we got way more than we could have imagined for the night. The stage appeared almost "4D" at times and featured pyrotechnics, confetti and C02 all in one. Bringing the harder styles of together with a legendary lineup, it was hard to stand still at one place during the whole show. Quite often, a sky of lasers captivated the audience erupting in a wave of screams and overwhelmed excitement. Q-Dance fully captivated and redeemed its presence in a city that has embraced the iconic brand and following.
Event after event, we are often mesmerized by the amount of detail that Q-Dance and their team invests in these unique stages. Q-Dance takes one of the spots in our list of favorite companies when it comes to their stage designs. As the night moved on from artist to artist, we noticed the stage theme would change after every set.  It dawned on us however that most of the themes showcased for the Sound of Q-Dance 3 event were homage to some of the previous stages featured over the past few years. The imprinted Q-Dance stages from Mysteryland 2009, Mysteryland 2013, to the skull making an appearance from the first ever Sound of Q-Dance Los Angeles back in 2013. Using the space that was allotted, we were treated to an incredible experience that left us breathless.
The energy that was felt that night can be summarized as nothing short of incredible. All eyes were focused on the stage as some of the heavyweights in the hardstyle/hardcore/hardtrance/harddub genre graced us with their presence. The intimate venue was able to showcase some incredible talent Audiofreq, Coone, Evil Activities, Psyko Punkz, Skylapse, Technoboy, and Zatox (who just released an epic new album! Download it here), all recognizable names within the industry making their unique mark in Q-Dance LA history. Each individual artist rejuvenating life back into a crowd that had an appetite for the harder and deeper style melodies. Many of which had us shuffling and jumping around in our own little worlds.
It is no surprise that as the Q-Dance fan base grows; a new wave of creativity flourishes. For the third edition, we saw a variety of outfits from tutus & fluffies to some of the most elaborate pieces of kandi we have ever seen. From a view overlooking the stage, a sea of Q-Dance branded flags stood out throughout the crowd. Walking around the venue at any given moment everyone was dancing peacefully with one another, following the ground shaking bass putting the crowd in a state of euphoria. Interacting with a few event-goers, we were astonished to see some people had come from a;ll over to experience this gathering, some from far out as Canada to far out east coast cities. Loyalty is an understatement when it comes to describing the diverse crowd that Q-Dance brings from all walks of life.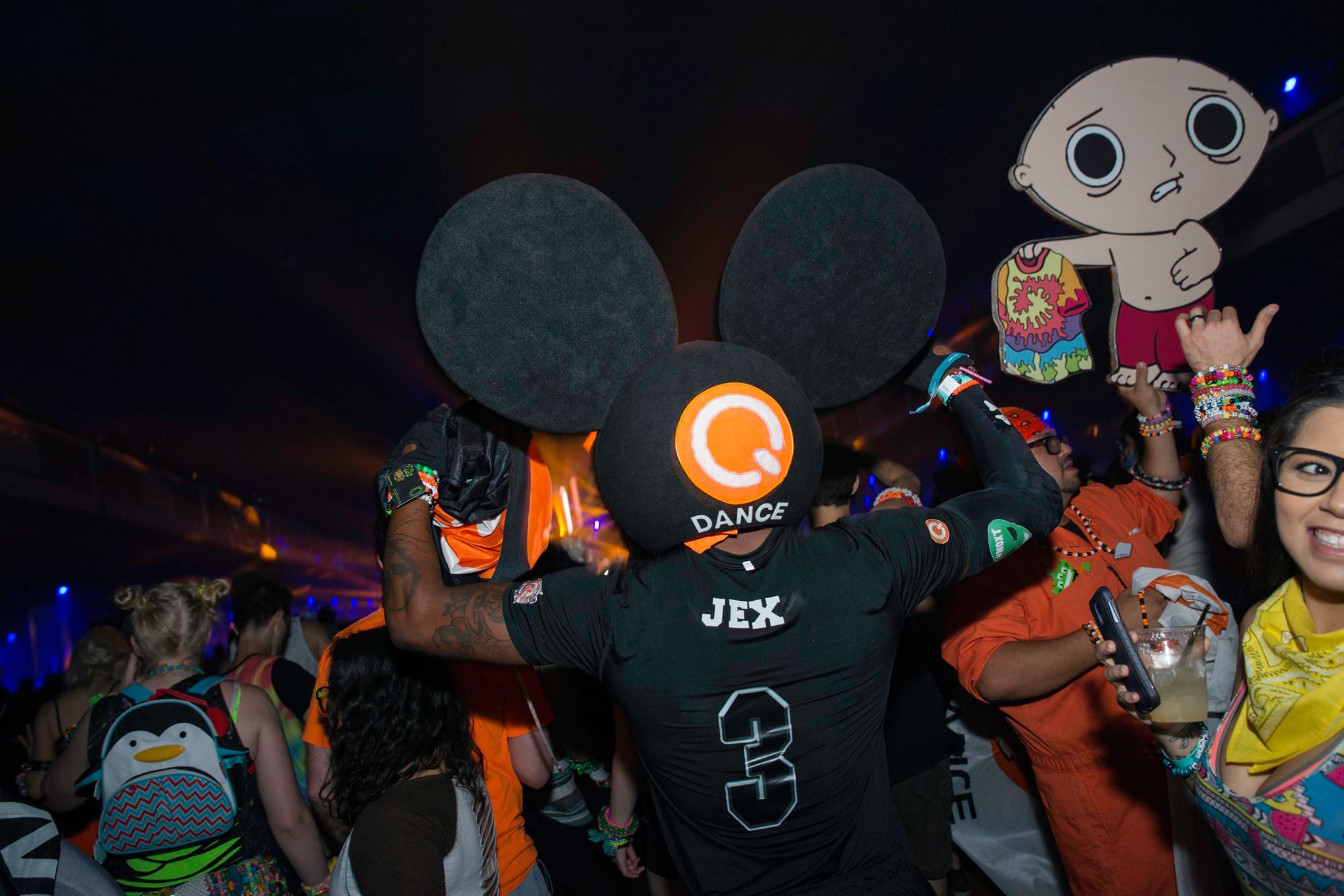 As time passes, we've seen the Q-Dance brand develop into its own powerhouse with its unique stage structures and incredible talent rosters. As the 2014 year wraps up, we look forward to witnessing first-hand what Q-Dance will bring to the table next. As always thank you Q-Dance, the artists, and especially you the fans for sharing this very special night with us.
— Eddy Leon
Photos: Q-Dance