12th Planet B2B Wooli, Subtronics, Svdden Death, Calcium + more
Excision has just revealed the lineup for 'Reunion' a two-day pre Lost Lands event that will take place at Legend Valley from July 16-27 of 2021. The event is the first of its kind and was announced due to Lost Lands tickets already selling out and still months away. 'Reunion' will be held at the same location as Lost Lands and will not feature camping options. Instead, attendees will be shuttled to and from hotels in Columbus with VIP passes and free day parking passes available. The idea behind 'Reunion' is to reunite bassheads together once again following a year-long hiatus of no live events and will surely do so with the announcement of their 'Reunion' 2021 lineup.
Excision's 'Reunion' will feature monstrous head-banging performances from 12th Planet b2b Wooli, ATLiens, Benda, Boogie T, Calcium, Dion  Timmer, Dirt Monkey, Downlink, Excision, Excision (Detox Set), HE$H, Jessica Audiffred, Kai Wachi, Kompany, Level Up, Lucii (DJ Set), Subtronics, Sullivan King, Svdden Death, and Vampa. The lineup is mixed with established and rising dubstep stars which will create a perfect blend of bass music for 'Reunion' attendees.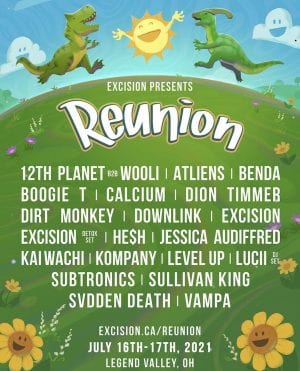 In addition to revealing the lineup to 'Reunion,' Excision announced that the official Lost Lands 2021 lineup will be revealed at 'Reunion' in July. Typically, the official Lost Lands lineup is released sometime in April, but 'due to lots of international artists with visas they can't yet renew,' Excision will be waiting a couple of months longer to reveal the lineup.
Tickets for 'Reunion' are available now and can be purchased here. View the Lost Lands announcement below.
FYI, the lineup is not done and will be a while yet, lots of international artists with visas they can't yet renew due to covid, along with a multitude of other issues. I know it's frustrating but I'd rather wait than cut off most of the international bass artists 🙂

— Excision (@Excision) May 14, 2021