It's been over a year since Montreal native and dubstep producer, Snails, has released any music. Now, he has returned to the dubstep scene in full force with his signature Vomitstep sounds which have only progressed in sound design. Snails' latest release, 'FROGKIND,' is the first single off the producer's upcoming EP, which showcases his musical progression and creativity as a result of the pandemic. His original sounds are deeper and more developed than ever before, thus creating a more immersive experience. In previous weeks, Snails had teased fans on social media with snippets of his latest single. Now, Snails has released his first original track in over a year.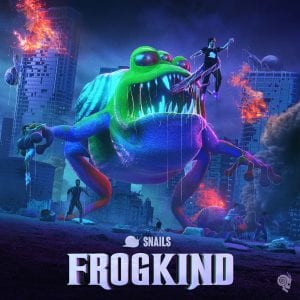 Snails', 'FROGKIND,' helps create a new visual experience for his fans, an experience that is part of a new world for Snails. The complete rebranding and artwork reference Snails' former character, King Slugz to his original self. Now, Snail's, 'FROGKIND,' is available to stream on all platforms.
Download and stream, 'FROGKIND,' here.
Feature Photo – Insomniac